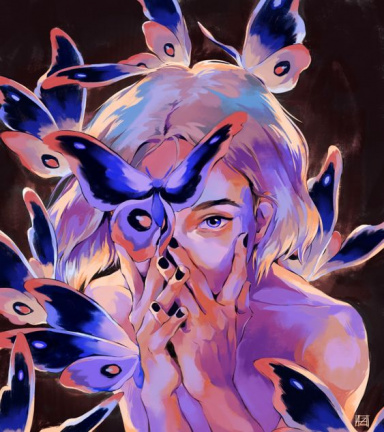 The Suffering Slav Problem Child
Original poster
LURKER MEMBER
Invitation Status

Looking for partners
Posting Speed

Speed of Light
Multiple posts per day
1-3 posts per day
Online Availability

Always online tbh lol
Writing Levels

Intermediate
Preferred Character Gender

Male
Female
Primarily Prefer Female
No Preferences
Genres

I generally like a little bit of everything, but my favorite would be Romance and Drama.
*Big edit* I am obsessed with this game called Butterfly Soup, So I am looking for a similar roleplay. Basically an FxF highschool themed roleplay with memes. Thank you for your attention.

Hello! So, since I suck at doing stuff right, I decided to try this again and in a slightly different way, but first I'll have to put down a few things.
(By the way, as it comes to plot, I don't mind anything, as long as it's interesting, feel free to count me in, no matter the genre.)

I only roleplay on discord, sorry, it's just much more organised for me and easier to use. It's just what I'm used to.

I love writing, but sometimes I have a slight block on me, it's the same thing with art, but usually I get over my writer's block more easily.. Even though, if this happens, just give me time and I will most definetely reply, I'm not a ghoster unlike some people I know...

I absolutely love the 80s and 90s, so my writings usually have that slight old school-y vibe, or atleast I hope they do.

~~I mostly feel most comfortable playing female roles, but lately I have played quite a few more dominant male roles, so I think I could manage either one. Just don't except me to do doubling, it's not my thing. It's either one, or the other, I don't do both. Despite that, I always have a lot of side-characters, just gives me more control of my writing.~~

I am usually always active, except when I am in school, but other than that, I always reply whenever I can. On weekends and my days off, I am free all-day and all-night.
And that would be it from my side. Now, here are a few samples of my writings.(Be warned, they are pretty long)


You know that thing kids do when they are in a car and just staring out the window? When they imagine a man, or some sort of a creature. Running alongside the car and jumping from light post to light post.

I still do that sometimes, given how much I travel sitting next to my dad. I can't count it on my two hands how many times we have moved through-out my whole life. That's why I usually don't pack out all of my things, only the most essential stuff and don't usually talk to people.

We mostly live of Chinese take-away, well and frozen pizza.

Sure, sometimes I made a peanut butter-jelly sandwich for school, or something, but that's different.

I can hardly remember when was the last time that we stuck around one place longer than a week.

So, as always, I was in the passenger seat, head against the window, my feet up with me, my hoodie's hood up. The car's heater was slightly going, the car smelled like fresh pine mixed with some cigarettes and the old radio was playing with some occasional static.

I wasn't fully asleep; I was just resting my eyes, relaxing.


"You awake?"

Here came the question, coming from my dad, to which I just hummed, not bothering to open my eyes up.

"We're gonna come to a stop soon, you should stretch your limbs out a lil' bit, kiddo."
He said, that thick southern accent still lingering. I opened my eyes and looked over at him. No matter how far away we go, it's clear that we ain't from around there.
And no matter how many days, weeks, months, years pass, he still looks the same. If not, a little worse, or older.
His dark brown hair was greying; he always shaved like a slob, lately not as much as before. He wore the same dark green bomber jacket, the same baggy pants and combat boots.

A would always stick out of his pocket. He used to wipe his hands into it when he was fixing the car, but decided to give it to me as a birthday gift. What a great dad, I know, but I didn't mind. I liked it. That's why my little sense of bad fashion got worse. Of course I started wearing that goddamned red bandana.

"Ai'ght, dad. " I replied and closed my eye again.

As we came to our long awaited stop at a gas station, it was still dark. Dad tanked the car, then locked it as we walked inside.
I did notice a pretty badass looking motorcycle though.
The inside of the place looked a little freaky too.
"Go pick up some stuff you want, "Dad said as we stepped in, he turned to look at me. God, he looks tired. ", but don't go over 20 bucks, ya hear me?" He grinned, patting my head.
With a small chuckle, I slapped his hand away.

"You got it, boss."
I shrugged it off and walked to the snack aisle, while he went to get a few things for himself.

Grabbing some cheesy crackers, candy and soda, I did realise that I might need some lady products too. I have to admit, I felt a little nervous. I still feel embarrassed whenever I have to buy tampons, or pads with my dad. Okay, well, I have a feeling that he feels more awkward than me regarding these things.
After I was done raiding the snacks aisle, I headed over to the hygiene products. Getting some tissues and some no-name brand lady products, I was ready to go. Dad was just talking to the cashier as I got there.

"So, are there any attractions around here?"
He asked the older male cashier, who seemed to be in a fairly good mood.

"Nah, not really, only a few old museums, a milk bar and a closed down electricity factory in the nearby forest." He said, leaning on the counter. "You ain't from around here, huh?"
The man did give dad a look, looking him over, but dad just sent him a small smile.

"No, I'm actually just passing through, moving."
He replied smoothly, finally noticing me.
"You got everything, kiddo?" He asked, the cashier looked over at me, looking surprised.
Walking over, I put down the stuff on the counter without a word and the cashier begun to scan the stuff.
As he did so, I looked out the window, spacing out. I froze for a moment.

There was something standing near our car. Or someone, no, there is no fucking way a person could be that huge.
It was a tall, burly figure looming over the car. It had long limbs and arms, which it probably dragged on the ground as it moved around.
I felt my blood run cold as that thing turned its head towards me. It fucking noticed me.
I swallowed hard, but I was snapped out of it by my dad, who put his hand on my head.

"Huh?"
I just looked up at him with wide eyes. He just stared at me, raising an eyebrow.
"Do you want some gum for the road?" He asked. He has probably been asking me this, but I guess I spaced out.

"Oh, huh, yeah, sure." I mumbled, looking back at the window.

The thing was gone. Maybe sleep deprivation is doing bad things to me.

As dad has paid up for the gas and the things I chose, we casually threw the stuff into a few bags and headed out.

I carried the lighter bag, while dad carried the heavier one.

"You okay there, kiddo?" He asked carefully. I looked over at him. "You seemed distracted in there. Got something on your mind?"

He sounded a little worried. I lowered my head for a second as we got to the car.

"I'm just a little tired, that's all." I said, he nodded, understanding.

Like father, like daughter.

"We should go hit the john's, we won't be stopping for a while, you know." Dad brought that up as we put the bags into the car. Nodding, I pulled out the pack of pads from the bag and looked up at him. He awkwardly stared back at me.
"Oh."
He blinked, then looked away for a second, scratching his face.

This man always seemed so embarrassed about girl things. It was funny sometimes. This huge man, who fought in a war and could probably wrestle a bear.. so awkward about this.
I smiled a little and shook my head.

We headed off to the bathrooms, he went into the men's and I headed into the girl's room.


Entering, I instantly smelled the nauseating smell of the strong cleaning products and I felt a little sorry for the poor souls who have to clean gas station bathrooms. The walls and the floor both had white tiles. Two of the three lights worked, but one of them flickered every now and then. The mirrors were a little dirty, they had some badly scrubbed off graffiti on them.
Who would want to put graffiti on a bathroom mirror?

Rolling my eyes, I looked off to the stalls. Four stalls. Four dark green stalls with things written and drawn all over them. I decided to use the second one, but as I approached it, I did notice that someone was probably in the last stall.
I pursed my lips shut and just decided to quickly take care of my business and ditch.

I stepped into the stall and closed the door behind me, putting the shitty lock on. Turning around, I looked at the toilet, which seemed pretty clean. Cleaner than the previous ones I had to use.

Once I had to go to the men's bathroom, because the women's was flooded, apparently.
Letting out a sigh, I unbuckled my belt and undid my pants, pulling them down.

As I took a seat and looked at the pack of pads I brought with myself, I heard the door to the last stall get unlocked. I instantly looked up, slightly leaning to the side to see through the little gap between the stall's door and wall.

I could clearly see the mirror and sinks. As I heard the footsteps, before I knew it, a woman with baggy black pants, sneakers and a leather jacket was standing around. She had dyed, dark blue hair, which was in a messy ponytail, exposing the back of her neck, on which I noticed a weird symbol.
Probably some lame band tattoo.
After she has washed her hands, she wiped her hands into her pants and left the bathroom.

The bike outside was probably hers.

Finally being alone in the bathroom, I let out a small sigh, relieved and hurried to take care of this.

After I was done, I gave my hands a quick wash and hurried out.


Dad was already outside, having a smoke while leaning against the car. I casually strode over to him, looking over to the motor bike as I did so. The lady I had seen in the bathroom was sitting on her bike, messing around with her phone. Dad was watching her too a little, but as he noticed me, he finished his cig off fast and threw it on the ground.

I know, what a responsible adult, smoking at a gas station near the pumps.
Reaching him, I gave his arm a slap.

"You aren't supposed to smoke here."
I said, giving him some sass, to which he chuckled.
"I already finished it up, gee.. "
He shook his head and looked over at the woman again, then looked down at me.
"Ready to go?" he asked, to which I nodded.
"Aye, aye, captain."
I mumbled and walked around the car to get into the passenger's seat.

Dad did the same, getting into the car and starting up. And there we went, continuing towards our destination as we left behind the shady gas station, flickering lights of the signs and the bathroom's lamps and the mysterious woman on the motorbike.

It was a good night, I have to admit. As I was switching through the radio channels out of boredom, I found one which was playing some old school rock. Just as I wanted to change it, Dad slapped my hand away from the radio.

"Let it play, this is a good song."
He said, to which I gave him a doubtful look.

"Makes you feel young again, eh?" I chuckled, to which he smirked.
"Hey, I'm not that old; I look like I'm 20." At this, I scoffed.

"I wish I got your self-assurance." I chuckled, teasing him.
Even though, I have to admit that the song did sound good.

For the rest of the road we listened to the old rock songs in silence and I finally drifted off to sleep before I knew it.

I awoke to the door on the driver's side slamming shut, making the whole car shake. Peeling my eyes open and stretching my limbs a little, I looked out the window on my side first, seeing still a little blurry and squinting due to the bright lighting.

After I had normalised myself and gathered my energy, I reached down for my backpack and slowly crawled out of the car. Exiting, I took a deep breath of the fresh air and closed my eyes for a moment as I felt the sunshine hit my skin and breeze brush against it.

I decided to stretch my limbs again, just to be sure. Looking over at our new home, a small ranch styled house, I sighed. Glancing over at our car, then back at the house, I made my way over, stepping in and seeing dad already pack a few things out.

As he noticed me, he slowly got up with a smile.
"You like it?"
I just nodded, and thus, I started helping out with the packing.
The rest of our day went by pretty smoothly. A few neighbours dropped by, we got free food, we ate the said free food and then, I went to bed after a hot, long shower.

I will be starting school tomorrow. Letting out a sigh, I rolled over onto my side and stared at my wall. This is gonna be hard..
It's always so hard..

On the next day, I was woken up by the sound of my alarm clock. Feeling like a dried up flower, I groaned and crawled out of my bed, heading towards the bathroom, where I clenched my thirst with some nice, cold tap water.

Upon doing so, I decided to wash my face too and brush my teeth while I was at it. Same me, different town, different house, different bathroom, same routine. It's tiring sometimes.
As that was done, I headed back to get dressed. I pulled up a plain pair of high waisted jeans , a black band t-shirt, my usual green bomber jacket, which seemed similar to my dad's.. And of course my red bandana, along with some sick white sneakers.

Grabbing my backpack, I headed out, dad gave me my lunch money and drove me to school.

This was pretty much uneventful, as always.

After I got out of the car in front of the school, I let out a sigh.

"Let's do this shit."
I said and headed on inside. Usually people ignore me, but this school was a little different. A few people seemed to notice me. God, this is awkward as hell. Cringing to myself, I decided to look for the counsellor, who I was supposed to talk to. Stumbling upon the office and getting in, I heard the same mumbo-jumbo they told me at every school.

I just shrugged it off with a fake smile and was finally led to my first class.
As the counsellor entered, the teacher seemed to know that I was the weird new kid, she cleared her throat and looked at the student.
"Alright, everyone! You'll be having a new classmate from today, alright? "
Then, she looked over at me, the counsellor left and she just sent me a small smile.

I gave her a blank stare, then looked at the class. God, I'm tired of this..
"Clarissa Walsh."
I said and simply walked off to an empty seat and sat down with no intention of talking to anyone.




"Hello Oak's Vile, It's your boy, Lucas with all the important news from the 8Ball! So, let's get to it... Local old lady Marguerite's cat, Mittens, ran away again, as everyone knows, Mittens is the long haired ginger cat with white paws . If you see him, try bribing him with some food and bring her back to old lady Marguerite.. A new 7/11 has opened up on Walk Street and it instantly became a hot-stop for the rowdy teens! We have asked around and Janice Cooper said, that it's nice to have something new in this boring little town of ours. Haha, sure thing, Janice. Let's talk about sport, shall we? Our little town's pride, the Wooden Rocket's junior team has destroyed out rivalling town's, Star Bay's, football team, the Shooting Stars.. I mean, who names a football team 'Shooting Stars'? That's just..."
He paused for a moment, looking up to see his boss sending him a glare, so he just cleared his throat and continued to read on.
"Anyway, back to our little town. The church's bake sale is coming on! Don't forget to go on over and buy some nice treats! It's for good cause, people! Now, here comes one of our most requested stories! The hag's house. I know, I know, we can't depend on our teenager's words, who knows what they were on?! However, officer Crowley has claimed to have seen a dark figure rushing into the house, which was followed by growling and screams...And now, that is why I, Lucas Walsh will go and check it out for all of you dear listeners! If I don't return, let my little brother get my game boy and tell him to delete my search history.. Okay, back to the serious news!"

And the news just went on, until our boy, Lucas finally said goodbye and put some songs on. As he did that, he slowly stretched his limbs out, groaning.. Relaxing in his chair, he sighed. When he has finally collected himself and got up, taking the headphones off and grabbing his coffee stained mug. Exiting the room, he was greeted by the pierced guy, the biggest punk he knew...Jeff. "Cool show, dude." He said, slumping low in his seat and reading some weird magazine. Well, Jeff was a nice guy. He helped out in the radio station and was pretty trustworthy...Despite his wild black-green mohawk, piercings, rugged clothing style.. He was a nice fella. He likes sweet cocktails and sad movies. He also had a hot sister. "Thanks, mate." Said Lucas with a sigh, leaning against the wall. Jeff slowly looked up at him, raising an eyebrow. "You're seriously gonna check the house out?"

"Yeuup.." Groaned Lucas, looking pretty disgusted just by the thought of it. Jeff seemed to be holding back a small chuckle, hiding his face behind the magazine. "W..Well, make sure to get some holy water.." He chuckled, teasing. Lucas has sent him a small glare. "Fuck off, hedgehog.." He mumbled, walking out as Jeff exploded with laughter because of his poor insult. "Fucking dead end job.." Mumbled Lucas as he slowly checked out and carried on his way to walk home after he grabbed his messenger bag. Walking down the familiar streets of the town, he really wondered if this would be worth it. Well, maybe..? He could always just lie that he was there? "Ugh, no.." He grumbled to himself, slowly stopping as he has spotted the familiar ginger cat. "Huh?" He blinked dumbly. "Oh...OH!" He instantly started digging into his bag, trying to look for some kind of food while he kept an eye on the cat. "Ah-ha!" As he has finally grabbed something which seemed edible to his hands, he pulled it out, grimacing. "W...Why do I have a..?" He seemed pretty confused as to why he had a slim jim in his hand. "Oh well.." He sighed and slowly began to try and lure the cat over to him. After some suffering, trying a little too hard and getting scratched countless times, he had the little devil in his hands. "H..Hah.." He sighed, feeling a little exhausted. Glaring down at the cat, he frowned. "...Is it bad, that this is the only pussy I got in months..?" He asked himself, as he started walking towards Gardeen Street to cash in the cat to old lady Marguerite...

As he got to the cutesy, pale yellow house with the beautiful rose garden, he knocked on the door, hearing multiple cats meow. After a short while, a young lady has opened the door. "Yeah?" She asked, seeming a little annoyed. She has caught Lucas off guard. "Umm...I got the cat..?" He said, but it almost sounded like a question. The black haired young lady gave him a weird look, looking down at the cat. "Oh, Mittens.." She smiled a little and took the cat into her arms. Looking back up at Lucas, her expression softened. "Thanks." She nodded, but just as she was about to close the door, Lucas finally found his balls and spoke up. "Uhh, who are you again?"
He asked, making the girl stop and give him a weird look again.
"...Rose, Marguerite's granddaughter."
She said, staring at him.
"Oh, okay, good..Good.."
Lucas mumbled. Rose just rolled her eyes at this and shut the door before his nose. Lucas lingered there a little, then he just sighed.
"Since when do I get so awkward around girls...?"
He mumbled, turning around and heading off.


He didn't live too far away from the old lady's house.. Sure, Lucas still lived with his parents, but only because his mother insisted that he did.. Lucas had bigger plans though, he was planning on moving to sunny Arizona and starting new and fresh, leaving this godforsaken town behind. Sometimes he thought that he was the only normal one in there.. This town was eerie and just.. looked a little too perfect. Getting home, he unlocked the door and stepped in, kicking his shoes off and locking the door behind him. His brother was in the living room, just chilling and hanging around on the couch

"Hey loser!"
Yelled the younger version of Lucas, as our protagonist was passing through the living room. With a sigh, he stopped and turned to look at his stupid teenaged brother. "What do you want, kiddo?" He asked, to which the said kiddo as up and sent him a big grin. "When are you going to check out the hag's house? Can I come with?" To this, Lucas seemed a little disgusted. "Uh, no?" He chuckled. "I am not gonna take responsibility for you if your soul gets eaten up by the witch in the house, or something else.." He mumbled, to which his brother just sighed, pouting and stuck his tongue out. Lucas rolled his eyes again. "What are you? 5?" He shook his head as he slowly walked upstairs.

After this little ordeal, Lucas began to prepare himself. Sure, maybe he shouldn't go there at night, but it's whatever at this point. He sure as hell didn't believe in some "ghosts", or ghouls, or whatever people thought lived in the house.. Sure, it was an old, creepy wooden cabin-like house at the edge of the infamous Oak's Edge Forest, where allegedly witch trials and rituals and such took place.. "Bullshit.." As Lucas has put a few things into his messenger bag, which were a water bottle,a few snacks, his walk man, a flashlight.. He has changed his clothes, putting on a hoodie, some plain pants and such..He was all ready to go.

After gearing up and grabbing a few comic books from his bookshelf, he exited his room and made his way to the entrance. There, he finally put his shoes on and ventured out. Walking down the street, his mind wandered a million ways. Before he knew it, he was at the beginning of the forest. Taking a deep breath, he looked up at the sky. "The sun's gonna set in a few hours.." He sighed and made his way over to the house. The closer he got, the creepier he found the seemingly abandoned cabin. Getting to the door, he knocked on it. "Hello? Is anyone there?" He called, waiting for a response. Not even thinking of trying the door, he stepped over to the window, squinting and trying to look in. He did see some kind of a strange light inside. "Hmm.." He furrowed his bros and sighed. "Well.." like so, he was ready to just ditch this place, but maybe he should try the door.. As he stepped back to the door, reaching for the handle, he heard something. Freezing up, he slowly turned around. The blood in his veins instantly froze at the sound of this blood curdling scream. It didn't sound like an animal, or a human. What the hell is this? "Huh..?" He blinked, just staring blankly at the huge, black..thing. He just stared at it. It couldn't have been a wolf, or a bear. It didn't have any visible features it was just.. It just looked like a piece of coal, a huge piece of coal with one huge mouth, from which it was drooling and just huffing.

"Fuck." He whimpered, as the creature screamed again, bolting towards Lucas. Our 'brave' hero instantly grabbed the handle, opening up the door which has been open all this time. He didn't pay attention to anything, he just threw himself inside, slamming the door behind him and pushing against the door, as the beast hit it. Lucas was surprised that the door didn't break. Pushing against it as he grunted, the beast slowly stopped and Lucas just stood there, shaking. "W...What the fuck.." He breathed out while he slowly slid down on the door, landing on the dusty floor. His stomach was in knots and his hear rate was still quite fast.

He still heard some scratching, grunting and huffing coming from the other side, but after what seems like forever, there was silence. Lucas finally let out a relieved sigh, even though his heart was still racing. To calm himself down somewhat, he decided to take a look around. Swallowing hard, he began examining the interior with his eyes, since his body felt like it was glued to that door. Maybe he was terrified that if he moved, that..THING would break the door down. That sounded too much like bad news to him. The house from the inside was, well..Dusty, to say the least. Well, dusty wasn't the right word. It just seemed filthy to Lucas. A filthy, old house where probably homeless people hung out. His eyes flicked over to the, well.. what seemed like a kitchen area with a few old counters. They seemed to be falling apart. There was also a dirty microwave and kettle. Near the kitchen area was a dining table, which had one leg shorter than the others. At the table, there was a rocking chair of some sorts, which was just slightly swaying back and forth. That really made Lucas's skin crawl. Looking over to his right, there was a dark brown, slightly stained old couch, over which there were some strange light blue flickering Christmas lights. The wallpaper there was also slightly peeling, the wall was stained..

On the floor, at the couch there was a dirty mattress with a spring poking out. Cringing to himself, Lucas was pretty sure this was some junkie's hangout. As he continued to look around, he did notice a few dried flowers here and there, a strange calendar with Klimt paintings in it, a creepy picture of a beady eyed cat and a strange old man... Then, he noticed the weird corridor in front of him, where some strange light was coming from under a door. "H..How did I not notice that...?" He mumbled, reaching to his side. "Huh?" He looked down. His eyes widened. "Fuck!" He swore in a hushed tone, burying his face in his hands as he sighed. His trusty bag wasn't hanging on his side, he must've dropped it outside where that...monster is.. At this point, every hair on his body was standing and he just felt horrified.

"I'm too young and pretty to die..." He said. Well, he wasn't.

As Lucas has slowly collected himself, he thought of the things he did. Well, maybe he didn't bang Stacy's mom, or get that other girl's number, but he did kiss a guy once! Okay, maybe twice, because the girls were cruel in summer camp..And sure, his relationships failed most of the time, but Lucas thought that he had a pretty good life. So, as he scrambled to his feet and turned to the door, he put his hand on the handle. "Alright, you can do this.." He mumbled, but he just ended up letting his head fall against the door with a sigh. If his forehead didn't get any splinters, he didn't know what did. "Okay, okay..." He mumbled, gripping the handle pretty hard, only to feel a jolt of something like electricity go through his body as he gasped and straightened himself out. "Don't..Move." Said a strange, familiar, very feminine voice from behind him. He felt something press against his back. "Who are you? Why are you in my house?" Asked the voice. It didn't sound like a junkie, what more, it actually sounded pretty...well, pretty..

"Uh, I...I'm Lucas." He said finally, his voice shaking. "Y..You know, the pretty guy from the radio...The 8Ball, ya know.." He mumbled, trying to come off as friendly as he possibly could. "Hmm, Lucas, huh?" The voice sighed, humming. "Alright, from what I can see, you're almost pissing your pants, so I'm guessing you're not dangerous.." The voice chuckled, pulling what Lucas thought was a gun away from his back. "You can turn around now, pretty boy." The voice said. As Lucas has slowly turned around, he felt his heart skip a beat. No, not because he almost got a heart attack from all this scary shit going on, it was mostly because the girl he saw before him was drop dead gorgeous in his eyes. Wild, curly hair, a doll face, pretty eyes, freckles like star cancellations, or like a galaxy filled with stars decorated her face. Full lips with a mischievous smile playing at them. For the love of goD! She even had dimples. Lucas somehow felt a little too flustered around this girl. She was shorter than him and she didn't look anything like the other barbie dolls in his town. "Close your mouth, hun, wouldn't want a fly flying in, would ya?" She asked, grinning eves more. She was wearing some baggy checkered pants with suspenders, a sleeveless black top. Her arms had scars on them, which reminded Lucas of a dam built by beavers. He weirdly had an urge to pull her close and plant kisses on the scars, hoping they would go away, or stop hurting whenever people looked at them

"You done staring?" She asked, raising an eyebrow. Her dark brown hair flowing down her shoulders looked like a dark river, trying to paint the porcelain white stones black with it's waters, or something. "Y..:Yeah.." He cleared his throat. Act cool, Lucas, act cool.. Well, how can one act cool if a really attractive young lady finds them in her home? Ugh, good job, Lucas! This is why you're gonna die alone!

"Alright, " She sighed, pausing and looking him over. She has tilted her head to the side, raising an eyebrow at him. He looked like a pretty scrawny guy, tall and thin.. Maybe he was hiding some muscles under his clothes. She couldn't help, but smile a little. He had messy light brown hair and some pretty murky green eyes. "Huh, what is a guy like you doing here?" She asked with a sigh, chuckling a little.

"Huh? Oh, uhh.." Lucas nervously looked off to the side, scratching the back of his head. "Well, I promised the listeners that I would investigate the house and stuff.." He mumbled, looking back at the gal, who was staring at him and just slowly nodding. "Mhmm..That so?" She asked, to which Lucas slowly nodded. The girl to this simply shrugged. "Fair enough, you should have knocked though." To this Lucas just gave her a weird look. "I did." that's all he said.

The girl did give him a puzzled look, then she just shrugged. "Well, guess I didn't hear it." After this and a minute of awkward silence, Lucas gasped. "Fuck, my bag!" He said, turning back to look at the door. "Uhh..." He looked over his shoulder at the girl, who was still just standing there and waiting. "You left it outside?" She asked, Lucas only now realised, that she was holding an empty beer bottle in her hand. That's probably what she pushed against his back. Huh..Smart girl.. He thought, as she stepped over, pushing him to the side and opening up the door. Before Lucas could stop him, the door was open and she stepped outside. Slowly peeking out, the beast was nowhere to be seen. Letting out a relieved sigh, Lucas looked over at the girl who just chuckled at his reaction and bent over to get his bag. "Hmm? Oh..." She seemed a little surprised now. As she grabbed it and stood up straight, well..The bag had some strange black goop on it. "W...What is it..?" Asked Lucas as he stepped closer, staring at his beloved, innocent bag. Poor bag..it didn't deserve this faith..

"Hmm...Seems like they are on the loose.." Mumbled the girl, who Lucas only now realised, he didn't know the name yet. "Um, " So, he cleared his throat with an awkward smile. "..You didn't really tell me your name, ya know.." He said. The girl slowly turned to look at him, already looking tired of his shit. "Amalee." She shrugged, to which Lucas just let out another, slightly dreamy sigh. "Amalee, huh...?" He nodded. "Strange name." He looked off to the side. Am I crushing? As he looked back at the girl, she was already walking towards the forest. "Oh, ...Oh! Wait!! My bag!!" He quickly followed her. She was following a trail of the similar black goop that was on His bag. It was leading into the forest. As he quickly reached Ama, he pulled out his flashlight and that's how they proceeded. Lucas didn't know why in the hell was he following this strange girl, but hey, he just had this weird feeling...He also just needed to know what her deal was.

As they started walking into the deep, dark forest, Lucas felt strange. What if this girl is a lunatic? Well, she..doesn't really look crazy, does she? She honestly looks pretty peculiar. Yeah.. That's a word to describe her.. "Peculiar..." He said, letting it slip out, making her stop and give him a strange look. "What ?" She blinked, making Lucas clear his throat, getting flustered as their eyes met. "W..Well, you know..haha.." He laughed nervously, but Ama just gave him a blank stare. "...You're weird." She said and continued walking. Lucas continued to follow her. "So, um, you from around here..?" He asked, hoping to unravel this mysterious girl's secrets. "Yeah, born and raised." She said, surprising Lucas. "Really? I mean, I am sure I would have remembered you from school, or something.." He noted, but Ama cut him off quite fast. "I was home schooled." She explained. "I didn't go out much as a kid either." "Ah, I see..." Lucas nodded. That did explain things.. "Wa-wait, did you live all this time in that wooden cabin?"

He asked, looking a little shocked, but Ama just chuckled. "No, don't be stupid. " She sighed, looking over at him. "I live on Amber Passage.." She sighed, shaking her head. "It's me, my mom, dad, granny, little sister and big brother." Lucas was pleasantly surprised. "Oh, that's a big family.." He smiled a little, Ama just nodded, smiling a little too. "Yeah, we live in the big, blue house with the apple tree in the back."

And that was pretty much all Lucas needed, he instantly knew exactly which house she was talking about. That was a house ha always admired. Some of his friends would say, that the house was probably haunted..Since people did hear strange sounds coming from the house.. People being, um, kids.. Sure, maybe kids weren't the most reliable sources, but since Lucas has read It, by Stephen King, maybe the kids were onto something in this town too... Maybe.. "Isn't your dad a psychologist, or something?" Lucas finally spoke up, to which Ama just nodded. "Yeah, psychologist by day and birdwatcher in his free time." She smiled a little, looking over at Lucas. "When I was younger, he'd often take me out in the cabin, then we'd walk in the forest and look for birds. " She explained. "That's..well, that is why I'm spending so much time in the cabin.." She chuckled. Lucas found this weird, to say the least. If Ama and her father spent so much time in the cabin, why didn't people know of that? This is getting weirder and weirder.. "You also don't have to come with me, you know... I have a feeling that you're almost pissing your pants.." She chuckled, stopping and turning to look at him. "It was probably just some dog, or something." She shrugged. Even though Ama looked so calm and was sending him one of her beautiful smiles, Lucas found this whole thing simply unsettling. "Nah, I'm good." He grinned, trying to reassure her. Furrowing her brows, Ama just shrugged and carried on walking.
"Where are we going anyway..?" Asked Lucas, now just needing to know what in god's name was going on. "The 'dog' probably ran off towards the coal mines, or something." Explained Ama, seeming to know her way around the forest. As the two of them carried on walking around, they slowly reached the old coal mine. Lucas really didn't like that place. He vividly remembers how once when he was still a boy scout they went out camping here, they told ghosts stories and... "Didn't Jake Cooper go missing here.?" Spoke up Lucas, realisation striking him all of the sudden. Even Ama turned to look at him. "Huh?" Raising an eyebrow, she was giving him a strange look again. "Oh, you know.." He sighed. "Janice Cooper's twin..." He mumbled. "You seriously don't remember? It was the talk of the town for weeks..!" Lucas was really trying to get her to remember, or to get some kind of a reaction out of her, that would prove him that 'yes, that happened'...Instead, all he got was a blank, confused look from her.. "I.. Don't know." She said, shrugging. "I was home schooled and I didn't really watch the news.." She brushed it off and looked over at the mines.

This just really rubbed Lucas the wrong way. He thought that everyone knew of Jake Cooper's vanishing, or kidnaping, or whatever people said it was.. Sure, Oak Vile made Lucas wonder if his reality even was reality, but now that he thinks about it.. "You should have seen the posters though." He mumbled, making Ama turn back to him. "What?" She asked, but Lucas just shook his head. As they slowly walked towards the coal mine, Lucas' heart beat started rising again, just like when he was surprised by that monster. He was getting a bad feeling in his gut and his mind was a little too loud for his liking. The fact that Ama didn't remember, or know Jake Cooper really gave him a weird feeling. Did he just imagine things? Is that even possible? Am I even real?

Is anything here real? "Hey, Lucas?" And he was back. He saw how he gathered up his things and just how excited he was to go out on a trip. Since his father was always too busy to take him out to hike, or anything like that. "Lucas?" He saw himself run outside to catch up with Mr.Cooper and Jake. "Oh come on, Lucas answer me." Then, they carried on to walk off to the edge of the forest where the scouts would meet as their parents dropped them off there. They'd walk into the forest and visit a few places, like the lake, the bear stones... And lastly, they'd visit the mine and set up camp nearby.

"Lucas, hey Lucas!" And Lucas saw it in front of his own eyes again. Jake Cooper, shaking him to wake him up with that stupid grin on his face. "Let's go look for wilder beasts! Mom said they come out at night!" He chuckled, getting up and running off. Lucas didn't even have the chance to get up, or to say anything. Jake just ran off like that. Lucas stayed in his tent, but he did hear some heavier footsteps following after Jake ran off, so Lucas thought that one of the adults probably got up and went off to get Jake back into the tent.. Like that, Lucas rolled back on his side and drifted off to sleep.

"Oh for fuck's sake, Lucas, get your head out of your ass!" And slap. Lucas blinked a few times, still seeing stars. He raised his arm to his reddening cheek as he turned back to look at Ama with wide eyes. "Wha..?" He blinked, looking like a deer in headlights. Ama just let out a sigh. "Fucking hell, man... I was thinking that I lost you.." She shook her head and looked up at him. This is when Lucas realised that he was sitting on the ground and she was terrifyingly close to him. Ama leaned closer, her warm hands holding his face as she looked into his eyes. "You... were dissociating, I think..." She mumbled, staring into his eyes. Lucas just blankly stared back at her. "You're really pretty when you're worried, you know.." He mumbled, surprising Ama, the she just sighed with a smile. "Yeah, you seem to be alright..." She mumbled, letting him go. Lucas was instantly yearning for her touch again.

"We should probably go back to the cabin." She sighed as she got up, dusting herself off. Lucas just watched her, still sitting on the ground like a sack of potatoes in the pantry. "Aren't we going to look for Jake..?" He asked, sounding a little like some sad kid who's lost one of his dearest toys.. Ama just looked down at him, frowning. "Lucas, I don't think Jake ever existed..." She mumbled, squatting down and just gently caressing his face, in hopes of calming him down. She tried sending him a small smile, but Lucas just blankly stared at her. He looked more like an empty shell at this point.

"I.. He had to.. Why do you say this?" Lucas felt lost. Even more lost than usual. Usually he'd just sink deeper in his thoughts to hide from the reality he despised a little too much. Stuck up women with pretty pearls, stuck up men with sucky dead end jobs, empty smiles, meaningless words.. Maybe that's why Lucas really stopped to read. He'd always get stuck on one word and keep reading it over and over and over and over...And over until it lost all meaning and he'd just stare blankly at the page, gripping the book harder and everyone would laugh and he'd earn another F and another session with the teacher trying to know what the problem was... "You're doing it again, Lucas." Said Ama, now snapping him out of it with her first try. "Ah..Sorry.." He sighed, closing his eyes for a moment. "Maybe we should head back.." He mumbled, slowly getting up with a little help from Ama.

As the two slowly walked out of the mine, taking it slow and making their way back to the edge of the forest. Lucas was surprised how well Ama supported his big, stupid body.. Reaching the outside, Lucas found himself puzzled as the sun was coming up. Confused, he looked down at Ama, who was surprisingly gone.(edited)

He blankly stared at the empty space, but he just looked over at the city and began to walk on his way home. White picket fences, the paperboys riding through the town, a few cars here and there.. Reaching his home, he slowly walked up in his porch, opened his door, kicked his shoes off and slowly walked up the stairs, making sure to step over the third step, since that was really creaky. Passing by the family photos on the walls and the wacky flower printed wallpaper, he reached his room. Entering, he let his bag drop to the floor, as he closed the door behind him and he proceeded to his bed. Running his fingers through his hair, he flopped down on his bed and sighed. He was simply exhausted. His eyes slowly closed down and he drifted off to peaceful slumber, maybe the first one in years.

The unexplained black goop was gone in the morning, then when Lucas went in to work the next day, he seemed to be in better spirits. He talked about the news, then got to the topic about the house.
"Well, dear listeners, regarding the hag's hut, I have visited it myself yesterday.." He paused for a moment. "I have to say, " he chuckled a little " it was quite the trip, really.." His smile slowly faded, then he smiled again to himself. "I don't think there's much to the house, I mean, there isn't much to any house, or anything if we dissociate ourselves from everyone and just push people away, you know." He tapped on the table for a little, looking over at a little picture frame on his table, on which he saw his younger self, a younger Jeff and a peculiar dark haired girl along with twins. He smiled a little more, then looked back at the mic.
"Everything is temporary is you think about it hard enough. Everything will pass, just like that house. Let it be loss, discomfort, anger, sadness, loneliness.. You control how you see the world surrounding you, only you can save yourself." He nodded to himself.
"Let there be scars on your arms like a dam built by beavers, a childhood trauma, or the loss of a loved one..I think we, humans, can come over things. Let us mourn it, or escape into religion, love, or other addictions.. At the end of the day, we are still humans." He looked over at the little window, from which he used to look at Jeff, not seeing anyone anymore. "And that's all for today, " he smiled.

"Have a good day, folks, goodbye Oak's Vile."


With this, Lucas slowly stood up, taking his headset off, reaching for his coffee stained mug, but then he stopped himself, letting out a small sigh and just leaving it like that. After a couple of months, Lucas was finally ready. With the help of his parents and his brother, he packed up his things and got on a bus, heading to the sunny Arizona. Ever since he left, his brother started helping out in the radio station, being ambitious as Lucas was.. The cabin at the edge of the woods was still standing there, with the flickering blue Christmas lights. Janice Cooper was still obsessing over the 7/11..
While Lucas moved on.


As he has started working in a coffee shop in Arizona, getting his own place..
He did feel himself drawn to a record shop one day. Approaching the shop, he froze up as he saw the name.
Amalee's.
Not wasting his time, he walked in, instantly getting the attention of the young woman behind the register. Those were the same dark eyes, dark hair and pale face along with the freckled galaxy on her face. The woman's eyes widened and a smile crept up on her face.
"You're here."




I find dreams to be pretty weird, as some people dream about absolutely absurd things.. Such as their teeth falling out, them flying, falling... The usual dream stuff, but then there's me. Poor little me, poor little me. I dream of being in an empty mall, or shopping center with old songs playing on the speakers. How weird is that? The weirdest part is that it's really realistic. I don't dream always, like in one week I dream atleast three times, but sometimes I dream more. I have no idea how to explain this, I myself am weirded out by this. Come to think of it, I never even told anyone, so feel special.
My usual bedtime routine is basically me washing my face and brushing my teeth after a shower, putting on some body lotion, my jammies and sliding into my bed after I closed my door.
I could always hear my housemates talking, or playing some music. Maybe that influences my dreams too.So, as I usually try falling asleep, I would roll around in my bed with my eyes closed. Quite normal, eh? Following this, I normally fall asleep pretty fast, slowly feeling lighter and lighter, until I hear some distant muffled music creep up on me, then I open my eyes and there I am. I am standing either in an aisle, or sitting on a bench in an empty mall.
What do I do, you ask? It's pretty simple. I usually walk around and enjoy the music. This time, I found myself in the snack aisle of an empty shopping center. Simple Minds' Don't You Forget About Me was playing, you know, the song from the 'Breakfast Club'. Such a great movie. Standing around in the aisle, I take my time to look around, not seeing anyone, or hearing them. As I made sure of that, I let out a relaed sigh and my journey begins once again. I wander the aisles, humming, skipping occasionally dancing a little and twirling. As I walked down one of the aisles, I noticed those silly, rubber band bracelets on a rack. Not thinking much of it, I picked one up, sliding it on my hand. I smiled as I admired the strange colour combinations. After this, I just continued.
It's all good. Following this song, Queen with David Bowie come on with 'Under Pressure', making me smile a little wider. I might be weirded out my by dreams, but I actually don't mind them. It's nice, they are nice.
As I continued to twirl around and walk around to the beat of the music, I froze as I heared something fall and crash into the ground. My body tensed up as I slowly turned around, feeling myself shake. Could it be? Is someone else beside me in here? My heartbeat picked up the pace as I slowly turned around to face the person who has knocked the thing over.
Black eyes, black hair, pale skin, a tall, burly frame.
"Wha..what the fuck?"
I blinked rapidly as that little sentence slipped out of my mouth, almost hurting my vocal cords. As I stared at the figure, only now I realised that he was wearing a grey-ish blue jumpsuit, which had red splatters all ove-...Is that blood?! Coming to think of it, that would explain the bloody knife in his hand. Slowly looking back up at his face, I notice how much it looks more like a mask than an actual person's face.
I..Isn't this the guy from Halloween?
"O..Oh fuck.."
I whimpered, slowly taking a step back as he just stood there, his gaze visibly fixed on me.
Just him standing there gave me the creeps. If that wasn't enough, the lights flickered and some blinked out. The music became distorted and fell quiet for a second, but then it booted back up and began playing 'Psycho Killer' from 'Talking heads'. Oh how hilarious. As I felt my skin crawl, I spun around and began to run, whimpering and feeling big, warm tears roll down my face. I didn't hear his footsteps, yet I kept running.
Why is this happening to me? Nothing like this ever happened to me in my dreams! Why now?!
Just when I thought that I lost him, looking back behind my shoulder as I kept running, I let out a slightly relieved sigh, slowing down. However, as I looked back in front of myself, I froze again.
The man was in front of me again. Gasping, I stopped and couldn't move, as he made his was over to me. Tears clouded my eyes and the only thing I saw was him raising his arm, but then I heared a fmailiar voice.
"Shit! Shay! Wake up! It's okay!"
I didn't realise that I was screaming and just shaking in a cold sweat. As I opened my eyes, gasping and whimpering, I found myself in the comfort of my bed, my sweaty pyjamas and one of my housemates holding my arms, so I wouldn't hit him, or myself. Still shaking, I looked around with a terrified look on my face.
"I..I'm safe?" I mumbled, looking up at him, looking for reassurance. He just sighed and nodded.
"Yeah, you started screaming in your sleep.. We, uh, had to break down the door.." He looked over at the broken down door. I slowly sat up, staring at it.
How strange, I never lock my door before going to bed. Just as I thought of that, I slowly looked down at my arm, freezing up again as I noticed the bracelet from my dream was on my hand. Whimpering, I broke down shaking again. What the hell is all this?!


Now, I usually roleplay 'original' plots, but I would be fine to do stuff inspired by a book, or a movie, tv show, or even a song. So, here are a few fandoms I'm into and a few of my favorite movies/books and such + A few of my cravings.

The Perks of Being a Wallflower
Criminal Minds
Marvel + DC
David Lynchian horror stuff
Harry Potter
Call Me By Your Name (I find romantic stories in the 80s-90s taking place in Italy to be really aesthetically pleasing, plus I like the story)
Fangirl (I relate to socially anxious haracters so much, plus the basic plot to the book could make a nice rp)
Literally any plot which takes place in the 80s-90s, could be even the 50s. I love the era, the fashion and the typical highschool romance movies.
Beaty and the Beast retold in a more horror-y fashion. (I am not talking about the shape of water)
Mythology related stuff! Greek, or Norse, I love both.
Ice Skating related stuff
Anything involving psychological stuff, horror and such!
So, upon further mind storming, I've come to the conclusion, that I could probably post a few brief plots I have in mind.(I'll keep adding to this.)




The Princess and the King, or just another beaty and the beast like story, taking place in medieval times, the two main characters being the second eldest princess of a kingdom and a demon/vampire king, who has threatened said princess' father to give him a wife. As the father of the princess didn't have a choice, the girl volunteered to become the monster's wife. I actually have a plot line in mind and I know where I'd like this roleplay to go to, but be warned.. I don't like pretty vampires and demons. If it's a vampire, or a demon, or whatever, it should look like a damned monster.

Tomie? Well, no, but it's close. I was a little inspired by Junji Ito's Tomie and other eerie manga collections. The main plot revolves around a girl, yes, a young girl who is constantly watched, or stalked if you may by a few people. Why? Well, to explain it in short, no matter how many times people kill her, she is always 'reborn'. Rebirth is an interesting concept I think, she wouldn't remember anything from her previous lives, obviously. She would always start off at the same age and the same spot in which she was murdered. So far this is all I have for this one, but I think it could be played around with.
The Deities of Our Days, or a story which I came up with as a lame 14 year old who was obsessed with mythology and such (And it actually paid off in art school!!), so, basically.. Deities of out days are born just like normal children. They are born to normal parents, into normal households. How do you know it's a deity? It's easy to notice, since they are born with golden marks. Anyway, after the child is old enough, the parents can chose to send them off into a temple, so they could train their newly found powers and learn how to act like an actual deity. There are multiple temples for this sole reason around the world, the biggest one being in a small made up town, near Peru, and the schoool just happens to be one of the oldest ones. Priests, monks, priestesses, etc. teach the youths. So, yeah, it would be basically a little like percy jackson and in a nutshell the whole rp would be a deity school thing.
Fish Out of Water, or Neptune's Daughter. -
Staying on track with an actual mythology related roleplay, this one would take place in the medieval ages and the characters who'd be involved would be pirates. So, on a normal, peaceful day for the crew while some of the crew threw out their fishing nets to catch some dinner (Since they haven't come across any boats to steal stuff from), they end up catching something much bigger. An actual person! Pulling up the nets, they pull out an unconcious little lady in a white gown, messy hair and actual, sparkling scales on her legs. First, most of the crew wants to throw her back where they got her from, but as the captain approaches and notices the scales, he decides to call up the doctor of the ship to take her away into his chambers and examine her. As the girl regains conciousness, it is soon learned that she isn't some strange woman, she is indeed the daughter of the big ol' mighty Neptune, which leads to the Captain and his whole crew drop into the middle of an adventure, as they will try to take her back to her father, while the monsters of the sea attack them, trying to take the girl back too.
And this would be it, just a little warning though,.. English isn't my first language, it's my third, I'm still imrpoving it, so don't give me all that sass, that this isn't an excuse. I think it is a good excuse and it's just the truth, then again, atleast I know the difference between *your and *you're, unlike a few people who's first language is in fact English.

Anyway, hope one of these tickled your fancy, have a good day, feel free to hit me up whenever.
Last edited: