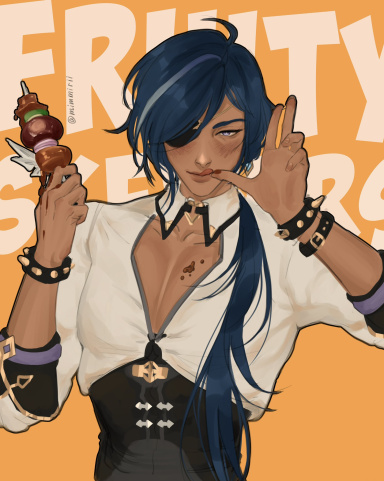 poor little meow meow
Original poster
Invitation Status

Looking for partners
Posting Speed

1-3 posts per day
One post per day
Multiple posts per week
1-3 posts per week
One post per week
Slow As Molasses
Online Availability

Evening/Late Night (MST)
Writing Levels

Adept
Advanced
Prestige
Adaptable
Preferred Character Gender

Male
Transgender
Primarily Prefer Male
Genres

High fantasy, modern fantasy, gaslamp fantasy, Anything Fantasy, dark comedy, supernatural, paranormal, psychological, yada yada

CALL ME A GHOST
well yeah not quite, i'm a poltergeist
---
[Tabs]
[Tab=INTRO]
Hello, friends! My name is Opal. I'm
here, I'm queer
25 years old, Canadian, and I stay up way too late. Most importantly, I'm looking for a few partners to join me in playing out a few ideas I have!
I know this is disgustingly long (SORRY) but it got like this even after me trimming a lot of shit lmao. 8( Also, in case you are new to the site,
the purple bars are clickable!
ABOUT ME

For best results, look at my role-play resume.

✤ Right now I am only interested in M/M role-plays.

✤ I'm forgetful, easily overwhelmed, a ball of anxiety, and suffer from chronic, but seasonally affected depression. Feel free to jab me if you think I have forgotten (because I can guarantee that I'm not ignoring you on purpose).

✤ My posting speed is unpredictable, unfortunately. Depending on the circumstances it can change from multiple posts a day to one or two posts a week. I post updates in my status (and blog) a lot, so keep an eye on that!

✤ I like to write a lot. My starter posts are often between 800 and 1200 words, and my posts after that can range anywhere between 300-600 words or more, depending on the context. You don't have to write this much; just warning you that I do, so please don't run away if I show up with a long post! I have no word requirements; all I ask is that you give me some insight into your character's head, and give me something to work with. Also, if you are more comfortable with shorter posts, I can try to accommodate you!

✤ I dislike shoving characters into dominant/submissive roles, unless we're talking about a D/S relationship/lifestyle. Likewise, I don't like having to be a 'dominant' or 'submissive' role-playing partner. I like to hear your ideas! I don't want to take the lead on the whole thing. It's collaborative writing for a reason, after all!

✤ I love to chat OOC. I like to make friends. I like to know my partners are as excited about the role-play as I am. I like to find songs that suit my characters and the story. If you like those things, too, I think we'll get along great. :-D

✤ A lot of my boys are on the feminine side. Not all of them, but a lot of them. If this doesn't jive with you, I do have some characters that are more masculine in appearance. But I do enjoy my boys who don't give a fuck about gender roles. :-)

✤ I am much more comfortable role-playing through the forums than I am over private mediums. I'm likely to only agree to PM role-plays if I'm comfortable with you (or I'm otherwise feeling bold and lucky).

✤ I prefer using art for character images, but I'll use real life face claims if that's what my partner is comfortable with.

✤ I'm ditch friendly. I have infinite patience and I will never pressure you for replies. I understand that this is a hobby, and we all have real lives outside of the computer screen. If for whatever reason you're not feeling the role-play any more, that's just fine. I don't mind. I mean, I'd appreciate it if you let me know, but even if you don't, I won't cry.
I don't mind having multiple role-plays with the same partner. When you find a good partner, you gotta keep 'em!
This base code is by FieryCold!
[/Tab]
[Tab=SEEKING]
IN GENERAL
Right now there are only a few plots/ideas I'm interested in trying out, along with finding homes for certain characters of mine, so this thread is a bit more barren than it normally is. Maybe that's a good thing...?
Also, I wax poetic about how I like to write long posts but I'd like something a bit more laid back right now. So short posts are fine as well, if not encouraged.
IN A PARTNER

- As I mentioned in my 'about me' section, I like to write a lot, and though I don't expect anyone to match what I write (I don't mirror match, so why should you?), I do always enjoy writing with a partner who also writes long, detailed posts!

- Someone with a pretty good grasp on English. I'm not requiring literary perfection, but I do ask that you know how to dot your i's and line your t's, and maybe don't switch between tenses in a single paragraph. If you wanna write in present tense, that's cool (I love writing in present tense!), I would just appreciate if you could stay in present tense, y'know?

- Someone patient. Sometimes I can't reply every day. I don't mind a kick in the ass once every week or so, but I get very touchy when someone starts bothering me every day to post. Keep in mind that I have infinite patience, so I will always wait for you (that sounds a bit romantic, doesn't it?). You could come back a year later and ask if I was still interested, and the answer would probably be 'yes'.

Also straight up I just have shit communication skills. I have social anxiety and I'm always scared of upsetting or annoying people. It's something I'm working on, and I don't expect anyone to put up with my shit, but I just want to be up-front so people know ahead of time what they're getting into with me.

- To tie in with the above: someone friendly... 8( I would really prefer someone that is easy to get along with OOC, or else I will become very intimidated by you and it will become hard for me to reply to our role-play, and even harder for me to let you know what's going on. I know this is pretty dumb, but it is what it is. Let's be friends!

- Someone who understands that sometimes a little power playing is necessary to move the story along.
[/Tab]
[Tab=KINKS]
For a detailed list, take a look at my
House Eros page
.
Some things I'm particularly fond of:
(Tw)incest
Heat/oestrus
Knotting
Dramatic age differences (no character younger than 16)
Hurt/comfort (basically my favourite thing)
Monsters/demons/non-humans
Bossy/dominant bottoms (esp. in a master/pet situation)
Coercion/black mail
Begging/desperation
Orgasm control/denial
Cross-dressing/boys in lingerie
Most important things I do not like:
Parent/child incest
Anything you would do in a toilet
Pony/puppy play
Pregnancy/m-preg/children pls no *
Things I'd like to give a try
:
Daddy kink
One sub/multiple doms
On the topic of m-preg for omegaverse:
I am fine if the possibility of male pregnancy exists in a universe. I'm just not on board for our characters conceiving and bearing a child. Infertility is an option, for added strife, or fail-proof birth control. Whichever. I just am really squicked out by pregnancy in general and don't like the element it adds to stories. No interest in playing out a family dynamic.
Or
it can just not exist at all, as I have written for a couple of my omegaverse ideas. Definitely more than okay with that. 8|
[/Tab]
[Tab=IDEAS]
Cleaned this up once again. There are not many ideas here right now, but that's because these are the only ones I really want to do. I don't really feel like I'll be able to get into anything else at the moment.
The more asterisks, the more I want to play it (though I like all of these ideas; I wouldn't put them here if I didn't).
Some plots I'm fine playing out with multiple partners, even if I have a partner already. Those will be marked with (!).
THE HAND THAT FEEDS *********

Content warnings

: Master/slave, femboys, dubcon

I have both a character and an introduction for this role-play.

https://www.iwakuroleplay.com/characters/kamil-ramza.12314/

Your not-so-typical demon summoning role-play. Character A (Kamil) is the adopted son of a noble family, and a highly regarded alchemist. During the day, he provides standard alchemical services to the people of his city. During the night, he practices more nefarious branches of his craft. He is trying to reanimate corpses, to have a creature he has complete control over.

Instead, he summons a demon (character B). At first he is frustrated, until he learns that in summoning this demon, he has inadvertently formed a pact with him - making him essentially the demon's master. An alternate means to an end.

I just really love the idea of a small, feminine bottom dom and a masculine top sub.

KISSING THE BEEHIVE ******************

Content Warnings

: Mental illness*, abuse, dub/non-con, hurt/comfort

* Could also be attributed to possession or something if you don't want to go down the MI route.

Character A is an angel, and is fascinated with mortals and their world. He is known to spend hours on end mingling with humans and exploring all of the fascinating trinkets and locations, like cars and fast-food restaurants and those strange waterfall machines mounted in men's washrooms. However, when A gets into one particular scuff, the gods are not happy; his punishment is to watch over one particular young man who is having some troubles.

Character B suffers from dissociative identity disorder. One alter, his 'true' self, is very gentle, polite and soft spoken and could never hurt a fly. His other alter is cruel, tyrannical and horribly sadistic, and would love nothing more than to murder a man with his own two hands. Although A is convinced he can handle it, he finds that this job isn't quite as easy as it was cracked up to be.

I have a character for the angel

:

https://www.iwakuroleplay.com/characters/ezra-king.13915/

As well as some lore for angels/demons/the afterlife. I also have a very long introduction written for this, so I'm ready to go!

(UPDATED) KISS WITH A FIST ***************

Content Warning

: Incest, violence, dub-con, abuse, rape, and other terrible things.

You hit me once, I hit you back / you gave a kick, I gave a slap / you smashed a plate over my head, then I set fire to our bed

My black eye casts no shadow, your red eye sees nothing / Your slap don't stick, your kicks don't hit, so we remain the same / Love sticks, sweat drips, break the lock if it don't fit

A kick to the teeth is good for some
A kiss with a fist is better than none.

This was originally not quite so detailed, but I had a role-play based on this that unfortunately needed to be put to a stop due to unforeseen circumstances. I absolutely

adored

that role-play though, and the character I created for it, so I would really love to pick it up with someone else.

Character I am wanting to use:

https://www.iwakuroleplay.com/characters/levi-wong-mueller.13768/

tl;dr

Two brothers live together as adults to spare themselves the frustration of living with strangers. One brother is known to get extremely violent. The other one (Levi) puts up with it, because he is hopelessly in love with his brother, and has been for years. Whether the romantic feelings are reciprocated to begin with or not is up to us. All right this doesn't sound as detailed as I thought it would, does it? 8 ) Mostly because I don't want to put down exactly how the original role-play went, because different people like different things, and I don't want to dictate your character for you. If you're interested, we can talk it out. I've just become quite attached to Levi. Though the relationship is abusive, Levi is not completely innocent (nor is he submissive): he is incredibly manipulative.

An important note

: None of this will be romanticized. Please don't contact me for this plot if you're interested in some rape fetish stuff. I want to explore an unhealthy relationship while acknowledging that it is unhealthy and fucking awful.

If anyone would like to continue this with me, I would be so very happy! ❤

TRY TO KEEP UP *******

Content Warning: (Possible) underage, violence.

Character A is the rebellious grandson of a mob (Cosa Nostra, yakuza, Bratva, whatever) boss.
Character B is the bodyguard hired to watch him and make sure he doesn't do anything stupid. Probably unsuccessfully.

A simple idea that I think could be really cute. :-D Looking for a more comedic story but I'm fine with things taking on a darker theme (obviously considering it involves the mafia). Dark comedy would be ideal. Of course we can work out details together, because I have no real concrete plot. I would prefer to play the grandson, but I will also play the bodyguard.

(NEW) USE ME, I'M YOURS **************

Content Warning: (consensual) master/slave, dom/sub, sex heavy

Set in a universe where vampires have dominated over humans, and use them primarily for servants, entertainment, and food. Most vampires, even the middle class, have a human slave. It's expected. Noble vampires are expected to take upon a human slave, and artificial breeding is a thriving industry amongst nobility to create the 'perfect' humans. Humans are to be used; they aren't to be loved. It's considered shameful for a vampire to involve themselves with humans in any other capacity, and nobles can easily be exiled if they are found out to have a romantic relationship with humans - or to treat them as anything other than cattle.

Character A is a noble vampire who has only ever really had one desire: to be dominated. He has no interest in dominating over humans. In fact, he wants to be dominated by them. When his father insists that it's time for him to pick out a human slave, he dreads it: until he notices a beautiful, but unruly slave (Character B), who he believes will be perfect for his needs.

Honestly just shamelessly ripped off from the manhwa Blood Bank. I certainly don't want the plot to be remotely the same, but the concept is something that interests me. Mostly I just want to play a sexually repressed, incredibly submissive vampire. :E I don't get the chance to play submissive characters often, nor do I normally want to, but I would like to here!

(NEW) RETURN TO SENDER *************

Content Warning: sex slavery, dubious consent, (past) rape, (past) abuse, homophobia, hurt/comfort. Potential: abuse, rape, forced feminization

Character A is your average young adult closing in on his thirties. Nothing in his life is particularly out of the ordinary. He has a job that pays the bills, lives on his own, and has a good group of friends. The only problem is that both his parents and friends have started nagging and teasing him about his perpetually single status. His mother wants grandchildren. His friends think he needs a girl to keep him on his toes.

The only problem is that A is so deep in the closet that he can see Narnia. His family is homophobic, something that has rubbed off on him, causing him to struggle with a lot of internalized hatred. One day, he gets so fed up with the constant harassment, he gets drunk off his rocker, and impulsively clicks on a junk ad for mail order brides. He intended it as a joke, he really did - but between desperation and intoxication, he actually ends up ordering someone. And going through with it.

When he arrives at the airport to apprehensively pick up his illicit girlfriend, he doesn't see her. All he sees is a young man (character B) vaguely fitting the woman's description. He's beautiful, and frankly exactly A's type, but he panics. He was supposed to receive a woman!

Understandably angry, A takes B home, but threatens to have him sent back ASAP. B, having endured unspeakable horrors in his home country under the 'care' of the owner of the company, begs A not to return him. He promises that he'll do whatever A wants him to do; he'll even pretend to be a girl, if he wants him to.

A horrible angsty plot with miserable angsty characters abound. I'd like to play B/the 'bride'. Idea picked up from a fan fic that ended in an extremely disappointing way. :E
Vague ideas
:
- Something to do with music and the unhealthy lifestyle that often accompanies it. Or, like, an addict/dealer relationship of some kind. Mostly I would like to use my character
Adrien
.
- A human (a rare species!) is discovered by a member of a different (alien or magical) race, and the relationship that spurs from it. Bonus points if humans are regarded as these fantastic, magical creatures, so character of a different race is ecstatic.
- Arranged marriage: whether it be between two characters who dislike each other, or an ordeal wherein two lovers are forced into a 'mistress' situation when one party is forced to marry someone else. Maybe a fantasy/medieval setting, including royalty.
- Something involving a very feminine man with a very masculine man, wherein they both love each other very much and the very masculine man is the feminine man's - pardon my crude language - bitch. I just. I just really want this lmao
More will be added as I think of them.
[/Tab]
[Tab=PAIRINGS]
Ignore this for now, thank you friends!
AKA 'ideas that aren't fleshed out at all'. Just vague little bunnies that can be elaborated upon to great effect!
A '❤' means I would prefer to play this character. If there's nothing, then I'll gladly play either character.
A '✯' means I'm very interested in this. Multiple '✯' for added effect.
A '!' means I have some kind of vague plot idea or two.

Alpha/Beta/Omega. In any sense. I just love this dynamic, okay. ✯✯✯✯
Wizard x Apprentice
Twin x Twin
Brother x Brother
Sailor x Siren ❤
Fisherman x Mermaid ✯✯✯✯
Demon x Human
Angel x Demon
Predator x Prey (fuck am I doing furries now I guess I am)
Vampire x Human
Vampire x Slayer
Master x Servant/Pet
Trans male ❤ x Cis male
Human x Shapeshifter/werewolf/monster boyfriend ❤ ✯✯✯✯✯✯
Body Guard ❤ x Charge
Rival x Rival

FANDOMS
I have approximately 2 fandoms for which I'm confident in my ability to actually write canon characters
but here they are 8)

Yuri on Ice
Katsuki Yuuri x Victor Nikiforov !
Yuri Plisetsky ❤ x Otabek Altin (aged up) ✯✯✯ !

Persona 4
Souji/Yu x Yosuke !
Souji/Yu ❤ x Kanji

... and then some fandoms that I'm only interested in using OCs for:

Harry Potter (I'm not a Super Harry Potter fan so I don't have the deepest knowledge of the series; I'd kind of like to piss around with one of the other schools)
Dragon Age
Silent Hill
Pokemon (some dumb Adult Version of Pokemon, idk)

And I'll add more. Probably.
[/tab]
[Tab=CHARACTERS]
On top of my various plot ideas, I also have quite a few characters I'm looking to use. Some are abandoned from old role-plays, some just haven't had the chance to be part of a story yet at all, and some are old OCs of mine that I love too much not to slap up here.
Characters Looking For Homes :'(
JULIEN LAURENT
A fragile contract painter who lives with one foot in reality and one foot in his shattered memories at all times.
Can be used in the following settings:
Psychological, dark fantasy, supernatural, paranormal, crime drama, horror, hurt/comfort, modern fantasy, grimdark.
Lots of hurt/comfort probably tbh. Can either be used in a story geared more towards recovery and happiness, or a story intent on tearing him apart even more.
---
EMILE LÉVESQUE
An upscale French prostitute, and an omega.
I originally created him for a fantasy omegaverse role-play involving a certain level of political intrigue, so there's that. Can be used in any omegaverse setting, however! Fantasy, historical, modern - anything.
---
FAOLAN TARANIS
Scholarly elf prince, necromancer-in-training, pacifist, failure to his family. Loves small animals and strawberries.
Originally was created for a role-play wherein he was betrothed to a human woman from another kingdom. Said human woman was actually a human man who was forced to take a female form in order to be married off into a powerful kingdom. The story/characters for that role-play will always have my heart, but I really love Faolan and would like to actively use him in a role-play again.
We can try using a similar plot, or work something else out in a high fantasy setting! I love world building too.
---
ELIAS BERINGER
An exotic dancer/prostitute (apparently I really have a thing for prostitutes, wowow) who has been spliced with snake DNA.
Created for a group role-play that I had to drop because, surprise, I'm awful with group role-plays! But I like him a lot, so I'd love to use him in a one-on-one. The universe is a gaslamp fantasy/neo victorian setting wherein many humans - mostly the poor - are experimented on, just to see the limit of a human's body. Said humans are referred to as 'modded humans', and have become a hugely popular fetish item.
Role-play will be dark on some level; how dark is up to us.
---
ISAIAH JANSSEN
Just a boring ole' human for once. 8) He is a struggling (and extremely sexually frustrated) artist. Can be used in any modern setting, or a supernatural (vampires, werewolves, whatever) setting. Probably something with a lot of sexual content, some comedy, maybe a little bit of romance. Slice-of-life-ish. He's just kind of ridiculous.
[/Tab][/Tabs]
Last edited: