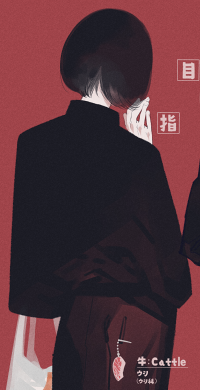 この世は でっかい宝島
Original poster
an earthly paradise - but not the true heaven.
hello, my name is sen. I've been roleplaying here on Iwaku since late 2014. though some things might say otherwise, I write because it is something I love, and it keeps my mind off the stress of daily life. it happens to be a great way to make friends as well, even though I am a younger person. let's enjoy writing together!
please note at the current time I am

NOT

interested in smut (exception for fade to black) or heavy romance.
what the mind wants:
​
posting

- it varies a lot. I am currently in my final year of high school, and I will be dedicating my time to mostly studying. not to mention I do have personal issues of my own that cuts down my motivation a lot at times. the latest my replies can go is two weeks. on the other hand there will be times where I will go hecking crazy.

​

quality

over quantity. my minimum is two paragraphs, my maximum... there isn't one. I can be quite descriptive, and I try to match length, of course, longer replies means I need a bit more time to write!

​

plot

with me. I cannot do this alone - this is a collaborative effort. I am a sucker for worldbuilding. I love to worldbuild, even if at the moment it won't contribute to what we're writing - it can be something we can use for the future. the thought of having something so rich and descriptive at the end that we crafted with our own hands is so damn good.

​

I prefer a

switch

player instead of one who is solely a passive or aggressive player, same as me. on this note, although I can adapt, I prefer

advanced

writers.

​

please

talk

to me outside of roleplaying too! I think it's more enjoyable when we're friends writing together, rather than just being partners!

​

redstars

are welcome too! just no smut, please.

​

I like to play multiple characters! better once the world has been fleshed out, I am willing to handle some NPCs and side characters.

​

I prefer anime faceclaims.

​

forum

only, I won't take it to PMs or Discord or anything.

​
things the mind really likes / wants to try:
fantasy

- I love fantasy, give me the fantasy. these days I'm really into historical fantasy.
I am the ultimate sucker for any

asian

setting, with supernatural or fantasy touches. ancient china? feudal japan? fantasy? yo, marry me.

demons demons demons angels angels angels and anything in between!

steampunk setting?

a monster-hunting guild based on the chinese zodiac (or some sort of theme). or a group or warriors or whatnot serving a royal family. as long as its a group of people who have interpersonal relationships with each other.

magic school, think little witch academia but with the complexity of harry potter kind of story.

human x mythical being

prince/princess x bodyguard
gender pairings:
I primarily like to play

male characters

. but I can play females too.

Prefer MxF, don't mind MxM, not comfortable with FxF (applies only to romance)
fandom:
OC

only

pokemon, mogekoverse, magi - just to name a few. please ask me about other fandoms!