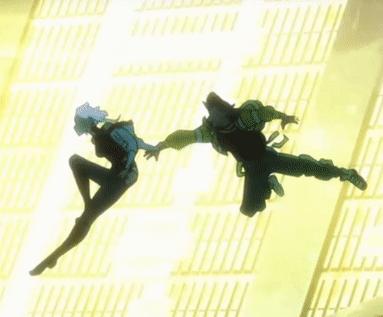 God's in His Heaven, All's Right With the World.
Roleplay Invitations

Group Roleplays
Posting Speed

A Few Posts A Day, A Few Posts a Week
My Usual Online Time

Whenever you're asleep, thanks time zones.
Writing Levels

Intermediate, Adaptable
Genders You Prefer Playing

Male, Female
Playing Style- Passive or Aggressive

Mainly passive, can be aggressive if the situation requires such.
Favorite Genres

Sci-Fi, Modern, and Horror.

Aoi is dispatched with Dea Cho to patrol the recently cleared areas of the cave system.
---
Blood had stained her clothes and her mouth still tasted of copper and iron as she and another walked through the labyrinth of tunnels and stairwells that made up the vast network of caves and halls beneath the Hon lands. She'd been reassured that the place had been thoroughly cleared, that there were no more demo-- enemies lying in wait around the next corner or in some dark and forsaken cavern at any point, yet here her and the new Cho; Dea; were, sent out to check on a specific section of the caverns, or halls, or tunnels, or whatever they actually were. They'd been given clear enough instructions, report anything of note and search any bodies they came across for information. She'd figured it'd be a simple enough task if the report that they had fully cleared the place was true but she couldn't trust it so soon after what she'd faced down just a few hours earlier, something like a demon could easily have avoided a search party if it so pleased.
She turned a corner and held the torch out in front of her with the younger and far more timid Cho in tow close behind. The light from the flames showed that the tunnel they'd been following opened into a larger cavern, certainly natural by the looks of the uncut walls and roof and the large stalactites that hung down like fingers reaching for the ground. She turned to Dea and gave her a little reassuring nod as they entered the cavern,
"Stick close, if the directions are right then we're about done with this patrol, can get out of here and back to the surface."
she said as she turned back to lead them forward silence the only answer she received from the Cho as a feeling of unease began growing in her stomach at the realization she'd been tasked with leading the genin. She didn't like the idea, that she had to look out for the Cho, she wondered why she hadn't been paired with Meilin or Dagrún, with her people so she would be more comfortable, but in the end there was little she could do. It was the order she'd been given and she had to swallow her pride and the seemingly pointless tension she had been so willingly stoking with Meilin and the Hon in order to at least feel like she had any grasp on what she was doing in this position.
They made their way around a rather impressive stalagmite that was wider than five men and came upon a surprising sight as the light of their torches licked at the darkness ahead of them. A three men lay strewn about the floor, their dark cloaks spread out in odd ways over their unmoving bodies and pools of blood reaching out in the direction of the slope of the cavern away from them. She stood where she was for a moment and held a hand out behind her to keep Dea from moving forward without seeing what was ahead first,
"A--"
she felt a sense of dread growing as she thought about the act of having to loot the dead zealots but pushed on,
"Alright, easy then, search them for anything of interest… maps, documents, that sort."
she said as she turned back to Dea who seemed to have gone white at the sight,
"Come on now, summon up that Chonobi courage no?"
she said as she offered her own weak smile and hoped her face wasn't quite as flushed as it felt.
The steps she took toward the bodies echoed around the cavern louder than she had thought they were earlier but she chalked it up to nerves as she stopped at the closest of the bodies and knelt beside it. With a small prayer that she was sure wouldn't be heard so far beneath the ground she lifted the cloak and breathed a sigh of relief to see that the man's face was turned away from her. She gingerly reached into the cloaks pockets and moved to the man's pockets pulling a few assorted items of seemingly random worth and nothing that would interest anyone behind a trinket collector. She stood up and eagerly dropped the cloak back over the man before starting to move to the second body when she realized that Dea still hadn't moved from their earlier stopping point.
"Dea?"
she said as she turned to the girl,
"Come on I know it's not fun or even slightly nice but the faster we do it the faster we're done, help me out here, it's not fair for me to search all three."
she said as she threw a glance back at the final two bodies,
"Please?"
she said as she moved her gaze back to Dea. The girl seemed to shift as if she was fighting against some force Aoi couldn't see before finally taking a step forward and moving quickly to the third body. Aoi didn't bother to force words from the timid Cho, figuring it better to let her mull about whatever she wanted in her own mind and talk if she felt comfortable enough to do so, though she couldn't say it made her feel very comfortable in such a place to be bathed in silence, she also didn't mind not having to talk to the Cho.
She crouched down again and lifted the cloak quickly to find the man face up this time, the expression of pain and sadness on his face causing her stomach to knot as she quickly took a hand to shut his eyes and move on to the less than savory business of searching a dead man.
She pulled a piece of paper from the man's pocket and opened it to find a small handwritten letter of some sort, though the handwriting was scratch and hard to decipher it was the symbols used that made no sense to her. She turned the paper slowly around to see if any one direction seemed to make more sense than the other and huffed slightly as no matter which way it faced the writing was completely alien to her.
"That's not right."
came the voice of Dea as Aoi continued to study the paper in her hands. She ignored it for a moment, only a few hearts beats before some part of her mind began to scream at her to pay attention to what the Cho had said. She quickly realized it was the first thing Dea had said since they'd left and looked up in confusion as to why the genin had finally decided to speak.
Aoi stared at the girl just a few meters away from her and watched with such intense clarity that she was having trouble processing everything she was seeing. The dead man had reached up a hand and appeared to be holding a handle into the stomach of Dea before he pulled it away revealing the nearly sixteen centimeters of blade that connected to the wood clutched in his hand. Dea tottered where she knelt as a deep stain quickly grew from the place the man had removed the dagger and seemed to try to say something before toppling over.
"DEA"
Aoi yelled as she leapt to her feet and pulled a kunai from her pouch. She threw it at the man's head and didn't even stop to make sure it had really lodged into the side of his skull as she jumped over his corpse and fell to her knees by the young Cho. She slipped her hands over the girls stomach and pushed as hard as she could as blood pumped from the wound. Her mind scrambled for the next steps, the next action she needed to take as the young girl bled out beneath her hands and distressingly her searching came up empty.
She screamed for help and realized the futility of the act as the cavern simply swallowed her voice in an unending echo before she tore her slick hands from the girls stomach and formed a bird seal. Her iron quickly left it's place against her body and formed into a ball above the girls stomach before falling down onto her wound as Aoi stared in disbelief.
"Come on Dea, come on!"
This wasn't right, everyone was supposed to have been dead and the cavern safe, they'd been lied to, set up for failure. She fell back in a panic as she watched Dea's eyes stare blankly at the ceiling and her life blood pump out from around the iron pressed over her wound. There was a warm, wet feeling running along her knees and shins as she knelt at the girls side and she realized it was the girls blood as she bled out before her eyes.
Aoi turned to find the nearest torch and grabbed it quickly, cursing softly that she knew nothing of Chonobi rites or rituals she smothered out the torch using her own cloak and without realizing just how hot the wood still was ran her fingers over the end of the torch and brought back her fingers covered in black soot. She leaned forward and felt suddenly wrong for doing such a thing to a Chonobi, but if her own God could be so accepting, then why couldn't the myriad Chonobi Gods find a way to overlook something like this? She quickly spread the black soot over the girls lips noticing an odd red left along with is as she did and moved to write the Taika symbol of peace over her forehead. She pulled her hand back and stared a moment as she tried to remember what she'd been taught just a few years prior. She felt herself shaking and wiped at her face, leaving warm streaks of the girls blood along her cheeks and underneath her eyes as she.
She apologized quietly before clasping her hands together and offering the last rites afforded to a follower of the Way of Fire. Hasty words strung in between gasping breaths and a shaky voice that she hoped would be enough for any of the Chonobi Gods to understand, that a Chonobi God would even understand her language. Finishing it off with a plea to any of Dea's Gods to listen to her words and accept them as the best she could offer for one of their own.
When she finished she dropped her hands to her side and wondered for how long Dea had been alive for that as she surveyed the horrendous amount of the girls blood that was now completely surrounding both of them and quietly decided that she had probably died sometime before she had even managed to put out the torch. A small amount of iron hissed out of one of her sleeves and snaked its way over to Aoi's own torch, wrapping itself around it and lifting it silently into the air as Aoi reached her hands under Dea and through the slick warmth beneath to lift her up and begin her walk back to the entrance they had been dispatched from for their risk free patrol.