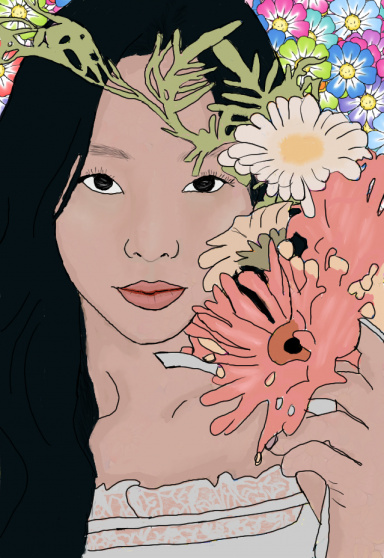 Roleplay Invitations

Group Roleplays, One on One Roleplays, Private Convo Roleplays
Posting Speed

A Few Posts A Day, One Post a Day, A Few Posts a Week, One Post a Week, Slow As Molasses
My Usual Online Time

Completely Random
Writing Levels

Beginner, Elementary, Intermediate, Adept, Adaptable
Genders You Prefer Playing

Male, Primarily Prefer Male
Playing Style- Passive or Aggressive

Both, prefer a mixture.
Favorite Genres

I am fine with many genre's so lay it on me and we can decide if that genre will work.
Genre You DON'T Like

I don't do anything with vaginas, sorry.

Kirigakure | Ramen Shop |

Claire Rose

and

Nishi Hirashima

meet as the former had requested her sensei to join her for lunch. The meeting starts with an apology from the genin, who hopes to mend things with her sensei. | A collab between

Oetje

and

Celestial Scorpio

|
After deciding to apologise to Nishi, Claire sent in a request to meet up together. It seemed to be the fastest and easiest way to talk with her leader. Once the request was processed she began to make her way to the location she asked to meet in. Since she had yet to eat lunch Claire picked a small ramen shop to meet in. It was close to her home, affordable and decently delicious.
Tucked away in the busy streets she entered the building. Aside from ramen they also had a few different teas one could drink. Ordering plain green tea Claire sat down and waited for Nishi to arrive. Of course she was unsure how long that would take and if the woman would show up. She was hoping the jounin would stop by so this conversation wouldn't take time away from their next meeting or mission.
Walking towards the meeting place, Nishi didn't think much about the imminent meeting with her student. She had decided to go without expectations and just hear out what Claire wanted to say. What was more weighing on the jounin's mind were other matters. Such as the current political standings, some vague rumours and fact that she hadn't heard much regarding the so called Suzu insurgents. Not that she minded that the last group was silent. If anything, the Republic could easily go without a resurrected Suzu clan. Their place was much better to stay as a footnote in the history of the Republic than attempting to become once more an influential part.
Entering the establishment, Nishi threw a lazy glance around. Spotting Claire, the jounin would stride towards the genin.
"You requested me?"
The woman asked in a calm and polite tone, as she took a seat.
Hearing footsteps approaching Claire looked over to see Nishi and then the question was spoken.
"Yes. I just wanted to talk about what happened during our last meeting."
She started, her tone held a nervousness to it as she spoke.
"I finally understand or well hope I do. I wanted to apologise. I let my own beliefs cloud my duty. And I said some harsh things that weren't necessary."
Trying to stay composed she glanced at the menu and gestured to it.
"Would you like some ramen? My treat. I know it doesn't make up for everything but I know from here on out there will be tough decisions. Some I may not want to make but I have to. I thought this would be simple but being a shinobi is so much more than I realized. Of course I don't have my sister to explain things to me but I do have you, someone still around with experience. And well I'll definitely need help becoming better at all of this."
Exhaling it was a mouth full and she spoke fast to get it out but she managed a smile as she looked back at Nishi.
The woman's right eyebrow slightly perked up by the first comment of Claire. Letting the girl speak, Nishi features didn't hint to what the woman was thinking or feeling regarding the apology of Claire. While not a fan to be treated, certainly not by somebody that was a subordinate of hers, Nishi decided to slowly nod when Claire declared it would be on her. Only for the genin to continue with stating she realised that being a shinobi meant a lot more than she had expected.
"You do,"
Nishi said, in regards to the Claire's statement she needed help to become better.
"And I am still interested to teach you."
Nishi added.
Leaning forward, with her elbows on the table, Nishi continued.
"I shall accept your apology. I have to say that things would be different if you were a chuunin. The thing is that you're a genin. I expect you to make mistakes. To not understand some matters and shall let bygones be bygones. As long as you learn from it, you will have some support from me."
The jounin paused.
"But I don't like to repeat myself. What you need to understand is that you are a genin. You don't understand everything and perhaps you never will. In all honesty, I might have years of experience, knowledge on political matters and yet I don't know everything. Anyhow,"
the tone and phrasing of the woman took a turn around, becoming 'softer'.
"I guess I would like something with chicken. And beans."
Her smile grew bigger and she nodded once the jounin finished.
"Thank you for understanding. From now on I am going to do my best."
Ordering Nishi ramen with chicken and beans, the cook added herbs to flavor and Claire got her own beef and pork ramen. The aroma from the steam rose in the air as the bowls were set in front of the pair.
"Can we train some time together? I know I have a ways to go and you might wait to send me on more missions but I don't want to just sit around. And well I know we will have team training but I want to train even before and after those sessions. More on my personal growth than team growth if that makes sense."
Slurping her ramen the taste was aromatic but hearty. It might not have been as delicious as pricier ramen but it still hit the spot.
Nishi wasn't sure if she was as eager as Claire. But she decided to not bother the genin with her cynism. Once the order was given, Nishi leaned slightly back in her seat. She had expected this exchange to go a tad different but was quite content with how it went.
The request of Claire made Nishi consider and weigh her options.
"We can. I can teach you some matters, I figure that can be useful for you. Some skills will take more than just my guidance. Patience and constant practice on your end will also be required."
Nishi replied as she slurped some of her dish. It was as good as it had smelled. Clearing her mouth, Nishi continued.
"It does. I wager that Yukimi will require some certain guidance before I can pull off any great result from a team training."
The jounin added.
"The question is, however, what direction you want to take? I can try to teach you matters of subterfuge but if you aren't interested, it will certainly slow down the progress."
Claire thought for a moment if she truly wanted to learn techniques in the subterfuge path. Shaking her head at the question she looked at the other.
"I only suggested that when I didn't want to accept having to do the extreme of killing. If it meant they would survive but be subdued."
Taking a sip of her tea she bit her lip.
"I may not like the option of fighting but I doubt I'd be good at subterfuge. I really want to focus on what is the best and strongest for me. Whether it be strategy or brute force. I am not sure where my strong suit is but if we find it then I can train to better myself in that way."
Tapping her finger on her glass she set it down and took another slurp of ramen before finishing her words.
"My sister was graceful. She fought for what was right. For her own beliefs or for the greater good, I am unsure. I just want to be like that. So all I need to do is find my stride and my methods and maybe I can be that person."
Pushing the empty bowl forward, aside from some broth, Claire looked into her cup of tea.
"What do you think would be best for me to learn and strive for?"
Even deep in her mind she still clung to revenge and maybe she would have it but she knew that wasn't a good reason to be a shinobi. Especially wanting to be like her sister who wasn't that way.
Enjoying her dish while listening to Claire, Nishi considered how to respond back. There was a hint of a smile as Claire stated she doubted she would be good at subterfuge. Considering what she had seen from Claire, Nishi couldn't yet make an exact statement what the girl's strong suit really was. There were a lot of different fighting styles and then also a lot of different ways how one could approach a fight. Or attempt to evade it.
Finishing her dish, Nishi found herself asked by Claire what she thought was would be best.
"Well, to start, you are you. I hate to be somebody to pierce a bubble but forget about your sibling. I have seen a lot of people weighing themselves to their brothers, fathers, mothers and grannies. And nine out of ten basically got disappointed or desperate. Besides, ideals aren't going to save you from being shanked."
Despite the harsh and brusque phrasing, Nishi did try to bring it as polite as she could with her tone. Leaning slightly back, she would not yet touch her tea. Allowing it to cool down first.
"Other than I doubt you even know what the great good is, that all won't help you to find what will make you stand out from other shinobi. I don't know yet what your strongest suit is. Luckily, there are some exercises and training to figure that out. But,"
the hint of a smile seemed to return to Nishi's lips.
"All in due time. Right now, I would just advice to not lock yourself to a certain ideal. Or that you need to follow somebody's footsteps. The world would be a dull place if we all started to do that, trust me."
By now she was starting to get used to the other's more blunt nature. Taking in the words she nodded and thought to herself as it grew silent. After a few moments her face turned to Nishi.
"You're not wrong. I am me and I shouldn't try to be exactly like my sister. I guess I wanted to be like her so she didn't just disappear. If I could be like her then she'd still be here in a sense."
Sighing she couldn't help but smile. There was no fighting between the two of them but an actual conversation. Unlike before.
"I will try my best to be as open minded as I can be. And to make a name for myself. I'll just have to remember my sister and accept she is gone and no one can be her. Thank you for helping me. It's been awhile since I have really just spoken to someone about all of this, the last person being my mother."
Claire couldn't help but laugh at the last part. Of course her mother would support her and not try to be realistic about the situation.
Leaning back in her seat, Nishi was content that Claire took her advice. She couldn't relate to what the girl said but did understand where the desire came from. Everybody honoured their death in their own way, Nishi thought to herself. When the genin thanked her and even laughed.
It provoked a faint smile from the jounin, who subtly nodded.
"You are welcome. Just try to remember that I am here to help. If you guys fail, it will look bad on my record, after all."
The jounin responded, in a polite tone.
"But I should take my leave soon."
The jounin stated as she would slowly get up. Throwing a look at Claire, Nishi seemed to consider something. Only to nod towards the genin.
"Take care for now. I will soon have you summoned for a training."
Watching the other stand up and move to leave Claire nodded.
'I will make the record look as good as I can and I'll be at the ready for training. Have a nice day Sensei."
Turning to the worker behind the counter she pulled out a hand full of money and paid for the meal. Smiling and thanking them she stood up and also made her way out of the building. Taking in the conversation and really letting it sink in Claire now was curious if it would go this well with Yukimi as well.