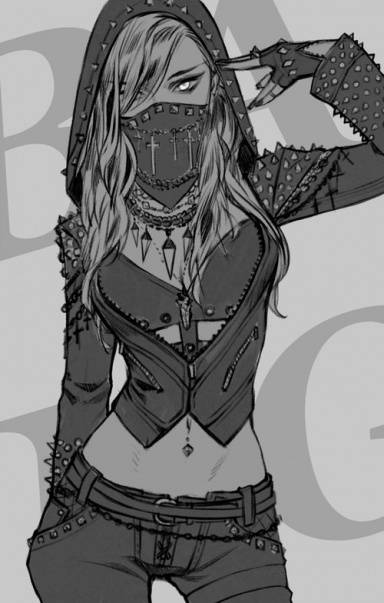 Invitation Status
Posting Speed

1-3 posts per day
One post per day
1-3 posts per week
One post per week
Writing Levels

Intermediate
Adept
Advanced
Adaptable
Preferred Character Gender

Primarily Prefer Female
No Preferences
Genres

Fantasy, Magical, Romance. The occasional slice-of-life if the plot is interesting.

Hello ladies, gentlefolk, and others. My name is Rae. I'm back from quite a long break from roleplaying after real life got in the way a little too much. But I'm ready and eager to get back into things - so here I am, hoping to attract some partners my way.
If you'd like a full writing sample from me, feel free to request one. c:

A Little About Me and My Preferences
​
As I said, my name is Rae, I'm 21, and I love to roleplay. I've been roleplaying on and off for about ten years now, I'd say.
Fantasy is my favourite genre, but I can also do slice-of-life. Romance is a must for me.
My responses can be anywhere from 2 to 8 paragraphs depending on what's going on in the roleplay. I prefer a partner who can match me insofar as I have something to work with and I'm not the only one driving the roleplay forward.
I try to reply at least once or twice a week - more, if I have the time and am feeling inspired. I can be a little forgetful sometimes, though, and life can get in the way. You're more than welcome to nudge me if you haven't heard from me, but I'll do my best to let you know if my reply is going to be a little late.
Adult/Redstar content is cool, but I prefer more plot-driven roleplays. Most forms of non-sexual violence is fine with me. We can discuss limits etc.
I prefer my partners to be 18+. Even if there's no adult content, I'm just not super comfortable engaging in a romance roleplay with someone under 18.
I like to double!
I don't bite - if you want to discuss non-roleplay related things, I'm more than happy to make friends.
Let's discuss the roleplay, its plot, and worldbuilding beforehand and as we go!
Plot/fandom cravings are starred, and my preferred roles are italicized. I usually prefer to do FxF or MxF pairings, but I'm also open to MxM if that's something you'd prefer and if the plot/concept is interesting.
​
Fandoms
I'm willing to play just about any character in return when it comes to fandoms; I'm not particularly picky about who I can and can't roleplay. That being said, if I feel like I'm not super familiar with a character then I'll say so. If you don't see your fandom on here, feel free to ask about it! This is not by any means a complete list.
Dragon Age
Love interests:
Cullen, Solas, Alistair, Abelas.
Also willing to do OCxOC in this setting.
Avatar: The Last Airbender/The Legend of Korra*
Love interests:
Tahno*, Mako
Willing to do OCxOC
Game of Thrones
Love interests:
Jon Snow, Daenerys Targaryen
Willing to do OCxOC
Bleach
Love interests:
Grimmjow**, Byakuya
Haikyuu!!*
Love interests:
Kuroo Tetsurou, Bokuto Kotarou, Oikawa Tooru, Iwaizumi Hajime, Tendou Satori
The Twelve Kingdoms*
Love interests:
Youko Nakajima, Keiki, King En
Willing to do OCxOC
The 100
Love interests:
Bellamy Blake, Clarke Griffin, Ronan
Once Upon A Time
Love interests:
Killian Jones
Kuroko no Basuke
Love interests:
Aomine Daiki, Hanamiya Makoto, Hyuuga Junpei
Pairings/Settings/Plot Candies
Mage/(Ex-)Templar (Dragon Age)
Human/Dalish Elf (Dragon Age)
Deity/Human
Spirit or Yokai/Human
Any kind of spirit or Yokai/Spirit or Yokai Hunter
Knight/Commoner
Knight/Nobility or Royalty
Nobility or Royalty/Commoner
Pirate or Mercenary/Nobility
Pirate or Mercenary/Commoner
Ruler/Commoner (The Twelve Kingdoms)
Kirin/Commoner (The Twelve Kingdoms)
Grounder/Sky Person (The 100)
Modern Fantasy/Magical Realism
Historical/Medieval Fantasy
Old Europe-Era (anything between Medieval and Victorian times)
Scandinavia/Viking-era
College/University
Post-Apocalypse
Fake dating
Soulmates
Roommates
Childhood friends
Forbidden love
​
Last edited: