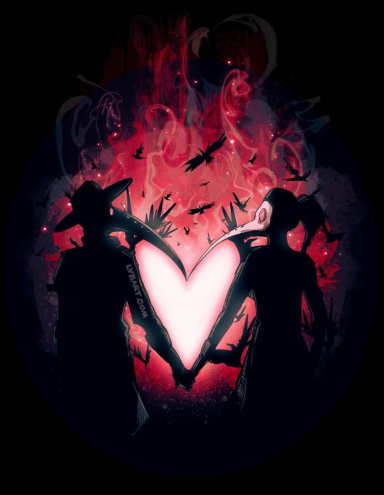 Badass Bitch
Original poster
ROLEPLAY DEPARTMENT
DONATING MEMBER
Roleplay Invitations

Not Taking RP Invites at this Time
Posting Speed

A Few Posts a Week, One Post a Week, Slow As Molasses
My Usual Online Time

Anytime, I have no life.
Writing Levels

Intermediate, Adept, Advanced, Douche, Adaptable
Genders You Prefer Playing

Male, Female, Transgender, Androgynous
Playing Style- Passive or Aggressive

I'm fine with both, but I have hard time with others using my character(s) without my prior consent. If the other player is unsure, I will have more of an aggressive style.
Favorite Genres

Fantasy, romance, slice of life, anti-hero stories, "you're our only hope", fandom non-canons, soft scifi, transhumanism, magical girls, horror, suspense / mystery, monster girls, fractured fairytales
Genre You DON'T Like

Roadtrip style, already-planned-out adventures, rigid GMs.
This is an
invite-only
roleplay. If you are interested in joining, please send me a private message and do NOT post in this thread.
Note: most of the invited players are not redstar roleplayers, so while sexual themes will be inevitably present, there should be no actual sexual scenes. If most players agree to add scenes of that nature, the roleplay will be moved to the redstar section.
Heavily inspired by Eastern history, this roleplay is based in a fantasy setting. Traditions, naming conventions, and landscape are inspired by the Chinese, Korean, and Japanese empires of over 1000 years ago.
Players & Characters:
Shinjou Zenghui
, Soon-to-be Emperor of the Itoushao Empire
Wen-li Zenghui
, Dowager Empress of the Itoushao Empire
Played by

Pahn
Xi Eun Ginbo
, Concubine, Sister of the Emperor's Bride
Qian Long Kyung
, Friend to the Emperor
Hua-gun Hakabi
, Concubine
Played by

firejay1
Janya Khan
, Royal Guard
Nianzu Khan
, Alchemist
Meifeng Ryu
, Concubine
Played by

Greenie
Rong Zenghui
, Uncle to the Emperor
Na Eun Ginbo
, Bride-to-be of the Emperor
Played by

Nemopedia
Yao Ru Kyung
, Concubine
Chao Wan
, Friend to the Emperor
Played by

Jorick
Fan Kyo'dana
, Concubine
Played by

Aero Blue
Ya Lei Jiang
, Concubine
Played by

DayDreamer
Players are welcome to bring along more than one character.
Here are just little tidbits of information important to creating a character.
Social Status:
Are they a noble lady, a servant, a friend of the young emperor, etc.
Race:
Given the nature of the historical setting of the roleplay (see next post), elves are the only race allowed. You can definitely make a human slave, but there needs to be a good reason for you to play one. Even if this is an Eastern-inspire setting, there is no need for Asian-looking elves - any elf is a good elf :D
Character Art:
Ideal but not required. Realistic art would be the preferred style, but anime-ish is fine as long as it's not too goofy.
Roles:
Since I don't want to be writing all by myself, the roles of the betrothed woman is open for grabs. If no one picks her up though, I will gladly play her.
My main character will be the young emperor and the dowager empress >:D
NEMO WILL BE PLAYING THE FUTURE EMPRESS.
Other than that, you can include whatever you want: name, age, family line, history/bio, etc. Make a sheet as thicc or as plain as you want. All I ask is for you to provide me with little hooks I can play with :3
art source