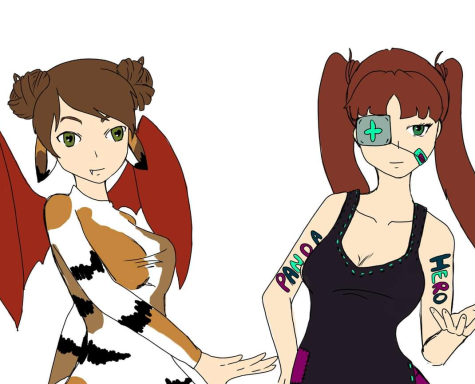 Chillaxed
Original poster
Posting Speed

1-3 posts per day
One post per day
1-3 posts per week
Slow As Molasses
Online Availability

AEST : 10am-10pm
Writing Levels

Give-No-Fucks
Elementary
Advanced
Adaptable
Preferred Character Gender

Male
Female
Transgender
Futanari
No Preferences
Genres

Action, Adventure, Animal, Apocalyptic, Comedy, Dystopian, Fantasy, Furry, Game, R. Harem, Horror, Modern Fantasy, Parody, Romance, Supernatural Modern

[tabs]
[tab=Basic]
Name: Sage Russo
Class: Novice Adventure
Level: 26
Money: 4 silver 3 copper
[/tab]
[tab=Skills]
Skills:
Weapons

:

0

1

Dual Wielding

- Capable of wielding two light weapons in each hand.
5

Sickle

- Able to use this weapon type. The attack goes up for every point.
2

Crossbow

- Able to shoot a cross bow.

Armor

:

0

1

Light Armor

- Will take less damage when wearing light armor only. Resistance grows with every level
3

Dodge

- Will allow the user to dodge more efficiently.

Magic

:

0

1

Healing

- Can heal minor scratches and buries.
2

Illusion

- Can preform small illusions that seem real to most of the senses.

Utility

:

0

4

Cooking

- allows the adventurer to cook meals. A higher skill improves the taste of dishes made and allows the adventurer to use more exotic ingredients
2

Bluff

- Able to tell better convincing lies. Helps deceive people.
2

Stealth

- Can walk and sneak without detection.
1

Persuade

- A social skill to better help convince people to ones point.
2

Alchemy

- Able to mix things together for potions or poisons

White EXP: 0
[/tab]
[tab=Abilities]
Slash

- This skill is a single horizontal slash. (Level 1 Sickle Ability)

Twin Slash

- A dual handed double slashes. (Level 1 Dual Wielding)
[/tab]
[tab=Equipment]
Clothing
A spider cloth shirt, pants and half cloak.
Sage using her chest binds and tennis shoes from her homeworld.
Over her clothing is a Patchwork Leather Chest piece.
On Her Person:
In Her Shoulder Bag:
Sage's Guild card
Things she has from her old world:

Button up shirt, Button up Jacket, Tie, Slack Pants, Wallet with 20$ American dollars, Picture ID, Flip Phone, Apartment keys, Picture of her and her mother, Cat paw keychain
[/tab]
[/tabs]
----------------
[tabs]
[tab=Eshiya]
Eshiya, A world where monsters, guilds, and adventures are a real thing. Full of creatures, litches & gods, oh my! Magic, swords and everything like a video game, but you only get to die once. Well, unless you have someone in your party with resurrecting.
[/tab]
[tab=Guild Card]
Skills separated into four categories:
Weapons skills, Red Skills (sword, unarmed, bow etc),
Armor skills, Yellow Skills(Shield, leather, plate, etc.),
Magic skills, Blue Skills (fire, restoration, force, etc.),
Utility skills, Green Skills (alchemy, herb-gathering, etc.).
White EXP: Unused exp that can be used anywhere.
Everyone starts with a skill of 0 in all skills. When you begin, you get 5 points to spend in any way you want. After that point, using skills gives you experience for whatever general skillset they belong to (color-coded) which you can use to upgrade that skill or take new skills in that skill set. Skills can be taught by other people. Getting one point in specific skills so that you can get started in leveling up yourselves by using them. Adventures' levels are basically how many skill points they have.
Powerful bosses grant you "white" experience, that can be spent anywhere.
As you gain more experience in certain skills, you gain special abilities based on that skill. Having certain combinations of skill levels unlocks combo abilities.
Empty Guild Card: Less Detail Needed
Name:
Class:
Level: (Total Skill Points)
Skills:
Weapons:
Red Skills
Armor:
Orange Skills
Magic:
Blue Skills
Utility:
Green Skills
Abilities:
Equipment:
[/tab]
[tab=Thymescira]
Thymescira, The beginner's town. Not much is known about this place at the moment.[/tab]
[/tabs]
-----------------------------------------------------------
[tabs]
[tab=The Adventurers]
On joining a guild, many adventures will likely join the main characters on adventures or vis-versa.
[/tab]
[tab=Rhea]
Rhea is a brown haired girl that wears glasses. She came from a noble family, so she got a pretty good start in a lot of aspects of life. Including her own pet dragon. A blue one called Reyes.
Name
: Rhea Addora
Class
: Novice Healer
Level
: 12
Abilities:
Abilities to be Found out
Equipment:
Magic Wand (Wooden with blue orb)
Cloth Robes
Some basic adventure gear. (Backpack, rope, coin-purse, etc.)
Herbs belt
Quite a bit of money
A pet blue dragon named Reyes.
[/tab]
[tab=Rivet]
A black haired man a bit on the shorter side, 5'4.
Name
: Rivet
Class
: Theif
Level
: 14
Abilities:
Abilities to be found out.
Visible Equipment:
Daggers
Light Armor
Some basic adventure gear. (Backpack, rope, coin-purse, etc.)
[/tab]
[tab=Phoenix]
UNFINISHED A redheaded freckled boy with a timid deminer. Hand to hand combat
Name
: Phoniex
Class
: Monk
Level
: 11
Abilities:
Visable Equipment:
Cloth Robes
Some basic adventure gear. (Backpack, rope, coin-purse, etc.)
[/tab]
[/tabs]
[/fieldbox]
[fieldbox="NPC, purple, dashed, 10"]
[tabs]
[tab=NPC]
This is a list of important and notable NPCs that will not be joining the two main characters on quests, but maybe often dealing with them throughout the roleplay for a variety of reasons.
[/tab]
[tab=Vudall]
The god of Life and Nature. A green haired man who wears a rather lame toga Vudall seems to be pretty lazy and uncaring. After all, nature will take its natural course. However, because he is a benevolent god, he gave a quest. "Go kill the Demon Lord and I will return you to the world the moment you were taken out of it!"
[/tab]
[tab=Jade & Ruby]
Jade and Ruby, the male-female twins that work at the Anything You Need store in town. Usually one or the other will be at the. Both of them have black hair and amber eyes. They seem pretty nice and helpful. Though they act the time, the only difference you can tell is their voices.
[/tab]
[tab=TBD]
none
[/tab]
[/tabs]
-----------------------------------------------------------------------------
[tabs]
[tab=The Plot]
After being captured by a nudest witch cult, Sage and Sanz, old high school acquaintances, get launched into a fantasy world with nothing but whatever was on their person. Together, they must find out what the hell is going on?!
[/tab]
[tab=Year 1: "New Game"]
Landing in a fantasy world, Sage and Sanz go looking for answers. Only to meet the god named Vudall who is too lazy to teleport them back home unless they kill the Demon Lord. In order to do this, Sanz and Sage go to the Adventure's Guild to figure out how to navigate to their goal.
There Sanz and Sage learn the harsh reality of money in this society and know they will have to work as soon as possible to get enough to just get food. The gold they received from Vudall was barely enough to get them parts of starting gear, a room and two meals. They meet a healer named Rhea who offered to party with them and help.
Sanz found their first job. Fight off the wolves and protect the farmer's furchicks. Too bad neither is well equipt for the job and Sage is afraid of dogs.
[/tab]
[/tabs]
Last edited: