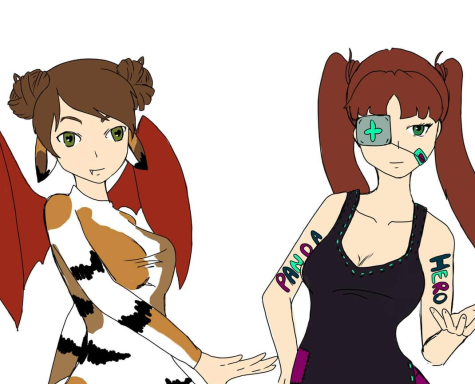 Insanity's Wifu
Original poster
Invitation Status
Posting Speed

1-3 posts per day, One post per day, 1-3 posts per week, Slow As Molasses
Online Availability

AEST : 10am-10pm
Writing Levels

Give-No-Fucks, Elementary, Advanced, Adaptable
Preferred Character Gender

Male, Female, Transgender, Futanari, , No Preferences
Genres

Action, Adventure, Animal, Apocalyptic, Comedy, Dystopian, Fantasy, Furry, Game, R. Harem, Horror, Modern Fantasy, Parody, Romance, Supernatural Modern

"I mean.. I guess one of my girlfriends made me play that game where you hop over stuff and get coins on her phone. But you're right, It's all so overwhelming. I still am having a hard time grasping it. But it's not... unreal." Sage told Sanz, she smiled as she mimicked playing on a mobile phone. Sage remembered she had more fun playing the game when the girl was watching then when she was playing it by herself. She admittedly didn't really know much else about video games and she owned a flip-phone. So it was not like she was very smart with devices anyway.

Sage and Sanz found an empty table to sit at. It was more like a very large wooden picknick table with shared seating. It reminded Sage a bit of their high school cafeteria but more wood than plastic. Actually, a German restaurant seemed more like a better comparison to what the eatery looked like.

Sage had noticed the same thing Sanz did, but in an effort to make sure they were talking about the same thing, she leaned over the table to look at Sanz's card.

Just as she did a young lady came up and handed two thick papers, "Here is our menu, feel free to order." She told them.

"Yes!" Sage said, taking the menu and sitting back down. She looked over the menu, excited for something just to stuff her face with. She squinted at the menu a moment later, "Beef Stew. Fired Lizard Legs..? Dire wolf steak. Special: Dragon Egg Omelet. What the fuck kind of eatery is this?!" Sage asked, looking at the lady.

The Bar Maid smiled at Sage, "A lot of the food we serve here is killed and sold to us by adventures. Any meat is good meat. So often times our menu can change daily depending on the catch the day before."
Last edited: