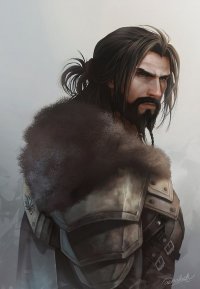 I'm one of those "details and implications" guys.
Original poster
Invitation Status
Posting Speed

1-3 posts per week
One post per week
Online Availability

I work swing shift, schedule changes daily.
Writing Levels

Adept
Adaptable
Preferred Character Gender

Primarily Prefer Male
Genres

Medieval Fantasy. Or pirates. Pirates are always good. When it comes to reading, however, a good steampunk is always great. Above all, however, I would definitely have to say my favorite is Dark Fantasy.

Introduction
Hello! I'm Squee, and I've been roleplaying for about 12 years now. Just like the rest of us, not only have I joined roleplays, but I've made some as well. I was roundabouts 15 when I started on my own full world concept and since then it's been almost 11 years. This world has been modified a considerable amount but over the last 6 or so years has remained relatively the same. It was unintentionally a massive project I undertook to create a world in which anything is possible while also making it seem like a real living and breathing world with an actual sense of realism within a work of fiction.
I'm posting this as a showcase
and
resource because I want people to be able to use my world for their own roleplays since I myself simply do not have the time (nor dedication) to run my own but still would like to see things happen within my world. However, fact remains that this world is a fantasy world, meaning there is magic and there are some typical fantasy races. I will explain in full detail over time each location I have developed and the features of each race. This includes their history, their government, and their inhabitants. I will also touch deeply on various artifacts my world has that could be used as potential plot points.
It is worth noting that as a resource I don't mind if things are altered to befit your own world, the purpose of this is to provide a base on which to build your own story. If you only want to use my races, go for it. If all you're after is a map with national backgrounds and borders, you can use that but change everything else. Do with this world as you see fit. My only request is that you credit me somewhere, as I did work for a very long time on this world and would very much like people to know where this came from.
You do not need to ask for permission
but I would appreciate knowing you are using it!
So...Let's get started.
Index
Historical Conflicts (Coming soonish)
Magic and Technology (Going to be a bit)
Magical Artifacts (All good things to those who wait)
Creature List (This one is big and low priority)

Historical Figures (Probably never going to finish)
Changelogs
- 5/2/2018 - Added and complete races
- 5/3/2018 - Added and complete nations: Athal & Ethel, Mora Fane, Quartz Kingdom, Cruevania, Southern Sanctuary, Eastern Sanctuary. Added to-do list.
-5/4/2018 - Added tags, Expanded Index, Complete nations: The Begix Territory, Western Sanctuary, Valhalla, Vardēśa
-5/5/2018 - Complete nation Leonsill, Fixed up some formatting
-5/8/2018 - Complete nations Chatou, International Territory. Added Arcane Dimension and gods Riusen, Nesrin, Sifteel, Agbara, Qiling, Aitesar, Theslin, Crelt, Droxheel, Hexceel, Terasen. Added Elven Theology link.
-5/9/2018 - Did some formatting, complete brief summary of gods Nesareth, Gorbubara, Artenisen, Ylusrin, and Uliseel
-5/24/2018 - Complete nation Chatou, summarized Verteslin
To-Do List
Complete Nations
Compile a list and summary of major cities

Create historical conflicts and war list and summaries
Explain magic system and technology levels

Create Magical Artifacts list (Magic Stones and the Wargods Arms top priority)
List and summarize famous historical figures
Create creatures list
Expand on Deities

Expand To-Do List
Last edited: