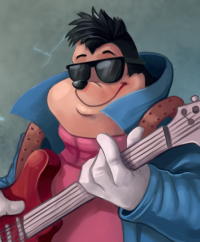 The Janitor Bear of Iwaku
Invitation Status
Writing Levels

Give-No-Fucks
Adept
Adaptable
Preferred Character Gender

No Preferences
Genres

Horror, Modern, Modern Fantasy, Multiverse/Panfandom, Mystery, Paranormal, Scifi, Survival
Bio/Personality/Description
Description

- Hyper is a Dark hair guy 6'2(who now has bright blue eyes) is a scientist who had failed at a propulsion system experiments.

Personality

-Hyper Hex's personality is a down to earth type guy who was a outsider during his four high school years and has always been a fanboy of science which is why he is a scientist today.

Weakness

- Hype Hex does have weakness such as :Extreme loud noises that causes to his head and also : he can be foolish at times.

Appearance

- Hyper Hex usually wears hoodies to keep himself from the public eye. He has a deep raspy type voice that makes him sound like some shooter off a video game

.
Two things, one, when coloring text, make sure the default text is set to 'No Color' instead of white or black (depending on your background). This is because it will then show up as invisible for people with the opposite background color.
Two, I just need two more field filled out:
Canon
: [This would just be 'Original Character']
Organization
: [Just put this as 'Coalition', however you need to add a bit to your bio about how he would have joined the Coalition. My suggestion would be to say that perhaps the Coalition got into contact with him over his science expertise and asked him to join]