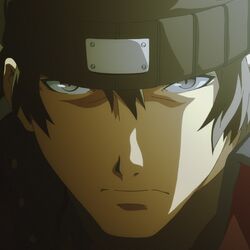 Axe-Wielding Loner
Original poster
ArcRift

Arc I: It's So Wonderful

​
---
So... you died.
Doesn't really matter how. Or why. You could've been a terrible person who was killed after a six year long manhunt. Maybe you were just an average joe who got into an unfortunate car accident. Regardless of the how, all you knew now, as you awoke, was that there was something after death.
But there were no pearly gates waiting for you on the other side. There weren't even any eternal flames, either. All that waited for you on the other side of things was darkness, as far as the eye could see. But within that darkness stood a figure. A cloaked figure, who informed you of a second chance. A ticket, if you will, to cheat death. All you had to do was survive a week in
The Reapers Game
. Seven days of challenges, each with varying levels of difficulty. Complete all seven, and you're home free. Just give him your entry fee, and you'll be all set.
So what say you, Player? Will you complete this week's worth of challenges and overcome The Reapers' Game? Or will you fall like so many before you and face
erasure?
The choice, my friend, is yours.
​
---

Hello, everyone! And welcome to the first official RP in a series of interconnected RP's known as ArcRift! What is ArcRift, you may ask? Well... it's exactly what I just said! A series of interconnected multifandom RPs, which range from bi-monthly Main Arcs, to shorter side stories! It's an ever-expanding lore with unique settings and casts each time! And the best part is that each Arc will stand on its own - meaning no previous knowledge about other RPs will be required for entry! And here you are, getting to participate in the first!

Lucky you!

​
---
Absolutely no godmodding, meta gaming, or auto-hitting. There's basic RP etiquette to follow, and I expect it followed here.

​

Please have a partner to interact with, preferably at all times! ArcRift is a series dependent on character interaction - and this is no exception! You will have a much better time here if you have yourself a group of people to interact with!

​

Use tags appropriately! People won't be reading every post - and they shouldn't have to! This is ideally going to have anywhere from 20-40 characters, meaning that a lot will be happening at all times. Tag the people you interact with!

​

Please keep OOC chatter to an absolute minimum! To interact with us OOC, join our

Discord Server

. But don't - and I mean under ANY circumstance, make OOC posts in the IC thread!

​

The first day or two will be absolute chaos, so do bare with the thread! People will be writing their prologues and trying to find posting partners, so this is just a given! Just keep a calm head and either PM me on Iwaku or Discord if you have any issues!

​

As the GM, my word is law. I'm willing to negotiate any issues, but I have the final say in any and all issues. The same goes for my sort of co-gm, @phi

​

No Drama! I mean it. Multifandom tends to attract drama more than any type of RP, and having been here for a good few years now, I've seen it all. If I get the sense that you're gonna start drama, and I catch you trying to start shit, you get one warning. Anything more than that and you're out of the group.

​

Characters who fail to complete the tasks given by Reapers may be Erased! But do not fret! While being erased is technically "dying", the dead characters will be participating in an Afterlife plot run by me!

​

Please please please keep one-lining to a minimum! I understand that a lot of times, there may not be much to say. But while I don't expect novels, I do expect the bare minimum of effort put into each post.

​
​
---

Character Sheet

Appearance
A picture or short description is fine here.

Name
What's your character's name? This is pretty self-explanatory.

Age
How old is your character? Also self-explanatory.

Canon
Where is your character from? If your character is an OC, simply put "OC". If your OC is from a certain canon, put the name of the canon, and then "OC".

Powers/Abilities
What powers and abilities does your character have? A wiki link is fine here.

Equipment
What equipment does your character have? A wiki link is also fine here.

Entry Fee
What will your character be using to get into the Reapers' Game? This must be something important to your character. A memory, an important item, etc.

Other Info
Any other information that you feel like I, the GM, should know about.

​
---
Last edited: