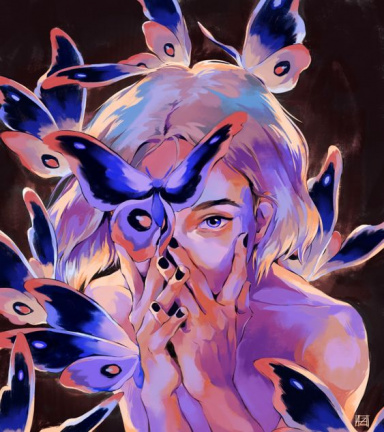 The Suffering Slav Problem Child
Original poster
Invitation Status

Looking for partners
Posting Speed

Speed of Light
Multiple posts per day
1-3 posts per day
Online Availability

Always online tbh lol
Writing Levels

Intermediate
Preferred Character Gender

Male
Female
Primarily Prefer Female
No Preferences
Genres

I generally like a little bit of everything, but my favorite would be Romance and Drama.

Hello, so this will be a short post since I lost patience with writing long posts as they never really seem to work out for me. So, I'll just be straight forward in this one and will only bring up the most important points without sugarcoating anything.
I'm an adult, so I would prefer to write with people either my age, or older than me.

I really just prefer to use Discord, so please only hit me up if you're on Discord, thank you.

I like to write fairly long posts, I don't mind if my partners don't write posts longer than mine, but I would still like more than three sentences. Sorry.

I'm fairly active due to the lack of friends in my hometown (That's a joke) and any meaningful activities, so you can always expect me to respond quick, unless I have something going on which I will always announce in time so I would like you to do the same and not ghost me.

I prefer to main female characters, but I am okay with having male characters as well, since I like to have multiple characters and such.
This would be it I guess. I'm up for any kind of rp, really, let it be smutty, clean, spooky, serious, anything goes. Really. If for some reason this post got your attention, feel free to hit me up. Other than that, here are some things I think are cool and have solid plots and stuff for them.
Red Dead Redemption 2

Any sci-fi thing which would include humanity sending colonies to different planets and stuff onto which an alien crashed down and initially sort of decides to stay. (Kinda like Alf, but it's mainly inspired by one of the Aliens vs Predator books in which Machiko Noguchi is one of the main characters. GOd, I love her)

Any noir like rp, or The Godfather, inspired stuff.

Aliens. Just aliens.

Hitmen getting it on and romancing the hell out of someone.

Anything

Norse mythology, or any kind of mythology

Medieval stuff!!

VIKINGS!!!

LUCIFER!!!! Just...yes, I love the show and we can modify this any way possible.

Be More Chill! It's alright if you don't know the book, or the musical..it's just your general highschool story except it's pretty good and I re-read it like 3 times to distract myself of being a failure lol.

Altered Carbon! It's a great tv show, not that great of a book, but a good show.

Detroit : become human! I still love this game with all my heart, it's amazing.

Criminal minds!

Chefs getting it on.

Any small town rp ste in the 80s-90s, perhaps even something like stranger things. Idk.

A singer and her manager, but it's not what you think.
If you didn't notice by now, I'm desperate so I mean... Yeah, I'm up for anything. Cheers.
Last edited: