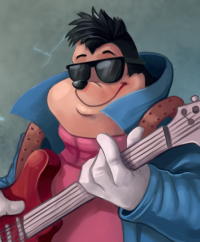 The Janitor Bear of Iwaku
Original poster
FOLKLORE MEMBER
Invitation Status
Writing Levels

Give-No-Fucks
Adept
Adaptable
Preferred Character Gender

No Preferences
Genres

Horror, Modern, Modern Fantasy, Multiverse/Panfandom, Mystery, Paranormal, Scifi, Survival
Link to sign-ups.
RULES
1. You must follow in accordance to Iwaku's rules.

2. No OOC talk in the IC. Please take all OOC discussion to the group's General Chat and all roleplay discussion to the group's RP Discussion.

3. No god-modding or meta-gaming. If you're not sure what those terms mean, this blog post might just be for you!

4. There will be no dice rolls for fights. Some certain actions and events might require them, but only if I or someone assisting me says so.

5. Please post once a chapter. Not doing so will result in your character possibly being removed from the game. At the very least, PM me if anything comes up and I'll do my best to keep you around.
CHAPTER ONE
"Welcome to Aether"
At first, it felt like just a small pinch.
You may not have even noticed it at first, the obtrusion too benign to even comprehend. It's not something one usually experienced throughout their day; an unknown force that seemed to tug at their very being. The pinch soon became much more violent, feeling as if someone had plunged a hand deep inside you to grab hold of your stomach. A sick sensation came upon you as you were yanked roughly to the side into a corridor of darkness.
After the intense movement, the tugging lessened, but you could still feel something pulling you along. No matter where you were before, all you could see now was darkness-- an inky black void that seemed to cradle you as you were pulled along an invisible track, taking you away to places unknown. If you tried to call out, it turned out be useless, your own voice going silent as it left your lips. Moving also turned out to be fruitless, as whatever was holding on to you was refusing to let go.
You couldn't be entirely sure how long you sat in that blank space, but eventually a series of sensations began to assault you. A loud crashed erupted from somewhere unknown, followed by a harsh hissing sound that could have been steam escaping from a pipe. The smell of sulfur touched your nostrils as a myriad of screams echoed all around you. They got louder and louder, the smell intensifying all the while, until just before it felt like it had gone on forever--
You crashed.
You lay upon solid ground, feeling some sort of fabric beneath you. The sounds of screaming had died out, replace now by the sound of dull banging from somewhere off in the distance. Every few moments, a sizzling sound could be heard from above, flashing a brief bright light. Once you decided to open your eyes and take a look at your surroundings, you quickly saw what was most apparent-- you were not alone. Others, just like you, were waking up in various states of confusion. You all sat on a grand red carpet that ran the length of the room. Under that carpet were pristine beige tiles, their reflective surfaces looking dull with bits and pieces of debris laying on top of them. The room was rectangular, illuminated only consistently by red flashing lights lining the ceiling. On one end of the room stood large metal double doors, while the other end featured a statue that reached toward the ceiling. The statue depicted twin snakes winding around a winged staff, though one of its wings had broken off and fallen to the carpet below. Some of you would recognize this statue as a depiction of the Caduceus medical symbol. Beyond the statue sat an oak desk that ran the length of the wall, flanked by metal doors. Computers and chairs sat behind the desk, resembling a secretary's work space.
Above this desk was a large banner draped on the wall. On this banner read--
Welcome to Aether
---
Chapter Two
Chapter Three
Chapter Four
Epilogue
~CAST LIST~
@Atomyk as Nathan Prescott [Life is Strange]
@TheSpringwoodSlasher as Locus [Red vs Blue]
@Mighty Roman as Leo Elster [Humans] and The Doctor [Doctor Who]
@Cromartie Sarkissian as Ash Williams [Evil Dead] and Johnny [The Room]
@C.T. as Doctor Emily Grey [

Red vs Blue

]
@Gibbons as Sendo Takeshi [Hajime no Ippo]
@The Silver Paladin as Yuriko Omega [Command and Conquer: Red Alert]
@OrlandoBloomers as Max Rockatansky [Mad Max]
@Kaykay as Huang Rong [Legend of the Condor Heroes]
@Klutzy Ninja Kitty as Carl Grimes [The Walking Dead]
@Jeremi as Rhonda Kerske [Dead Rising] and Roberta Mendez/Captain America [Marvel Comics]
@york as Jean Kirstein [Attack on Titan]
@Gummi Bunnies as William "Will" Owen Herondale [Infernal Devices]
@Lizzy as Shion and Nezumi "Rat" [No. 6]
@BarrenThin as Jean-Luc Picard [Star Trek]
@Gen. Gwazi Senpai as The Master [Doctor Who]
@Lissamel as Catherine [Gregory Horror Show]
@CookieMonster as Jenny [Doctor Who]
@Ryu Keiko as Daniel Angelle [Original Character]
@ResistingTheEnlightened
as
Alan Wake
[Alan Wake] and
Sherlock Holmes
[Sherlock Holmes]
@Arcadium
as
Travis
[Mother 4]
@Saint Guillotine
as
Emily Kaldwin
[Dishonored]​
Last edited: