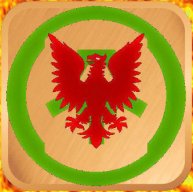 Anxiously Awkward
Original poster
FOLKLORE MEMBER
Invitation Status
Posting Speed

Multiple posts per day
1-3 posts per day
One post per day
Genres

Romance, Scifi, Survival, Fantasy, Magical, Action, and much more
Red
Reminder! Please remember to visit the signups page after each new round/mid-round session! I may have updated the signups to fit new information! Since this roleplay can move really fast past the Prologue and Epilogue stages, it's wise to check the signups every now and then for some possibly new information! PS: If you haven't already, please check out the signups page for the rules and premise and stuff!
Round 1
Mid-round(1) Update
Round 2
Mid-round(2) Update
Round 3
Mid-round(3) Update
Round 4
Mid-round(4) Update
Round 5
Round 6 (Final Round)
EndGame
Epilogue
Prologue: The Recurring Dream
A dream... Many, in different places, even times, have been having this exact same dream every night... A fuzzy image of them standing at the gates of some sort of camp... It's name was written in a Russian language, one which, everyone somehow knew read "Sovionok". Each time, the image grew more vivid, and one could almost touch the gates, feel the coolness of the night air, or... Maybe, even enter them. However, no matter how hard the dreamer tried, no matter how many times, they just couldn't budge from their spot... And instead, they woke up. This strange cycle continued for night after night, eah time, the dramers could remember more and more about their dream.... However... One day, something changed. Each dreamer, sharing almost identical dreams, even in different dimensions, planes of existence, suddenly felt tired. All it would take was a single moment, before they each dozed off... Their consciousness slowly slipping away as everything grew dark, and absolutely still.
Day 1
Faint, but somehow familiar sounding music could be heard, at the edge of everyone's consciousness, and the faint humming of a bus's engine could be heard. The feeling of a soft fabric underneath everyone indicated that they were sitting in some sort of bus perhaps... A faint, feminine voice could be heard, but, while it's words couldn't be made out, the words had a calming effect on everyone in a way. The strange, half-conscious ride lasted for around an hour or so, some may have fallen fully asleep in the meantime, however, when the bus finally screeched to the stop... It was sure to wake everyone who had been sleeping, or semi-conscious on it, that's when everything truly started to sink in...
Now that everyone was awake, it became apparant that they were in some sort of bus; and Ikarus model to be precise, commonly used in the late 1980's in Soviet Russia... Blinding sunlight shone through the bus's windows, and an apparant heat lingering in the air conveyed clearly that it was summer here. Memories of the ride that came before was quite a blur, the most anyone could remember was closing their eyes in a familiar environment, wherever that was, and then...
A field of some sort, and the rising sun... What was this place? Who knew, but, all anyone really did know was that it was no longer their home, or wherever they had been before they had fallen asleep. Someone could be heard freaking out near the front of the bus, punching himself a few times, slapping his face... He was standing in an empty space between the seats, staring in disbelief at the spot, as if he had thought there was a door there or something. Then, he ran out the front of the bus, looking to be in a panicked frenzy; perhaps he too was one of the new arrivals? No-one could manage to get a good look at him just yet, so, who knows...
It looked like there were a few options here right now;
​
A) Run after that panicked fellow; It might be in one's best interests to get to him before he hurts himself or something... Maybe you could find out what had happened to him? And, more importantly, if he had been brought to this camp in a similar fashion the rest of you have...

B) Head out the bus; Perhaps, even if you aren't going to chase after that disgruntled guy, it would be for the best to at least get to know where this bus had ended up... Maybe get your bearings? Or if anything else, strike up a nice conversation with others who had decided to do the same.

C) Stay in the bus; Well, one can't blame you if you're staying in the bus; the seats are rather comfortable, though, admittedly, it's quite hot in here... Maybe you could get to know your peers? Well, you can do that outside too, but, maybe inside, you're a little more sheltered from the heat.
​
Last edited: