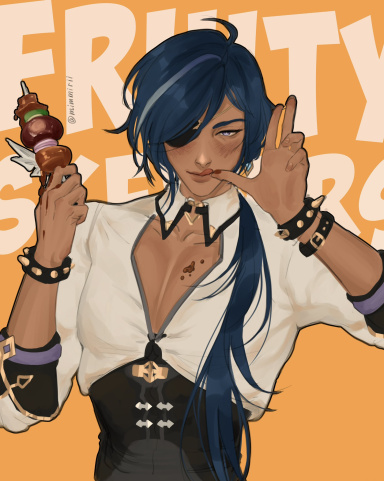 mushroom prince
Original poster
Posting Speed

Multiple posts per day, 1-3 posts per day, One post per day, 1-3 posts per week, One post per week, Slow As Molasses
Online Availability

Evening/Late Night (MST)
Writing Levels

Adept, Advanced, Prestige, Adaptable
Preferred Character Gender

Male, Nonbinary, Transgender, Primarily Prefer Male
Genres

High fantasy, modern fantasy, gaslamp fantasy, Anything Fantasy, dark comedy, supernatural, paranormal, psychological, yada yada

Name
Levi Dewei Wong-Muller
Age
23
Sexuality
Gay
Ethnicity
1/2 Chinese (Mother), 1/2 German (Father)
Nationality
Canadian
Occupation
Studying biology; works part-time at a greenhouse
Appearance
Levi is, as his old dance instructor so lovingly described him, 'petite', standing at only 5'6", and with the traditional build of an ectomorph. With thick, black hair that reaches his shoulders, some may describe him as effeminate, which doesn't bother him. He's secure in his masculinity, and is able to embrace all of his feminine qualities with loving arms. He cares deeply about his appearance, to the point of vanity; he is quite fashion-savvy, and is always well dressed, and well groomed. His left ear is pierced in multiple places (lobe, upper lobe, helix, conch).
Personality
Levi is polite and friendly, but also incredibly introverted. He would much rather spend time alone with his plants and cats than with other people, but is sociable enough. He's not a fan of small talk or verbose commentary, and much prefers to get his point across succinctly. This, along with a chronic resting bitch face, can make him seem icy to those who do not know him very well.
He is artistic, though not visually. He was trained in classical dance from the ages of 8 to 18, and was not only made very flexible by it, but learned how to express himself through movement. He is also quite a talented writer, preferring poetry over literature.
He's a night owl, and doesn't sleep much. He's always afraid he will miss something exciting. He is very family-oriented, and fears disappointing them every waking second of his life. Because of this, it took him many years to come out to his parents, fearing their rejection, but they were surprisingly accepting in the end. He is hard working, ambitious, and has little patience for the lazy.
Despite his introversion, he is also quite needy, at least when it comes to those he loves. He craves affection and attention, and gets very withdrawn when he doesn't receive it. He's sensitive, but keeps his emotions close to the vest; because of this, he occasionally has violent outbursts of emotion that can last for days.
Though he fancies himself as someone who can gracefully admit when he's wrong, the truth is that he is quite hard-headed and opinionated, and finds admitting wrongness wounding.
Name
Emil Gen Wong-Muller
Age
29
Sexuality
Bisexual
Ethnicity
1/2 Chinese (Mother), 1/2 German (Father)
Nationality
Canadian
Occupation
Bouncer; Security Guard for a hospital
Appearance
Because of his history as a bouncer he's become quite muscular and larger in build. He's proud of his height, especially because of his Asian heritage, standing at a satisfying 6'5". He has a generally neat appearance, despite preferring it to be rougher. Emil has a few tattoos scattered on his body, one on his back, stretching from his shoulder blades to mid-back, displaying a native looking design. Another on his left tricep, showing 4 different cards of various suits. And the last one trailing down his thigh, showing a metallic looking lion.
Personality
Emil is a naturally irritable person, not having a lot of people he gets along with well. He finds interacting with certain individuals exhausting and not worth his time. He is quite prideful as well, not willing to admit when he makes mistakes easily. He has a soft spot for only one person in his life, but that person doesn't care for him as Emil cares for them.
He is rigorous when it comes to work, becoming a bouncer after dropping out of college, he's worked in this industry for 8 years, loving the times when he got to kick someone out that was an absolute douche bag. He doubles as a security guard for a hospital.
He's not a morning person, being more irritable than usual, and doesn't talk before a shower and coffee. One thing he hates the most is when someone wakes him up, and depending on who it is may react adversely.
A kick to the teeth is good for some / A kiss with a fist is better than none.
To anyone who knew Levi and his brother Emil, their differences were almost comical. Not only was Emil nearly a foot taller than Levi - which had been a sore spot when he was younger, but no longer - but the two of them sat on polar opposite ends of the emotional scale. Where Levi was calm and level-headed, Emil was destructive and loud, and if you had asked Levi as a teenager if he could see himself living with his brother once he moved out of his parents' house, he would have scoffed at you. At the time, there was no way he could tolerate his outbursts.
But things changed. Emil wasn't angry
all
the time; in fact, there were plenty of times when he was pleasant to be around. They laughed, they joked, they goofed around; sometimes they were even able to sit down and have serious conversations without one of them turning their hands up in frustration. In fact, the older that Levi got, the more he enjoyed his brother's company, and admired him in several ways. When the price of rent in their city rocketed, it only made sense to Levi that the two of them room together, instead of wrestling with unpleasant roommates.
For the most part, the living arrangement worked. Levi was still in school for another year, studying environmental sciences, and Emil worked as a bouncer, which meant that they rarely saw each other - but they still got to see each other more than they would if they lived separately, which was a bonus. Though they occasionally butted heads, the chores got done, and the apartment wasn't a pigsty, and so Levi was happy.
The only real problems came when Emil got angry. Levi was very used to his outbursts, and was generally able to either placate him or ignore him completely, but there were times when Emil needed
something
to be angry at - and that some
thing
normally ended being some
one
: Levi. Sometimes he just yelled, to the point that Levi felt the need to apologize to their neighbours, but sometimes he threw things, or threatened to hit Levi. Thankfully, despite being quite a small man, Levi wasn't afraid of Emil, and could usually put him in his place, but it was unpleasant to deal with nonetheless.
With such a short fuse, Levi occasionally found himself counting the seconds to his brother's next breakdown - and tonight, curled up on the couch with his laptop, a textbook, and his cat, he expected it to be soon. It had been over a month, and that was unusual - almost worrying. He made sure that everything was clean, so that there would be nothing for Emil to lash out about in that regard, and even left him some leftover take-out, despite the fact that he was still hungry.
Even leaving few things
in
the apartment for Emil to get upset about, Levi knew that there were things
outside
of the apartment that he couldn't control. It was late at night on a Friday, which meant that Emil would be home from work soon; Levi would normally be in his room at this time of night, but his light was burnt out, which meant he needed to camp out in the living room if he was going to be doing any studying. He found himself sparing the occasional glance at the front door, waiting for his brother to get home, and hoping for it to be in a calm fashion, and not a violent one.