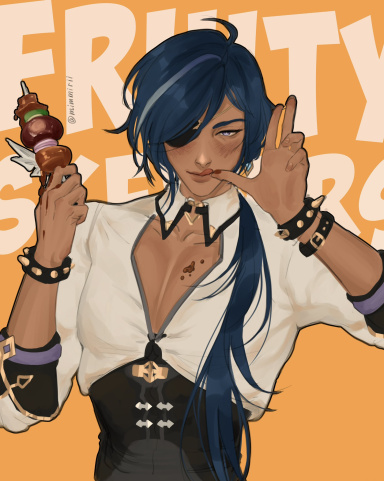 mushroom prince
Original poster
Posting Speed

Multiple posts per day, 1-3 posts per day, One post per day, 1-3 posts per week, One post per week, Slow As Molasses
Online Availability

Evening/Late Night (MST)
Writing Levels

Adept, Advanced, Prestige, Adaptable
Preferred Character Gender

Male, Nonbinary, Transgender, Primarily Prefer Male
Genres

High fantasy, modern fantasy, gaslamp fantasy, Anything Fantasy, dark comedy, supernatural, paranormal, psychological, yada yada

Levi didn't want to argue about anything right now, so he remained silent. Even when asked if he was all right, he only responded with a shrug and a non-committal mumble. He bid Emil adieu when it was time for him to leave, and put the pizza in the oven as promised. It was plan to laze around for the next few hours, and then go to bed early.

After sleeping so poorly the night before, Levi thought it would be easy for him to get to sleep early tonight, but it wasn't. He was no stranger to insomnia, but this was different. Usually the insomnia stemmed from his desire to stay awake, to not miss anything that life had to offer, but this time it was because of Emil. For one, the bruises on his neck were sore enough to bother him when he lied down, and for another, he now worried about potential backlash when he returned home from work.

He had always been a bit intimidated by his brother, but after last night, it had gone from intimidation to outright fear. In the dark of his bedroom, Felix sprawled out against the length of his side, he began to wonder why on earth he said he forgave Emil, and why he didn't call someone after what happened - if not the police, then at least his parents. It was too late now, though; Emil thought he was forgiven, and Levi felt like there had to be some kind of time limit on calling someone to say that you were sexually assaulted.

Plus - who would believe him? Emil and Levi were both men, as well as brothers. If someone did believe him, they likely would have no sympathy for him. And Emil hadn't meant to assault him; if there was something truly wrong with him, like a mental disorder, then it stood to reason that he couldn't help it - and wouldn't Levi just be the worst brother if he held that against him? He would be disgusting.

Eventually, Levi gave up on trying to sleep altogether. He flipped on his lamp, and pulled out his laptop, determined to find something to either entertain himself or make himself tired. Watch boring documentaries, play video games, masturbate - whatever, so long as it worked. At least tomorrow was Sunday; he didn't have school, and he didn't have to work, so he would have all day to try and catch up on sleep.