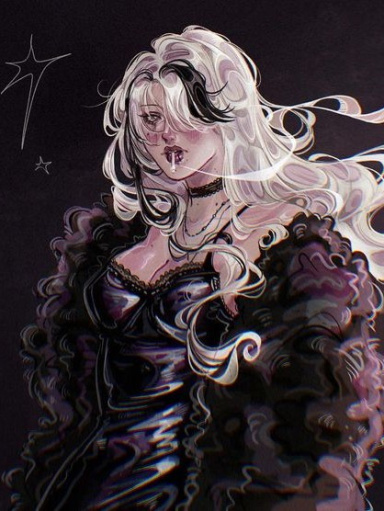 (。・ω・。)ノ ♡
Original poster
DONATING MEMBER
FOLKLORE MEMBER
Hello all, I am the Smol Queen, and welcome to my thread! I hope you find something you like down below, and if you do— I would love if you could respond below or PM me, whichever works best!
So, here's some things to know about me:
✿ Feel free to call me Smol!
✿ I am 19 years old.
✿ I go to college, so don't be surprised if my schedule is wonky.
✿ I love making new friends, so if you wanna talk outside of RP, I'm totally fine with that! Let me give you my memes!
✿ I'm easily excitable so sometimes I'll tALK LIKE THIS TO EXPRESS IT WHEN I TALK TO OTHER PEOPLE. You'll see. Whether it's over fandoms, a good idea, or you send me a dank ass meme. I become the embodiment of excitement itself. Do not fear, though! I'd never do that in an RP.
✿ Sometimes I have characters pre-made, other times I'll make them up. It all usually depends, so don't be too surprised if I have a character up in a split second, it likely just means it's one of my ladies or gentlemen in storage.
✿ I love to brainstorm, and I usually share any sudden ideas that pop into my noggin for an RP. Don't be afraid to share yours~!
✿ Hey, look! Here are my favorite genres!
❀ Romance (I always play romance, so keep that in mind. It's my favorite.)
❀ Drama
❀ Erotica (not needed, but I enjoy 50/50 or even more plot than sex.)
❀ Fantasy
❀ Dark-ish themes (but not too dark, though boundaries can be discussed!)
✿ If anything triggers you, tell me first so I know what topics to avoid!
✿ I prefer playing straight/gay/bisexual/pansexual females. But I can play straight/gay/bisexual males. I generally play FxM, but I'm not opposed to FxF, FxFuta, or MxM! But like I said, I generally enjoy playing females more.
I need you to be a darling and read through what I look for in a partner before reading on, buddy!
✿ Plot that makes sense, and is long term.
✿ Communication is key! If anything makes you uncomfortable, as I mentioned above: Tell me!
✿ I love playing in dynamic plots with dynamic characters, so please try to pitch in with plotting or develop your character some! It makes the RP fun!
✿ BOTH of us talk out a plot.
✿ Some understanding of spelling and grammar, NOT in first person (Ex. "She held him in her arms, quietly sobbing." NOT "i hold u in my arms as i cry for u")
✿ Someone who can post OFTEN. You don't have to post every hour of every day, but AT LEAST once a week or a day, y'know?
❀ Bear in mind, I'll also do my best to do so! But if you can't due to RL issues, just let me know and I'll understand without complaint! I get that too!
✿ AT LEAST one paragraph per reply.
✿ Someone who respects one's RL world. I, as a human, can get VERY busy at unexpected times - DO NOT rush me if I haven't replied in an hour or all day.
The Fandoms!
(I would prefer to double up.)
What Is Doubling Up?
Definition:
You Play- My Love Interest & YC (Your Character)
I Play- Your Love Interest & MC (My Character)
Your OC x Your Love Interest
My OC x My Love Interest


✽✽✽
SIDE NOTE: "MC" means "My Character (my oc)" and "YC" means "Your Character (your oc)".
EXTRA SIDE NOTE: One ✿ under Crave Level means I'm not craving it, but I'm interested. While three ✿'s mean it's an EXTREME craving.
✽✽✽


✾Be More Chill✾
Crave Level: ✿
~I Can Play:
Jeremy x YC, Michael x YC, Rich x YC, Brooke x YC, Chloe x YC, Christine x YC, Jake x YC
~You Play:
The Squip x MC, Rich x MC
Special Case:
Willing to rp Boyf riends too as Michael, or even Brooke x Chloe as either!


✾Black Butler✾
Crave Level: ✿
~I Can Play:
Ciel x YC, Beast x YC, Charles Phipps x YC, Finnian x YC, Mey-Rin x YC, Pluto x YC, Claude x YC, Agni x YC, Doll x YC, Baldroy x YC, Undertaker x YC, Ran-Mao x YC, Ash x YC
~You Play:
Sebastian x MC, Joker x MC, Snake x MC, Dagger x MC, Alois x MC, Soma x MC, Baldroy x MC, Charles Grey x MC, Lau x MC


✾Bleach✾
Crave Level: ✿
~I Can Play:
Tatsuki x YC, Orihime x YC, Rukia x YC, Renji x YC, Byakuya x YC, Yoruichi x YC, Kisuke x YC, Uryu x YC, Rangiku x YC
~You Play:
Ichigo/Hichigo x MC, Hisagi x MC, Toshiro x MC, Ulquiorra x MC, Grimmjow x MC


✾Camp Camp✾
Crave Level: ✿✿
NOTE: I will not play the campers unless it is an au where they are adults, as playing children in ships makes me uncomfortable.
~I Can Play:
Gwen x YC, Jen x YC, Max x YC, Neil x YC, Nikki x YC, Preston x YC, Harrison x YC, Jasper x YC, Campbell x YC
~You Play:
David x MC, Daniel x MC
(bonus points if we can double up on love triangles!)

✾Catherine✾
Crave Level: ✿
~I Can Play:
Catherine x YC, Erica x YC, Ishtar x YC, Jonny x YC, Toby x YC, Orlando x YC
~You Play:
Vincent x MC


✾Deadman Wonderland✾
Crave Level: ✿
~I Can Play:
Ganta x YC, Shiro x YC, Minatsuki x YC
~You Play:
Crow x MC, Toto x MC


✾Dear Evan Hansen✾
Crave Level: ✿✿
~I Can Play:
Evan x YC, Jared x YC, Zoe x YC, Alana x YC
~You Play:
Connor x MC


✾Devil is a Part-Timer!✾
Crave Level: ✿
~I Can Play:
Alciel x YC, Lucifer x YC, Emilia x YC, Chi x YC
~You Play:
Satan/Maou x MC


✾Diabolik Lovers✾
Crave Level: ✿✿
~I Can Play:
Reiji x YC, Ruki x YC, Richter x YC, Karlheinz x YC, Yui x YC, Shu x YC, Yuma x YC, Azusa x YC, Carla x MC
~You Play:
Ayato x MC, Laito x MC, Kanato x MC, Shu x MC, Yuma x MC, Ruki x MC, Kou x MC, Azusa x MC, Shin x MC


✾Durarara✾
Crave Level: ✿
~I Can Play:
Kida x YC, Mikado x YC, Anri x YC, Shizuo x YC, Aoba x YC, Shinra x YC, Kasuka x YC, Seiji x YC, Kyohei x YC, Kururi x YC x Mairu
~You Play:
Izaya x MC


✾Free!✾
Crave Level: ✿
~I Can Play:
Makoto x YC, Nagisa x YC, Rei x YC, Sosuke x YC, Gou x YC, Aii x YC
~You Play:
Haru x MC, Nagisa x MC, Sosuke x MC, Rin x MC, Kisumi x MC, Momo x MC, Seijuro x MC


✾Harry Potter✾
Crave Level: ✿
~I Can Play:
Harry x YC, Ginny x YC, Hermione x YC, Luna x YC, Neville x YC, Cedric x YC, Scorpius x YC
~You Play:
Ron x MC


✾JoJo's Bizarre Adventure✾
Note: I've only watched the anime thus far, and am just recently starting the manga!
Crave Level: ✿✿✿✿✿
~I Can Play:
Speedwagon x YC, Erina x YC, Lisa Lisa x YC, Joseph x YC, Polnareff x YC, Kakyoin x YC, Straizo x YC, Vanilla Ice x YC, Koichi x YC, Okuyasu x YC, Rohan x YC, Yukako x YC, Reimi x YC, Keicho x YC, Tonio x YC, Aya x YC, Kira x YC
~You Play:
Dio x MC, Jonathan x MC, Joseph x MC, Caesar x MC, Jotaro x MC, Josuke x MC
✾K-Project✾
Crave Level: ✿
~I Can Play:
Yashiro x YC, Neko x YC, Yata x YC, Tatara x YC, Izumo x YC, Reisi x YC, Saruhiko x YC
~You Play:
Mikoto x MC, Kuroh x MC, Izumo x MC


✾Mystic Messenger✾
Crave Level: ✿✿
~I Can Play:
Jaehee x YC, 707 x YC, Yoosung x YC, V x YC, Unknown x YC, Rika x YC
~You Play:
Jumin x MC, Zen x MC, Unknown x MC, Vanderwood x MC, V x MC


✾Noragami✾
Crave Level: ✿
~I Can Play:
Yukine x YC, Bishamonten x YC, Kazuma x YC
~You Play:
Yato x MC


✾Stardew Valley✾
Crave Level: ✿
~I Can Play:
Alex x YC, Harvey x YC, Sam x YC, Shane x YC, Abigail x YC, Haley x YC, Emily x YC, Leah x YC, Maru x YC, Penny x YC, (Possibly more if you ask.)
~You Play:
Elliott x MC, Sebastian x MC, Sam x MC


✾Vampire Knight✾
Crave Level: ✿
~I Can Play:
Kaname x YC, Aido x YC, Shiki x YC, Ichijo x YC
~You Play:
Zero x MC, Ichiro x MC
Pairings & Possible Plots!
(Both lists will be updates as more ideas pop in!)
PAIRINGS
Note: Bolded are the roles I'd prefer to play, but italicized means I can play either.

Android x Human
Bad Boy/Girl x Good Girl
Boarding School Roommate x Boarding School Roommate
Celebrity x Fan
Circus Performer x Childhood Friend
Delinquent Boy/Girl x Sarcastic Girl
Demon x (Fallen) Angel
Furry x Human
Girl x Yandere Girl
Human x Mermaid
King x Empress
Knight x Princess
Merman x Human
Mob Boss x Mob Boss/Rivalling Mob Boss's Wife
Monster Girl/Boy x Human
Monster King x Princess
Pirate x Mermaid
Pirate x Princess
Popular Friend x Nerdy Friend
Prince(ss) x Forest Nymph
Prince(ss) x Princess
Prince(ss) x Servant
Best Friend x Prostitute/Stripper/Porn Star
Musician x Singer
Shy Guy/Girl x Tough Guy/Girl
Step Brother x Step Sister
Succubus/Incubus x Human
Vampire x Non-Vampire
Werewolf x Human
Werewolf Alpha x Human

Additional Bonus!
I have had a harem RP on my mind for a while now, with my (female) character playing the head of it. So if you're interested, let me know about that! I'd be super happy to play it out!

PLOTS
Plot I
"A Fatal Attraction"
Genres: Dark-ish, Romance, Erotica?, Drama
NOTE: This is not meant to romanticize mental illnesses, and is heavily based off of the game "Don't Take This Risk". I would highly recommend playing it, as it is free, but also be warned that it does deal with heavy topics such as suicide.

P.S. if you are dealing with suicidal thoughts or are considering killing yourself, please know that you still matter and get help from people who care: Home

Character A is dealing with depression and suicidal ideations. When his/her suicidal thoughts become too much after the death of his/her family, forcing him/her into isolation, he/she tries to contact a suicide hotline to convince him/her that life is worth living. Instead, they accidentally contact a total stranger—who happens to be Character B. Despite Character A's insistence to let him/her go because nobody loves him/her, Character B grows desperate to keep him/her alive and slips up on their words:
"Please, don't. I love you."
Character A gets a bit too excited, and insists that he/she sees Character B. Despite her reluctance, Character B goes to Character A's location in a sheer attempt to keep him/her alive. With Character A continuously showering Character B with his/her sudden love and affection, Character B has no choice but to go along with their one-sided romance and tries to love Character A. But will a sudden romance be worth saving one person?

I Play: Character B

Plot II
"Way Back Into Love"
Genres: Romance, Slice-of-Life, Drama, Erotica
NOTE: This plot was inspired by this song and this quote:
"I lean forward, pressing my lips to his, and it breaks me open. His hand leaves my face and traces notes up my arms, strikes chords on my throat and up into my hair. His mouth forms lyrics that expose my soul."
—Katherine Longshore, Tarnish

Character A is a desperate musician trying to find a new place to stay at after her band had broken up, leaving her with a job that gives her barely any money to afford her own place anymore. When she finds an ad for a roommate, she finds herself in for the time of her life… Character B is an upper middle-class guy/girl with a fairly luxurious apartment that he/she worked blood, sweat, and tears for. He/she is also a huge player and party animal. Character A decides to work around Character B's sociable life, and agrees to be his/her roommate. Though what happens after the two end up getting too close? Especially when a girl has her eye on Character B, while Character A's ex-boyfriend tries to coerce her back into their toxic relationship?

I Play: Character A
Exception: If I do play Character B, it will be FxF.

Plot III
"A Treacherous Trade"
Genres: Romance, Fantasy, Drama, Erotica, Dark-ish?
NOTE: This plot was inspired by the following quote:
"I crave a love so deep the ocean would be jealous."

An ever so rebellious princess—Character B—isn't particularly the family favorite. So the royal family takes advantage of the opportunity to be rid of her when a notorious band of pirates and their vicious captain, Character A, threatens to turn the entire kingdom upside down if he/she is not paid back in return. As a result, Character A is stuck with Character B and a few bits from the Royal Treasury. With Character B's rebellious nature, would she be able to keep the act up with Character A and his/her crew's reputation for slaughtering innocent people on the spot?

I Play: Character B

Plot IV
"Partners in Crime"
Genres: Romance, Drama, Erotica, Action
NOTE: This is one I've actually been wanting to do for a while now! It's based off of this song, and the characters Valora and Miles by Kippery. (Be warned, there are some NSFW images on them). Because this is also based off of Miles and Valora, I hope we could discuss having this plot set in America around the 1940s-50s.

Character A is the sweet, innocent daughter of the Mayor who craves nothing but adventure from the world. Tired of living in a sheltered world, she sneaks out at night to one of the local bars where she meets the dark and mysterious Character B. Little does she know is that Character B is a criminal who is on the run for the murder of one of his/her former motorcycle gang members—despite it being for a good reason. Almost instantaneously, Character A is swept off her feet by Character B's mystifying attitude. Fortunately for her, Character B was settling in town for a short moment until he/she would get enough money to get on the road again. Night after night, Character A would seek out the newcomer, until her father finds out about her whereabouts and sends out authorities to detain the wanted man. Out of desperation, Character A pleads with Character B to take her with him/her… and agrees.

I Play: Character A
Exception: If I do play Character B, it will be FxF.

Plot V
"Mon Trésor Perdu Depuis Longtemps"
Genres: Romance, Drama, Erotica(?), Slice-of-Life, Fluff
NOTE: I usually do not do total, utter fluff. But once this idea had popped into my head, the romanticist in me would not shut up. Based off of this lovely quote that happened to be in French:
"C'est cela l'amour, tout donner, tout sacrifier sans espoir de retour."
Translation:
"That is love, to give away everything, to sacrifice everything, without the slightest desire to get anything in return."
– Albert Camus

Moving from France to America was not easy in itself for Character B. It had happened years ago, in high school— Albeit, his peers always treated him like a jewel for his foreign background and French accent. However, he'd always craved something more out of life. This had all changed when he graduated and left for college, out of the state of Louisiana and to Oregon for college. He was bound to get a fresh start there, in his life as an adult; Surely enough, he did. When he finds himself in the same class as a peculiar girl, Character A, he finds himself intrigued by her refusal to fawn over him compared to the other girls he'd met. Character A was a girl with a pretty face and a sharp tongue when provoked, constantly refusing to turn towards Character B. When a miraculous friendship sparks between them and they develop feelings for each other, would they dare let romance overcome them? It proves itself to be difficult when a crazy and overly-protective girl steps between them, constantly trying to get Character B's attention while threatening Character A behind his back. What will become of the two lovers in denial? Will they give into their feelings and take the risk, or will they continue to play it off as an infatuation…?

I Play: Character A

Plot VI
"A Nymph's Secret"
Genres: Romance, Erotica?, Dark-ish, Modern Fantasy, Fluff, Angst, Slice-of-Life-ish
NOTE: I have a specific character I would like to use for this plot. Nothing inspired this, I just came up with it in the middle of writing a short story.

Character A is out on a vacation for the holidays with family, much to his/her dismay. During a 'great escape' to avoid any more family interaction, he/she runs into Character B, the owner of a large and well-known family company. After an embarrassing introduction, Character B persuades Character A to spend the rest of the day with her. Despite their sudden meeting, they end up having a surprisingly good time… unbeknownst to Character A, Character B is a nymph out on the hunt for a new victim. However, when Character A proves himself/herself to be better company than she'd originally believed, she is torn as to whether or not she should keep to her instinct to hunt and kill or fight it and allow herself to grow closer to the new human…

I Play: Character B

Plot VII
"What Happens in Vegas…"
Genres: Comedy, Drama, Romance, Angst, Erotica?
NOTE: Lightly based off of the movie 'What Happens in Vegas'. I loved the idea so much, I could not help but add a bit of a twist to it! This role-play will require a bit of extra characters, so be aware that you will be playing characters of relation to yours, while I play those with mine.

After a difficult break-up with her fiance, Character A finds herself convinced by her best friend that they take a trip to Las Vegas to ease the pain. The two set out together, however realize a bit of a mistake as they reach their hotel room… A glitch in the system caused their reserved hotel room to also be merged with the hotel room of familiar faces. Character B, who happens to be Character A's high school ex-boy/girlfriend due to his/her promiscuous ways, ends up running into Character A, accompanied by his/her friend as well. After an unsettling interaction, they decide to complain to the front desk, and end up getting two connected luxury rooms, much to Character A's dismay. In an attempt to ease the tension, their friends suggest going out to a nightclub, which results in what may be the best or worst mistake of their lives… Character A and Character B awaken the next morning in bed together, wearing rings and possessing video evidence of their drunken Vegas wedding from the previous night. After a tense morning, the couple are caught arguing by the slot machines, in which Character A puts in a quarter before walking away, as Character B pulls the lever.
Bells ring, and a loud robotic voice calls out 'JACKPOT!' as Character B rejoices. Character A steps in as well, claiming it was her victory as it was her quarter, leading the two to settle their dispute in court back in their own state, along with a divorce… Though much to their dismay, the Judge happens to be Character A's aunt, who refuses to allow either party to keep the money, until they remain married for an entire month. The deal being that if they decide to remain married until the end of the month, they may keep the money, though so they decide to split up, they may split the money and leave. However, if they refuse to go along with it—neither may keep the money. With reluctance, Character B moves into Character A's home to start their month as newlyweds, though would it stop his/her licentious ways? What would become of the newlyweds, will they find a way to make their marriage work—or go through with the divorce?

I Play: Character A

Plot VIII
"A Match Made Between Heaven and Hell"
Genres: Romance, Drama, Angst?, Erotica?
NOTE: I personally crave this plot so bad right now. I had only ever had the chance to do it once but it never finished, so I'm hoping to find a taker this time who's willing to make this long-term with me! I'm keeping the character roles fairly flexible here. I feel a lot could be done with an individual character with enough work placed in! The following plot was inspired by this quote:
"Maybe you're right, Red. Maybe I am hateful. Maybe I ruined your life. Maybe I'm the devil, and the worst thing that ever happened to you, and a million other awful things... But did you ever stop to think that even if I am a monster... I might be your soulmate, anyway?"
― Julie Johnson, Erasing Faith

Honestly, it was an agreement that no one in any part of the world had expected. With Kingdom A and Kingdom B having been at war for nearly a century and a half, it would not be too surprising if the two kingdoms continued at this silly war forever whether or not the reasoning is still there. Though with the looming threat of an uprising kingdom that is gradually claiming other kingdoms and lands as its own, it's no wonder that the two great kingdoms had decided to fall upon a truce. With the Kings finally finding compromise in the situation, they had agreed upon one of their children being chosen to be betrothed to the other's. Though after being raised to support a war that had gone on since before their birth, would the pair agree to follow along with their parents' plans, or attempt to unite the kingdom in another way? Would this arranged marriage turn out to be a match made in Heaven, or Hell? Or even possibly… Somewhere in-between?

I Play: Either! Though I would prefer this to be MxF, with myself playing a Princess. However, I can be persuaded to play another role or pairing!

Plot IX
"Upgrade"
Genres: Romance, Drama, Sci-fi, Modern, Angst?, Erotica?
NOTE: Another plot I've been craving for a while now! This is based off of the musical 'Be More Chill', and the concept of the SQUIP is from that. If you need any further elaboration, please feel free to hit me up!
"I'm never gonna be the cool guy,
I'm more the one who's left out.
Of all the characters at school,
I am not the one who the story's about.
Why can't someone just help me out?
And teach me how to thrive...
Help me do more than survive!"
―Be More Chill, 'More Than Survive'

After months of convincing from an acquaintance of her's in school, Character A finally decides to take a SQUIP pill that could possibly help her with the struggles of her average, day to day life. Character B is that said SQUIP (which stands for Super Quantum Unit Intel Processor), and was activated not too long after Character A had gone through with the process. Character B immediately knew what to do with information being pre-programmed into him before Character A even took him. Though there was something odd that Character B cannot recall being programmed into his data... A strange feeling, every time anyone else looked or spoke to Character A in a certain way. When he discovers what these 'feelings' are, he tries to find a way to make a body of his own, to make a relationship between him and Character A possible... Though could Character A even return her feelings when she has her heart set on another?

I Play: Character A.
That's about it, guys, gals, and everything in-between or out! Send a message to this thread or in a PM and we can get to discussing— Stay awesome!
Last edited: