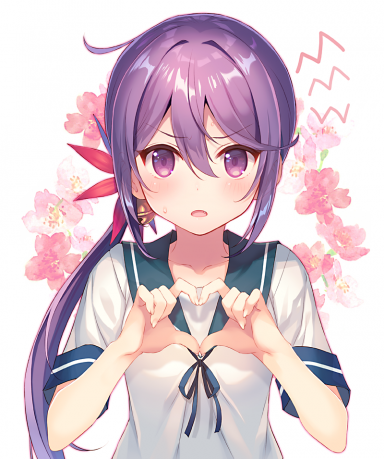 Literal No One
Original poster
LURKER MEMBER
FOLKLORE MEMBER
Invitation Status
Posting Speed

1-3 posts per week
Writing Levels

Intermediate
Preferred Character Gender

Primarily Prefer Female
Genres

It's Easier to just Look at Below

​

OOC Thread:
Link
---
​


There was once a time, when I asked myself:

"Are the Bonds Between People Truly Arbitrary?"


I spent a very, very long time thinking about it.

I looked at myself, I looked at my friends, and I looked at the strangers around me to glean the necessary observations that would lead to a conclusion to such a question.

In the end, the answer was plainly obvious.


"The Bonds Between People are Indeed, Completely Arbitrary."

The reason behind this is quite simple:


People are naturally rotten by nature.


- A Glimpse of the 'Devil'​
---
Ehb Presents:​
My High School Life is Despairingly Governed by the Cruelly Impartial RNG
​
---
I would have to agree with the most obvious answer.
The most precious people in my life are my family. All of them I cherish equally. My Father, My Real Mother, my Real Sister... and my New Mother and New Brother. In my eyes, there are wholly irreplaceable. But, in reality, I like my real sister a little more than all of them. My sister is scary, mean, and even violent towards people sometimes. Her common sense of certain ways a girl should ideally properly conduct herself are a bit lost to her. So there are naturally people out there who might not really like the kind of person my sister is.
Nonetheless, I still love her very much.
My sister has a very sweet side that she only shows to a select couple of people. And, when you come to realize how much she really cares about you, it becomes reassuring to know that she'd come to rescue you with your own hands when you're in trouble. For a certain amount of time,. I was always just hiding in Hibiki-nee-san's shadow. That why, from now on, I'll... I will...
[fieldbox= Nozomi Yuri, plum, solid]

[June 5th, Afternoon / Hisakawa Academy, Main School Building, Classroom 2-A]
The white haired Second Year Girl stared down at her pencil and paper.
"I will do... something? Hmm, writing about Hibiki-nee is harder than I thought it would be."
Nozomi Yuri's focused expression gave way to resigned defeat. Putting down her pencil, she set both of her hands onto her lap. A stretch to help alleviate the past 20 minutes of quiet writing.
"Writing a Social Morals Paper on Hibiki-nee-san without pointing out her long list of Social Morals Violations is hard. It's like trying to write about the ecological benefits of air-dropped landmines in third world countries."
A comfortably mild afternoon at Hisakawa Academy. June 5th.
At the moment, the students of class 2-A are enjoying a bit of free time. With it being lunch, the class is either eating at the cafeteria, or partaking in their meal in the comfort of their home classroom. A time to relax, eat, and chat away the relevant topics of the day. But, for the studious Model Student, it was an opportune time to try getting a head start on an assignment. Nozomi Yuri took it upon herself to start the assignment as early as possible. SO early, in fact, that the only reason she even knew about it right now was due to it being mentioned on the class Syllabus. The teacher had not even actually assigned the paper yet.
Yuri took a look over the classroom. With her follow students with their desks pushed together forming the various groupings of friends in the class, everything was, thankfully, looking very normal. The perfect sort of scene in her eyes, on any other day.
But, it wasn't the case for this sort of today. As her gaze returned to it's default heading, the Snow White-Haired girl thought to herself with an urgent mental tone.
(
....I have to say something. Today, we have to get it done now!
)
The school-wide festival was coming up this month, and as of right now, her class was the only one whom had come to a conclusion of what to do.
(
If this goes on for much longer, we won't have enough time to prepare!
)
Yuri couldn't hide behind homework any longer. Today, she was going to have once again start up the discussion about what the class was to do for the School Festival. She could only hope that it wouldn't lead to a reapeat of the 'incident' that has stalled the discussion for the past couple of days.
[/fieldbox]
---
[fieldbox= Incident 1, white, solid]
The Melee Master and the Musical Maestro
Involving:
@ERode
- F
ujiyama Haruka
&
@Zombehs
-
Yoroita Markus
Not exactly everyone know about Markus' musical talents. Even fewer were aware that he was trying to keep it under wraps at school. But most certainly, nobody knew that that those two facts would cause him to get into a spat with Haruka.
With the school festival coming up, all of the classes were required to choose a sort of activity the class would do for it. In class 2-A, things started out simply enough. But eventually, the idea of the class performing as a sort garage band came up. Many of the students admitted they weren't particularly good, but thought it would be a fun thing to try to do: considering the theme of the festival this year was 'To Make the Best of the Time That You Have'.
Haruka eventually suggested Markus help out, considering his background and talents. But he quietly dismissed it, saying he wasn't really all that good. Haruka took it the wrong way, and 'corrected him'. She didn't realize he was trying to keep his musical talents a secret to everyone else.
Long story short, the two let their anger get the best of them, and for the first time this year, we almost had a Virtu-Ava battle in the classroom. But it was stopped at the last second. This single scuffle has kept class 2-A in a standstill in regards to making plans, and if this keeps up, the class won't have enough time to prepare anything in time for the festival.
Positive Outcome
Character Relations Improve
Side-Arc - Academy War - Group Battles
Side-Arc - The Peculiar World of Hisakawa - Swimsuit Study Hall
Negative Outcome
Character Relations Go Down
[/fieldbox]
---
[fieldbox= Nozomi Yuri, plum, solid]
Standing at the digital whiteboard in front of the classroom, Yuri made a fake caught to catch everyone's attention.
"Yes.... So I know everyone is really enjoying their lunch right now, but today I have something really important to announce! Our deadline for submitting our plans for the School Festival on the 20th are coming up soon, and we still need to come up with our own plan as a class."
After the mention of 'plan' Yuri could notice some of the students dismissively looking away, specifically away from Haruka and Markus. Almost expecting them to come out saying something aggressive from the start. It made Yuri's heart sink a little. But she continued on, pressing to get the job done.
"We can be considerate to Markus and not do a band! I mean, why don't we do a play, or maybe a food stall....? Come on everyone! We have to come up with some sort of event... and it doesn't have any meaning of we just arbitrarily pick it. Let's try discussing what we should do, please!"
@Everyone in Classroom 2-A
[/fieldbox]
---
Annoying Help Text 1 - Incidents



Welcome to Hisakawa Academy!

In this RP, the story is mostly driven by character conflict. Thus, the 'chapters' of the story involve a character conflict between two characters being explored and (hopefully) resolved. In the RP, these are called 'Incidents'. Incidents typically start after the actual inciting event had happened, giving the reader exposition explaining who was involved in the incident and what generally happened. Further minor details can be explored as others make their posts.



Annoying Help Text 2 - Posting Format



Please remember to follow the posting format mentioned in the rules section of the sign up thread. As illustrated in this first post, following this format supposedly tells the reader vital information such as the character the post belongs to, the location, and who is being specifically targeted for reply, all in a pretty looking format.



Annoying Help Text 3 - Underlining to Carry the Conversation



Though not every single post has to; in an ideal world, every post made by an active character is a post that moves the story forward or at least moves the conversation ahead.

When a player Underlines a section of their post, that should be considered as a big sign that says: 'This is how I'm moving the conversation forward, please use this to move it forward / mention it in your next reply!'.

In this first post, Yuri's underlined lines indicate she wants to move forward with a discussion about what to do for the culture festival - that one is relatively straightforward. The other underlined line is a bit more peculiar. It asks the replier to think: 'Is she really being considerate to Markus or is she just saying that to get it out of the way?' It's something you could potentially make a big deal out of, depending on how your character perceives it.

Make good use of these underlines, and the likelihood of other players not knowing how to respond may go down a bit! Try to keep your 'yeah, uh-huh' posts where you simply nod and agree to a minimum. Contribute! Especially if you're classed as a main character - and especially if you're the center of the current 'incident'.


---
Last edited: