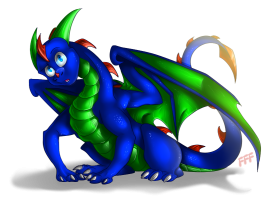 Technologically-Advanced Reptile.
Original poster
Roleplay Invitations

Group Roleplays, One on One Roleplays, Chat Roleplays, Private Convo Roleplays
Posting Speed

Speed of Light, Several Posts a Day, A Few Posts A Day, One Post a Day, A Few Posts a Week, One Post a Week, Slow As Molasses
My Usual Online Time

Mountain Time: 10:30PM to 4:00AM currently is my norm.
Writing Levels

Give-No-Fucks, Beginner, Elementary, Intermediate, Adept, Advanced, Adaptable
Genders You Prefer Playing

Male
Playing Style- Passive or Aggressive

Depends on the RP at hand. I have done both.
Favorite Genres

Fantasy, Sci-fi, Magical, and more.
Genre You DON'T Like

Romance, Yaoi, Yuri, probably a fer more. Not particularly fond of Libertine, for instance.

Yuuki smiled, setting beside them, working around them, as the sight of a feral dragon sitting on a stool would both be comical, but would also nearly guarantee a posture that would force youth to slip down the new incline, towards the ground. As hard and cold as it may be, it would certainly not be forgiving for such an action.
In truth, clothing was something most dragons only used when they chose to utilize a more bipedal position, in Yuuki's experience, but even then, unless one used magic or alchemy to alter the number of limbs one posessed, the hardest part to wearing such garments always were the wings and the tail, though the ladder was more manageable for most. Wings posed a fairly unique problem, as any garments meant for humans had to be.....cut and modified to handle wings. It was even harder for dragons with a fire affinity, as their wings would often get cold in colder climates even after the modification of such clothes, and creating coverings for wings were......inconvienient, to say the least. Giving a chuckle at the last time in her memory her younger brother had tried doing such, and how cold he acted and how comical the whole thing was. Her older brother, he just coated them in metal, similar to armoring them, and had the metal heated whenever they got too cold. She had had to use such garments once, and felt the other's pain, but being one that found volcanic regions too hot and snowy areas too cold, she usually didn't have much to worry about.
Determining it best to settle on her own, slowly sitting like a puppy, she once again positioned her tail to control the decline of the little one on her back. Hearing the youth's noises, she came to the conclusion he was waking up, and positioned the end of the slide for the top of the stool she would otherwise be sitting on, were it not going to result in a comedic spectacle, not that one of her new friends would mind. watching and protecting, while scritching at little one's chin with one clawed paw, she took to the menu with her other free forepaw, a delicate balancing act she seemed to have perfected over the years.
Looking to Thoee, Yuuki recognised the distant look, as she had worn a similar one on too many an occasion. once sure the little one was safe and sound, she offered a wing around her shoulders, stiff as though it may be, knowing that sometimes it can help to have some reassurance from someone close, even if she weren't exactly a well-known dragon to these four, having only just met. "everything alright, Thoee-San?" Once again with the common honorific. They didn't know each other well enough for any other, but not using it could be considered rude, and that would be the last thing she wanted to appear like. Different cultures, but if she didn't show the best side of her own, it would reflect badly on herself and on those that she represents, living, lost, and departed.
Glancing back to the little one a few times, knowing how limited a stool can be, especially if a youth is left to their own devices for too long. Smiling softly to him, as she subconsciously starts to hum a small little tune for him, one her own mother had used for her on numerous occasions, one in which she had memorized long ago.

Roose Hurro