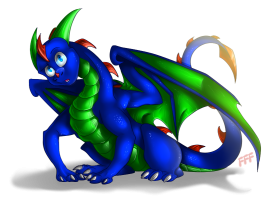 Technologically-Advanced Reptile.
Original poster
Roleplay Invitations

Group Roleplays, One on One Roleplays, Chat Roleplays, Private Convo Roleplays
Posting Speed

Speed of Light, Several Posts a Day, A Few Posts A Day, One Post a Day, A Few Posts a Week, One Post a Week, Slow As Molasses
My Usual Online Time

Mountain Time: 10:30PM to 4:00AM currently is my norm.
Writing Levels

Give-No-Fucks, Beginner, Elementary, Intermediate, Adept, Advanced, Adaptable
Genders You Prefer Playing

Male
Playing Style- Passive or Aggressive

Depends on the RP at hand. I have done both.
Favorite Genres

Fantasy, Sci-fi, Magical, and more.
Genre You DON'T Like

Romance, Yaoi, Yuri, probably a fer more. Not particularly fond of Libertine, for instance.

It had been a rough couple months, what with being inundated with medical requests, be they checkups or urgent care class cases, there had been some of all sorts, and for one with her reputation, she had to make sure the top-quality care was offered to her patients, but all of that was over now. She had a conference coming up, and even though she'd normally go to this type of thing anyway if possible, this time was different. She had been requested for a short presentation, and being outgoing and willing to spread any info that could benefit other healers, doctors, or medical staff, it was a request that she did not wish to refuse.
Being a light green dragon, young, by the looks of it, had it's advantages. Anyone who was accustomed to the ages and the physical characteristics of dragons would be able to tell in a heartbeat that, for her reputation she was nothing short of prodigy standings, but this also meant that, while able to defend herself, she wasn't the best one to fight alongside, her skills being better suited to the tents bearing a red cross. If she were honest, she hated fights and conflicts, about as much as her younger brother had, however she wasn't nearly as resistant to fight as he was, and she was scary if you ever got on her bad side.
Yuuki Kunigiri had arrived after her long flight tired, and she figured that she'd check in and look around the location the Conference was to be held, perhaps chat with some of the attendees, if the chance presented itself, but if it didn't, no harm would come of it. She knew all types of people usually came to these events, and welcomed the opportunity to learn and share new ideas and come up with new things.
As she walked, she let her mind wander, back to that of her brothers, and her other sister. Frowning slightly, missing them all, she tried to shake the thoughts from her mind. Her older brother, Taiki, Would have been the most likely to survive a combat encounter, as his skillset and training, paired with his mindset to do anything he had to, usually made him the best candidate. Her younger brother, and the one she had been closest to, had skills that should also allow him to make it out of sticky situations, but his pacifism and hesitation to potentially do harm to others, or even to fight, reduced his chances considerably, and her sister. Her sister was one of the reasons she decided to take on a position in the medical field, since she had been unable to prevent her from passing away. Sad as it was, it was the event that set Yuuki on her path, so it had it's purpose, sad as it was.
Shaking her thoughts from her head, deciding that thinking about family that she hadn't been able to help would only serve as a detriment, and to drive her crazy. What-If this, What-if that, never a good train of thought, and as they liked to say back home, 'Shikata ga nai,' It can't be helped,
so don't worry about it.
smiling softly as she travels around the city, and checking into the hotel, looking at the number of people that seemed to be here, either for the same event, for travel, or for other reasons. "Conventions like this must be good for the city and it's people."

Roose Hurro