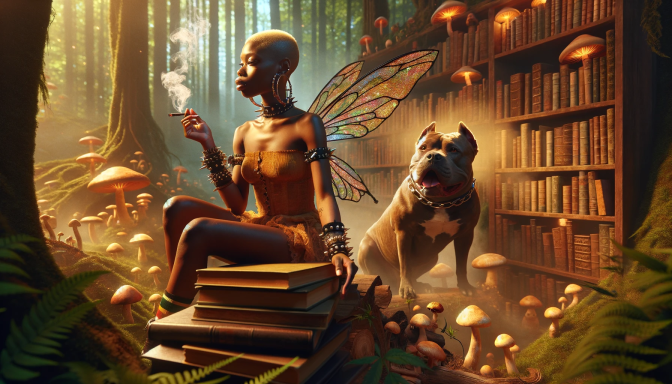 I'm always a sucker for suicidal aliens.
Original poster
Invitation Status

Looking for partners
Posting Speed

1-3 posts per day
One post per day
1-3 posts per week
One post per week
Writing Levels

Intermediate
Adept
Advanced
Preferred Character Gender

Male
Female
Primarily Prefer Male
Genres

Fantasy, Scifi, Modern, Dark Fiction, Dark NonFiction, Eh a dash of romance here and there is appreciated. If it has a good plot, I'm in. Horror is also welcome.

[bg=#8d659b] Welcome to Lady Baltimore's academy boys and girls, my name is Poppy Le Beau and I am your headmistress. Here at LBA we have a few rules that are vital to the success of this academy. The first and utmost important rule is Loyalty. The weakest of any of us is better than the strongest of those normals, word of any betrayal will result in a meeting with the council where your punishment if found guilty will be decided. Murder another witch or Warlock and expect the same results. Lastly, secrecy. I am not instructing you to live your life in shadows or in fear but simply keep in mind that there are those out there who want us all to burn at the stake, keeping this secret is what will protect us. :Poppy LeBeau descends the staircase, garbed in white and pearls. Behind her enters the staff on her right, followed by the currently enrolled students on her left: I'd like to introduce you to the lovely staff of LBA. Mr. Kyle Spencer, our Butler. Ms. Corrine Marx, the maid and last but certainly not least Mr. Bernard Albecorkie the chef. Please do you best to treat them all with respect, after all, they're all here to help you. [/bg][bg=#8d659b][/bg][bg=#8d659b]

Of the three currently enrolled here, Cleo Wells is the eldest followed by Florence Anderson and Thomas Nickelson. Feel free to direct any questions to Cleo and if she can't answer them come find me. Now, let's get onto the rooming arrangements shall we? Boys first. Listen closely, children.
​
Brian Le'mont and Sam Blackwood

Victor McWilliams and Thomas Nickelson

Cole Masters you're rooming alone for the time being.​
Here are the rooming arrangements for the ladies. :Poppy flips a page in her clipboard:​
Lillian Montenegro and Akasha Blackwood

Cleo Wells and Marianne Vinter

Sterling Smith and Petra Bailo

Florence Anderson and Adelaide Smithson
​
Understood? Excellent, find your roommate and follow me. :The help went into the crowd, helping those they could carry their bags up the stairs. The house was old and large, able to house 20 students comfortably. With each passing year they were growing in number hence the need to build this school. On the first floor was the boy's level. "Gentlemen, here are your rooms. There are two bathrooms on this floor, please refrain from creeping upstairs onto the girl's level. I'd hate to have to sic Bernard on you. Speaking of, his room the sixth one to the right and during your stay here, he'll be looking over you all. Pick a room and get unpacked. :Poppy led the ladies up the spiraling staircase to the girl's level: The rooms are all the same size, they only vary in the amount of windows. Pick your rooms ladies, Marianne and Adelaide? Cleo and Florence have already chosen their rooms, so simply follow them. There are two bathrooms on this floor.

Oh and I nearly forgot, those with pets, bring them into the living room. They're going to have to charmed if they are staying under this roof. Someone tell the boys for me?
​
Lunch is at 12:00, listen for the bell. :With that, Poppy Lebeau teleported back to the first floor:

​
| There are 4 floors to the Academy. The basement is often used for storage, be it wine, books or people. The first floor includes the living room, dining room, kitchen and guest bathroom as well as the bedrooms of Corrine Marx and Kyle Spencer. The second floor is where the boy's are. 6 bedrooms, 2 bathrooms. The third floor is where the ladies are kept, 5 bedrooms, 2 bathrooms and the fourth floor is where no one is allowed entry, save for Poppy. No one knows what's up there and thus far no one has been stupid enough to try and find out. | [/bg]​

​
​
Last edited: