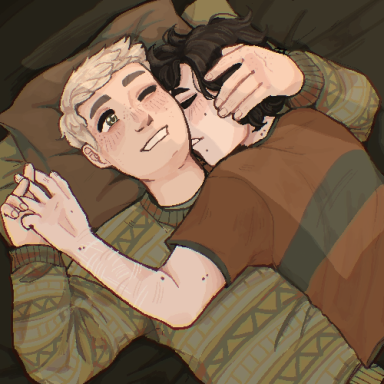 Roleplay Invitations

One on One Roleplays
Posting Speed

Speed of Light, Several Posts a Day, A Few Posts A Day, A Few Posts a Week, One Post a Week
Writing Levels

Intermediate, Adept
Genders You Prefer Playing

Male, Female, Androgynous, Primarily Prefer Male
Favorite Genres

romance, modern, drama, modern fantasy, horror
Genre You DON'T Like

Scifi, high fantasy (both with some exceptions)

Upon seeing that Harper was just washing his hands Jacob stepped back into the bathroom, subconsciously closing the door behind them. It wasn't like he had expected him to deny he was wearing make up. Harper was the type of person to do that unapologetically, he wouldn't even blame it on one of his female friends like a sane person would do. Jacob kind of hated the fact that he had realized that that was one of the things he liked about Harper. He had confidence he didn't.
When Harper implied that he needed to cover his face up he felt his cheeks grew a little warm and he reached up to feel one of them despite knowing that his skin was pretty much spot free. He worked out and he ate right and he had decent genes so his face was fine, but it stung a little to have Harper tell him he was ugly. He knew Harper wasn't looking at him in the locker rooms and he knew he wasn't trying to get him interested. And Jacob didn't want that either, he just wanted to ignore the way Harper made him feel completely.
"I don't,"
he defended himself and took a step forward,
"I'm not the one with freckles all over"
as if to prove what he had said he stepped forward and put a hand on Harper's cheek and turned his face towards him. Had he not been drunk he would have never done something like that but he wasn't really thinking now
, "See you're clearly not wearing any of the stuff you need. Cus like of course you gotta show everyone that you can pull off the weird stuff. You're so fucking annoying Harper."