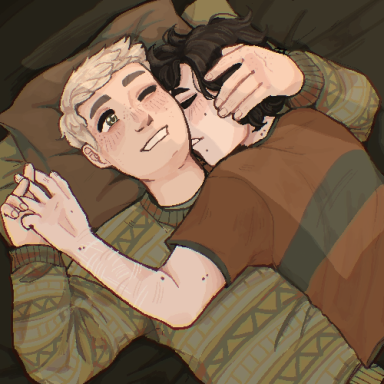 Roleplay Invitations

One on One Roleplays
Posting Speed

Speed of Light, Several Posts a Day, A Few Posts A Day, A Few Posts a Week, One Post a Week
My Usual Online Time

7 am to anywhere between 9 pm to 1 am. Honestly it's pretty random, but I'm on most hours of the day.
Writing Levels

Intermediate, Adept
Genders You Prefer Playing

Male, Female, Androgynous
Playing Style- Passive or Aggressive

Somewhat passive, I guess? I don't mind anyone else taking the lead but I still want to discuss major plot points.
Favorite Genres

romance, modern, drama, modern fantasy, horror
Genre You DON'T Like

Scifi, high fantasy (both with some exceptions)
e d e n​
"okay,"
Eden said but still watched as the others got their blanket and things out first.
Eden couldn't help but feel a little iffy about Harper, an then moment later also Stella just throwing everything downstairs, because Papa didn't always like when they did that, but he was also pretty sure it was safer than trying to run down the stairs with everything as well so he didn't comment on it. Instead he just shook his head at Harper asking him if he needed help and went to his room to get the comforter and pillows. He also grabbed his Doggy and Kitty. He knew he was getting too old for them but he didn't wanna build a pillow fort without them.
He hesitated a little before throwing all the things down the stairs, except for the stuffed animals. And then looked at his siblings to see if anyone else was still fetching something but it seemed like Letha and Hugo too had gotten their things and thrown them down to the first floor so they all made their way down and began to pick everything up again to get them to the living room. Well there Eden asked Harper, "now what?" because he always preferred having some instructions to follow. It was more structured that way.