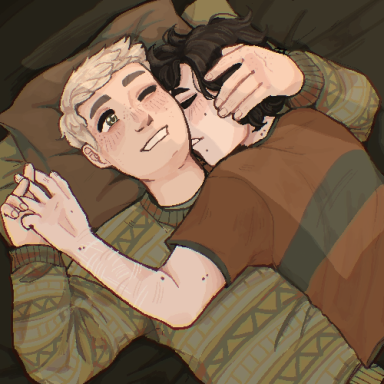 Roleplay Invitations

One on One Roleplays
Posting Speed

Speed of Light, Several Posts a Day, A Few Posts A Day, A Few Posts a Week, One Post a Week
Writing Levels

Intermediate, Adept
Genders You Prefer Playing

Male, Female, Androgynous, Primarily Prefer Male
Favorite Genres

romance, modern, drama, modern fantasy, horror
Genre You DON'T Like

Scifi, high fantasy (both with some exceptions)

Emmie frowned a little at Harper's explanation. She wished he didn't have to deal with that. His words were harsh and sh wasn't one to support being mean for no reason, but Harper had a right to be angry and Jacob was the one to be mean for no reason. And then when Harper said something a little less serious, at least she was about ninety percent sure he was joking despite his tone, her expression softened a little and she laughed.
"Okay first of all, ew, I don't want to flirt with him, he's a homophobe,"
Emmie giggled, as if the main issue wasn't that she was way too shy to approach someone like that, no matter what her intentions were,
"secondly, are you implying that if he would be gay you would use that against him? That's kinda hypocritical,"
he gave him a little nudge before going back to her own lunch, glancing back at Jacob again. She didn't really think he was into Harper or anything, but ironically he also knew that he'd be the kind of guy Harper at least thought was good looking if it hadn't been for hating the guy.
"But you know Harper, maybe talking to him isn't the worst idea, but like you should do it and not flirtily,"
she said, a little more serious now,
"he doesn't really deserve a chance and I do't think anything will excuse him for having acted like an ass, but like, you don't actually know why he's acting like this, yeah? Maybe he just doesn't realize how much homophobia can hurt someone?"