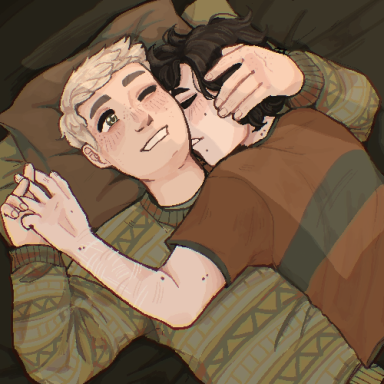 Roleplay Invitations

One on One Roleplays
Posting Speed

Speed of Light, Several Posts a Day, A Few Posts A Day, A Few Posts a Week, One Post a Week
Writing Levels

Intermediate, Adept
Genders You Prefer Playing

Male, Female, Androgynous, Primarily Prefer Male
Favorite Genres

romance, modern, drama, modern fantasy, horror
Genre You DON'T Like

Scifi, high fantasy (both with some exceptions)

Harper's apparent confidence when it came to things like these had rubbed off a little on Jacob as time went on, so he didn't have any thought of hesitance as Harper kissed him and slipped his hands under his shirt he just did the same and happily complied when Harper reached to take his shirt of, and did the same to him, tugging at the fabric to signify that he wanted it off so he got to see more of his bare skin.
The mention of missing this too sent a rush of happiness through Jacob, same did the invite over to Harper's place. He knew he couldn't be too happy about it. It didn't mean much more than another chance to do this and Jacob didn't mind that at all. But the fact that it meant hanging out with Harper was great. He wished they could hang out more, just the two of them, even if it was just friendly. Though he wasn't even sure if hanging out at Harper's place really would be the two of them.
"I..."
he paused the kissing just for a moment, hands now on Harper's chest, he felt warm and comfy. Sometimes he just wished he could hug him close and nothing more. He wasn't about to suggest that though and right now he felt a little uncertain and just looked down at their feet for a moment,
"Will your siblings be home. Cus if your dads aren't home I wanna come but I just don't want anyone talking about me being there,"
he had been pretty firm with that since they had gotten together again. He just didn't want people to know. And since they weren't even dating it didn't really matter. They were just hooking up, that was between them and no one else, and he just needed time to figure things out and test the waters with the people he knew because he genuinely didn't know how a lot of people would react and it scared him, even though he tried not to let Harper know it did.