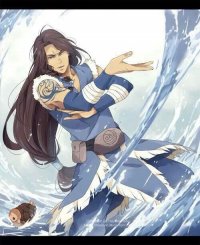 Edgebabby
Original poster
FOLKLORE MEMBER
Invitation Status
Posting Speed

Multiple posts per day
1-3 posts per day
Writing Levels

Intermediate
Adept
Advanced
Adaptable
Preferred Character Gender

Male
Female
Genres

Sci fi
Lore
As you look around you, chaos is raining down on everything you knew. Meteorites are crashing into buildings, shattering them entirely. In the streets people are committing suicide, pillaging and throwing away all sense of morals they once had. Thousands are dying by the minute, if not millions. But that's when it hit.

A bright flash of light erupted throughout the sky. Well to be exact, throughout every multiverse. A single being stopped all of the destruction and was standing before everyone that exists, all at the same time. The being waves it's hand, and everything goes dark. You can't see a thing. No one can.

When you awake, you're in a large grass field entirely by yourself. A few hundred feet away there's other people, although none from your species that you can immediately see. Although no one know's exactly what happened at the end, you all seem to know the most important thing.

Everything in the multiverse was destroyed. This location is the start of the new multiverse, with all of the survivors of the last here somewhere. How will things progress this time? Will people's innate preference towards violence be shattered, or will it carry over to this multiverse?
---------
So! That was a very quick summary of the background. (It's not my best writing, and will be fixed in a few hours. It's time for bed after I post this for now though.) You the players will start in the same universe, and meet up shortly after the campaign starts. You may play any sentient race from any work of fiction, as due to the Multiverse theory they're technically true in at least a single universe. Vulcan, Elves, Demons, whatever you want to be you can!
There exist portals between multiverses, which will allow you to traverse and meet new people and races. The reason this is important is because other than the area the players landed on, for the most part the other universes will only have a handful of sentient races.
There are several potential goals that could come from this campaign. Finding out what happened to the previous multiverse and who the being that reset everything was. Creating a new civilization as no buildings in any of the universes made it over. Becoming multiverse traveling merchants. You name it, it can happen.
Just so you know from my background; I'm used to tabletop rpg's, so I'm not fully sure how that'll travel over to forum roleplays. Hopefully it'll transition fine, but if it's shaky at first; That's why.
Here's to us having a grand adventure!
-------------
Character Sheet
Name:
Age:
Race: (Can be from fiction, or created yourself. If you create your own, please fully explain it.)
Gender/Sex: (In case you don't wish for them to be the same.)
Sexuality: (In case someone wishes to introduce romance into the game.)
Appearance:
Personality:
History:

For Stats, you'll have a total of 40 points to allocate at the beginning. Because we won't have access to dice, I'll be doing "difficulty checks" where you and your allies will try to add your points up to accomplish a task. Say intimidating an enemy has a DC of 12, then if three members of the party all have 4 charisma, you can work together and accomplish it. (Although good roleplaying will grant you bonuses.)

At most you can have 8 points in one stat.

Stats:
Strength:
Dexterity: (Quick)
Constitution: (Can take blows)
Intelligence: (Quick thinking)
Wisdom: (Book smart)
Charisma:

Your armor class is used to determine the DC to hit you.
Health Points: 5 + Constitution
Armor Class: 3 + Dexterity

Level: 1
XP:
Money: 0
Inventory: (You'll start with 1x Week Rations, 1x Week Water and 1x Bronze Weapon of Choice. I'd recommend against guns at the start, since mining hasn't started for bullets yet.)

Weapon Proficiency is something I like having in campaigns. Level 0 is the default and gives you a negative to hit. Level 1 is your flat weapon chance. (Bronze weapons have a base 3 to hit.) Level 2 grant your stat bonuses along with weapon hit. Level 3 allows you to do a 4 hit combo. Level 4 is an Area of Effect attack. Different weapon types must be leveled individually.

Level 1- 40 xp. Level 2- 120 xp. Level 3- 350 xp. Level 4- 1000 xp.

Weapon Proficiency: (You'll start off with a level 2 in your weapon of choice.)
Accepted Characters: