Masaru
: #5098ab
Mentions:
The weirdos
Interactions:
@Demon Shinobi
~~~~~~~~~~~~~~~~~~
Watching the new girl nervously, Masaru was sure very quickly that he had made a mistake. He could already see that Airi was fairly similar to Charlotte in terms of how she interacted with others. Namely, she enjoyed fucking with people and unfortunately for him, Masaru's instinctual reactions was like blood in the water for a shark. Honestly, he wasn't even quite sure why he reacted the way he did to such obvious jabs and prods. Out of all the things he
could
handle, why were these kinds of subjects with women one of the things he couldn't?
Wherever the conversation was about to go, Masaru could already predict that he was going to regret it.
And regret it he did.
As Airi began, a visible twitch to Masaru's eye could be ascertained. It was obvious that he didn't appreciate Airi's insinuation that
he
was the pervert here.
"The hell it does!"
Masaru retorted, his cheeks still flushed but composed enough to argue.
"I wasn't that far away from you yesterday! You know everyone could hear you, right?!"
Well, everyone was a bit strong. Some had been knocked out, others injured, others left to drag those injured and knocked out away to the nurse. Still, the girl didn't seem to have much of an indoor voice, nor was she ashamed in her approach nor topic of questioning. As if to further affirm her shamelessness, now she was brazenly
showcasing
what she insinuated him to be interested in.
"Hey!"
Masaru protested, feeling a jab at his side, however just as he readied himself for another retort, he felt a soft, warm presence push up against him.
It was Airi, getting far more physical than Masaru had expected. He was familiar with teases and taunts. Charlotte made sure about that. He was all too ill-prepared for this kind of warfare however.
"N-No!"
Masaru denied her insinuation, though while it wasn't the boobs that led to his assumptions of the context of Airi's words, he was definitely all-too aware of them now.
Suddenly, she gasped, which caused Masaru to flinch slightly, however she also hopped back afterwards. Breathing a sigh of relief, it didn't last long as Airi continued speaking, moving onto her lower half. While she didn't press against him again, she still turned around and nonchalantly presented the subject to him.
She had a tail too? Why did everyone have tails? Wait-Why was he looking.
Masaru shielded his eyes with his hand, covering one with his palm while the others blocked partial vision of his others. Still, he could peek through the cracks, not that he was trying of course.
"Why are you asking me?! Do you do this to everyone you meet?!"
Masaru chastised, though his rather comical behavior and the openings between his fingers weren't likely to make his protests that convincing.
"Would it be actual exercise or just you twerking at me like now?"
He would never admit it, but the extra squats
were
a good idea.
While he also wouldn't admit it, it was obvious the girl was in shape. Masaru enjoyed a good work out, so the proposal wasn't bad by any margin. However, even when she seemed to get a bit serious, Airi retracted back to discussing with herself whether his intentions for a spar would be to cop a feel.
You're the one who suggested the idea!
Now that her
presentation
had stopped, Masaru's hand ceased its duty as a visor, and the eye twitch was back.
"I don't cop feels..."
Masaru grumbled in response, but once again, Airi got far too close, both with her face and her
assets
.
Turning his head to the side to avert his gaze, the ice user seemed to be trying his hardest to remain composed and not freak out despite
certain
parts of the woman being accentuated by her outfit.
"...The only way you'd win is by doing what you're doing now."
In Masaru's mind, it was supposed to be a taunt. However, it could just as easily be taken as "distracting."
~~~~~~~~~~~~~~~~~~~~~~~~~~~~~~~~~~~~~~~~~~~~~~~~~~~~~~~~~~~~~~~~~~~~~~~~~~~~~~~~~~~~~~~~~~~~~~~~~~~~~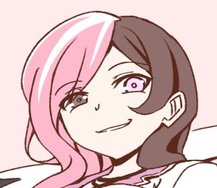 Charlotte:
#ecb2ed
Mentions:
Gameroom
Interactions:
@Everyone around pretty much, mostly Octavia
~~~~~~~~~~~~~~~~~~
Charlotte for her part just contently hummed to herself, nuzzling the side of her face into the palm of Octavia's hand. While she had spoken up to blame Cupie once again, the girl seemed naught to care for the hormone manipulator's retort, nor did she pay any mind to the new boy entering the room to speak to Allo. Honestly, Charlotte appeared far more docile than her usual, mischievous persona, entirely content on simply being in contact with her temporary beloved.
Octavia attempted to console Charlotte, though the smaller girl simply giggled in response. Obviously, she didn't see this as an issue at all, let alone one that required comforting. Honestly, the slap wasn't even that big of a deal. She was entirely playing it up so that she would get pampered.
However, as the time went on and those in the room spoke while others cooked, Charlotte's hums began to soften and quiet before coming to an abrupt pause. Opening her eyes, Charlotte stared forward with a look of confusion, blinking a few times as her pupils seemed to return to normal with each blink.
"...Wha-"
Murmuring aloud, Charlotte took her face from Octavia's palm and stared at it.
"That is so weird..."
Looking up at Octavia, Charlotte stepped back from the girl, clasping her hands behind her back with a smile.
"Sorry~ I didn't quite expect Cupie to be so jumpy. I was looking for a flinch, maybe gasp or a slight scream..."
Admitting that, Charlotte's eyes lit up as she spotted a source of adoration; Octavia's little companion.
"Oh! You have a birdie! May I pet him?"
~~~~~~~~~~~~~~~~~~~~~~~~~~~~~~~~~~~~~~~~~~~~~~~~~~~~~~~~~~~~~~~~~~~~~~~~~~~~~~~~~~~~~~~~~~~~~~~~