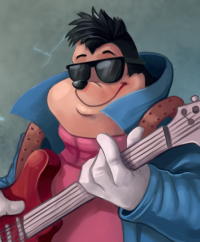 The Janitor Bear of Iwaku
Original poster
Invitation Status
Writing Levels

Give-No-Fucks
Adept
Adaptable
Preferred Character Gender

No Preferences
Genres

Horror, Modern, Modern Fantasy, Multiverse/Panfandom, Mystery, Paranormal, Scifi, Survival
Please see the group's
General Chat
/
RP Discussion
/
Discord Server
for OOC talk.
Please see the
wiki
for more info.
Link to sign-ups
---
All across the multiverse exists countless worlds. An unfathomable amount of dimensions and worlds. Universes that, for the most part, hardly even know of the other's presence.
The untold story of the first ever Murder Game.
---
Prologue
"Countdown to Point Zero"
It happened without warning.
A blinding, all-encompassing light enveloped you, pulling you into itself as if you were being tossed into a pool of water. It was shockingly cold, almost unbearably so, until a feeling of numbness filled you. It helped, for a moment, blurring everything until it was nothing but a dull roar. The light then faded away, as did all your senses, until you felt nothing.
How long you slept following that, no one could say. It was a void of time, where not even dreams manifested. The world went on without you, unflinching, until the time you finally awoke.
A dreary sight awaited you: Dull overhead lights that were barely strong enough to sting your eyes. They were embedded into a ceiling that seemed high up above you, above what appeared to be a layer of glass or plastic. You weren't the only one here, clearly, for all around you others were waking. It was a large crowd, enough to fill the spacious plastic box around you. You had been sleeping on concrete, so some would be feeling a bit sore.
Whether one was a human, a robot, or something else entirely, the experience was the same for everyone. Your body felt heavier than usual, and something just felt a little off inside your head. It was an unpleasant feeling, to say the least.
Perhaps most alarming, once someone took notice of it, was the number of people watching the group from outside one wall of the box, just about all of them dressed like scientists. Some stood far back, while a few could be seen observing from a well-lit room a floor above, their eyes glued to the window that separated them from the others. Three of the scientists stood right next to the box, two males and one female. The one male had slick blond hair and sunglasses, while the other had messy brown hair and wild eyes. The female looked rather normal next to them, blonde and reasonably attractive. She whispered something to the two men before taking a small step forward.
"By our calculations, you'll be feeling the effects of the transition for a few minutes,"
she said, her voice echoing throughout the box.
"Please wait patiently, and we'll inform you of the situation in just a moment."
With most of the group still feeling the effects of whatever the 'transition' was, a lone male voice posed a question:
"You really expect us to sit here patiently?"
He scoffed.
"Not bloody likely."
One of the men behind the female scientist began to speak, but he froze when the female raised a hand to silence him.
"What we expected were confusion and rebellion, but this containment is secure and we have taken precautions. We believe we are safe to observe from here. This is an experimental phase, so if you value your well-being, it is suggested that you try to keep any outbursts to a minimum."
Curiously enough,
everyone's weapons seemed to be missing.
There didn't seem to be any escape from this glass cage, at least for the time being. Though it was crowded inside, it was thankfully spacious enough for everyone to have some space to themselves if needed. For now, it seemed you were all prisoners and all in the same boat... whatever the nature of that boat would turn out to be.
Continued here.
Mid-Prologue Update
Chapter One - Mid-Chapter Update
Chapter Two - Mid-Chapter Update
Chapter Three - Mid-Chapter Update
Chapter Four - Mid-Chapter Update
Chapter Five - Mid-Chapter Update
Final Chapter
Epilogue
---
Cast List
@Minerva
as
Ada Wong
(Resident Evil)
@Yun Lee
as
Alice Twilight
(No More Heroes)
@Sen
as
Alucard
(Castlevania)
@Jeremi
as
Android 18
(Dragon Ball)
@Takumi
as
Azura of Nohr
(Fire Emblem)
@TheMythicThird
as
Black Mage Evilwizardington
and
Fighter McWarrior
(8-Bit Theater)
@Gummi Bunnies
as
Blake Dormi
(OC)
@Crow
as
Cagliostro
(Granblue Fantasy)
@CCC Kouhai
as
Charlotte Wiltshire
(Hello Charlotte)
@Josh M
as
Clark Kent
(Smallville)
@Atomyk
as
Cullen Bloodstone
(Marvel Comics)
@DBZ7
as
Daizo
(OC)
@penguin055
as
Domon Kasshu
(Gundam)
@Bomb
as
Doremi the Meoletta and Jabber the Riolu
(Pokemon)
@TheColourlessRainbow
as
Eliot Waugh
(The Magicians)
@Archwar
as
Fierce-Heart Ali
(OC)
@Hana
as
Hakuei Ren
(Magi)
@Crimson Spartan
as
Jaffar
(Fire Emblem)
@thatguyinthestore
as
Jason Todd
(Arkhamverse)
@C.T.
as
Jinx
(League of Legends AU)
@The Tactician
as
Joshua
(Fire Emblem)
@LuckycoolHawk9
as
Lucifer Morningstar
and
Linda Martin
(Lucifer)
@CrunchyCHEEZIT
as
Lucio
(Overwatch)
@Yang Lee
as
Kazuo Tengan
(Danganronpa)
@MetalNova
as
Mikoto Kujou
(Last Game)
@Kaide`
as
Miku Hatsune
(Vocaloid)
@Mason Moretti
as
Naomi Kimishima and Inspector Navel
(Trauma Center)
@Mami Tomoe
as
Nashetania
(Rokka no Yusha)
@Vyzwx
as
Overlord Laharl
(Disgaea)
@Nater Taters
as
Revy and Rock
(Black Lagoon)
@Verite
as
Riesbyfe Stridberg
(Type-Moon)
@Azuremoon
as
Road Kamelot
(D.Gray-man)
@york
as
Schala Zeal
(Chrono Trigger)
@Klutzy Ninja Kitty
as
Senna
(Bleach)
@Savannah Clause
as
Setsuna
(Shattered Angels)
@Cromartie Sarkissian
as
Sheev Palpatine
(Star Wars)
@Kaykay
as
Shirou Yusa
(Dies Irae)
@Tone 6th
as
Travis Touchdown
(No More Heroes)
@Otto
as
Twisted Fate
(League of Legends)
@Gands
as
Warpath
(Marvel Comics)
@Darkseide
as
William "Penny" Adiyoi
(The Magicians)
@Hachiro Terra
as
Zerberus
(Kingdom Hearts OC)​
Last edited: