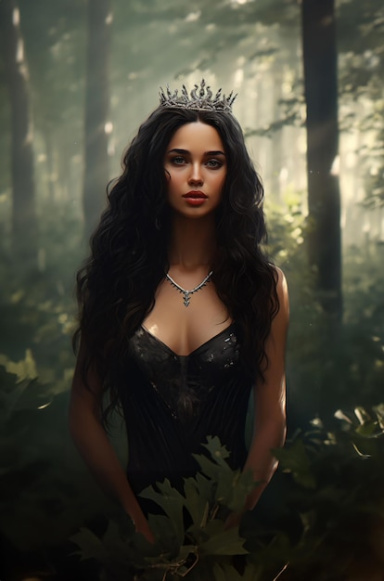 The Dark Queen
Original poster
SITE SUPPORT
DONATING MEMBER
FOLKLORE MEMBER
Invitation Status

Looking for partners
Posting Speed

One post per day
Multiple posts per week
1-3 posts per week
One post per week
Slow As Molasses
Online Availability

In the mornings usually but only during the week. Weekends are devoted to the family.
Writing Levels

Adept
Advanced
Adaptable
Preferred Character Gender

Male
Female
Genres

Modern, Magical, Romance, Medieval, Fantasy, Slice of Life
"Ok...ok. I have everything under control." Malia wasn't sure whether the pep talk was for herself or for Jexel. She slipped quickly out the door, closing it shut behind her, effectively hiding the half breed in her bedroom. If her father knew, he would kill her...quite literally.

Malia composed herself and descended the steps nonchalantly. "Hi daddy," she said as sweetly as she could.

Her father smiled when he saw, drawing her close in an embrace. "Hello sweetheart" he said. "What have you been up to?"

"Nothing much," she lied. "You're home early."

Her father sighed, he was clearly quite tired. "It's been a long day. I've been thinking of working from home for a little while just to clear my head a bit. I never see you. I don't want you to feel as though I'm neglecting you."

"Work from home?! Really?! Oh daddy, you don't have to do that for me. Honestly. I'm fine. I have...Regina!" That came out a little too excited. She tried to stay calm. She didn't want her father suspecting anything.

The mayor raised a brow and walked towards the kitchen, setting his briefcase upon the marble island. "Still. I could use a bit of a break. Were you expecting me early?" he said gesturing to the open bowls of left overs.

Malia laughed nervously. "Oh no. I was just...I couldn't decide what I wanted that's all."

The mayor eyes her curiously again. "Is everything alright Malia?"

"Of course daddy. I'm just tired. I have a lot of work to do myself. I'll just head upstairs and work on the mountains of homework."

The mayor nodded his head and Malia went up the steps. What was she going to tell Jexel now. He literally could not leave her house. Not until her father decided it was ok to go back to work. She entered the room quickly and sighed. "Looks like you're crashing here for a couple days. My dad is going to be working from home so sneaking out isn't going to work right now." She walked over to her bed and sat on the edge, head in her hands, contemplating what their next step was. "I'm sorry," was all she could muster to say. "I got you into this mess." She rose from the bed and went into her large walk in closet, pulling out some sheets and extra pillows. "Um...I guess you can make a small something on the floor then?" She wasn't sure how either of them would feel sharing a bed.