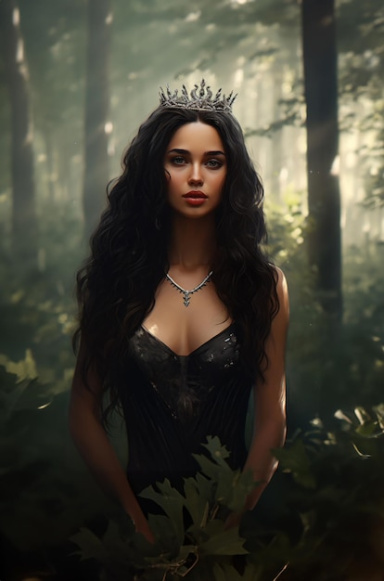 The Dark Queen
Original poster
SITE SUPPORT
DONATING MEMBER
FOLKLORE MEMBER
Invitation Status

Looking for partners
Posting Speed

One post per day
Multiple posts per week
1-3 posts per week
One post per week
Slow As Molasses
Online Availability

In the mornings usually but only during the week. Weekends are devoted to the family.
Writing Levels

Adept
Advanced
Adaptable
Preferred Character Gender

Male
Female
Genres

Modern, Magical, Romance, Medieval, Fantasy, Slice of Life
A human community and a half-breed community. The war between them and the love that will ultimately unite them.




Name: Malia
Gender: Female
Race: Human
Age: 21

Malia is the outspoken and adventurous daughter of the Mayor of the human community. She is very social, often found with her select group of friends but there are times when Malia just needs to get away from the expectations placed on her by her father and the community. She escapes secretly into the woods, climbing trees and enjoying the forbidden aspect of it all.

Her views are quite different than the other humans. Although humans and half breeds despise one another, Malia believes there has to be more to the story and that half-breeds were probably not as bad as they were portrayed. A belief she never discussed openly.


Name: Jexel

Gender: Male

Race: Lynx Half-Breed

Age: 21

General Appearance: Jexel has a tough and well toned body. He is thick in muscle, but average-sized all around. His cat-like eyes are a golden-amber hue, and his skin is smooth; a snowy pale in color. He has prominent ears on top of his head, and he has paws instead of hands and feet. His slender feline legs and forearms are covered in fur colored with whites, dark browns, and blacks in different streaks. His claws are polished to a beautiful and natural ivory, and he keeps his fangs sharp at all times. Jexel's short and scruffy hair is a natural chestnut brown, but it still holds streaks of white and black like his fur. Despite his shy personality, Jexel has a "killer" smile and a pleasant visage. As for clothes, he wears a hoodie most of the time to hide his ears, and he wears jeans to hide his legs. Unfortunately, he can't wear shoes or gloves effectively, so his paws remain unhidden.

Current Goal/Purpose: To avoid strong relations with others and to conceal his magical prowess.

General Personality: Jexel is a simple soul with a very shy exterior. Though a very pleasant individual, he has a rebellious streak every once and a while. He can get very worked up, but he is easily cooled back down again given the right circumstances. Jexel has a few cat-like tendencies, but he manages to suppress them most of the time. These include stalking and pouncing on random moving objects, being easily distracted, hissing at people who annoy him, and licking his paws. He enjoys winter, sweet foods, and staying away from civilization.
As the mayor of this great and wonderful community, I continue to urge my citizens to avoid all contact with half-breeds. They are vile and savage creatures seeking to harm any human they come in contact with. Although part human, they are controlled by their animal side. If you spot a half-breed near the human border, you are obligated to report it to the appropriate authorities immediately. They are very dangerous and unable to be reasoned with. It is our responsibility....
*Click* Malia shut off the television before she could finish listening to yet another public announcement from the mayor. It was a constant occurrence, those announcements. It was meant to instill fear into the human citizens to continue to maintain the barrier between the two communities. Malia wasn't convinced. How could a creature that was part human not have any human qualities? How could they not come to some agreement? Something just wasn't right but the mayor would never listen to her. She was just his daughter and her opinion held no weight.
Malia rose from the white leather couch she was lounging in and proceeded out of the living room area and up the elaborate white marble steps to her room. The Mayor's mansion was by far the largest home in the entire human community and her father had pulled all the stops when it came to their home. They had all the latest state of the art technology, the most expensive furniture and even staff. She passed the house keeper on the way up to her room, nodding quickly to her before pushing her double doors open and entering inside.
Malia had a large walk in closet with clothes, shoes and hand bags to clothe at least ten women. Her father always insisted she looked her best and with all the social events Malia attended, she could never wear the same outfit twice. Today however, Malia intended to be discreet. It was time to escape before her father returned from his office. At the back of the closet, hidden behind some designer suitcases was a worn out, faded pair of blue jeans, a regular black t shirt, hoodie and tennis shoes. It was her go to outfit when she wanted to escape and blend in.
No one expected the Mayor's daughter to look like a regular citizen and Malia always made sure that when she was seen in public, she always looked her best. Today she wished to not be seen. Putting on her outfit, she pulled the black hoodie over her black hair and headed into her private bathroom. The room had a small window in it that, conveniently enough, was very close to the trellis. Climbing out carefully, she descended the trellis and weaved her way around the community, careful not to make eye contact. Looking left and right to ensure she was not followed or seen, she quickly darted into the thick forest.
She knew the forest well, at least the human half anyway. She often went there to escape from her life for a while. There was just so much she didn't agree with in her community and it was best to just come out and distract the mind. After about a half hour of walking, she found her favorite tree. A tall hemlock with enough branches to climb and enough leaves to hide. She felt safe there. Safe from humans, safe from half-breeds (just in case her father's warnings proved to be true). It was perfect to spend a few hours.
The rock she always used to help her climb was still by the base of the tree. Carefully, she stepped onto the rock and propelled herself upwards branch by branch. Somewhere in the middle she stopped, finding a perfect spot that had enough leaves to conceal her and the branches were thick enough to bare her weight. Malia leaned against the tree trunk, crossing her legs in front of her over the branch and pulling her iPod out of her pocket. Placing the buds in each ear, she turned to her favorite playlist for when she was out in the forest and closed her eyes. She was glad to just have some alone time and be free of the responsibilities of her position.
Last edited: