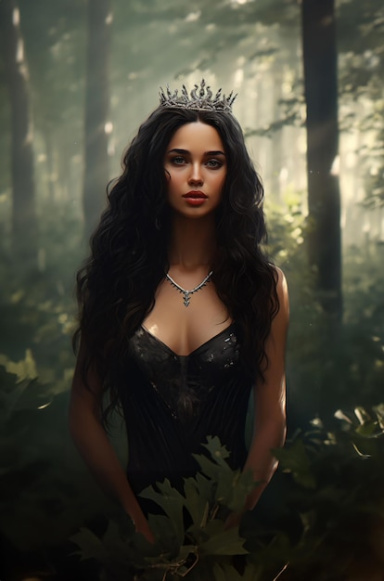 The Dark Queen
Original poster
SITE SUPPORT
DONATING MEMBER
FOLKLORE MEMBER
Invitation Status

Looking for partners
Posting Speed

One post per day
Multiple posts per week
1-3 posts per week
One post per week
Slow As Molasses
Online Availability

In the mornings usually but only during the week. Weekends are devoted to the family.
Writing Levels

Adept
Advanced
Adaptable
Preferred Character Gender

Male
Female
Genres

Modern, Magical, Romance, Medieval, Fantasy, Slice of Life
Malia stared at the charred remains silently. She wasn't sure what to say, was afraid to even move. She was processing everything she had just witnessed. She had almost been killed, Jexel saved her yet murdered someone else in the process. Was it justified however because the half-wolf was planning on killing her? Her head began to hurt the more she thought. She sighed deeply and shut her eyes in some vain effort to make it all go away but the smell of burnt flesh and fur was too much to handle.

She was finally able to stumble to her feet and moved to an opposite tree, far enough away from the remains and far enough away from Jexel. She didn't know what to make of him. He was so sweet and kind, yet he was quite deadly. She listened to his explanation and his apology. It melted her heart to see the tears stream down his face and she was filled with compassion for him.

"Hey...you're not a disgrace. Don't say that."

If he wasn't a disgrace then what was he? She didn't know. He was completely isolated so he wouldn't hurt anyone. "You're trying to do your best to keep everyone around you safe. You...you saved me from that thing."

Malia looked towards the remains once more, quickly shutting her eyes and turning away again. Her memories flooded with the sound of its voice, the hot breath over her face and the claws that pierced her skin. She touched her shoulder, wincing from the pain. "He...he deserved what you did to him." Malia wasn't entirely sure she meant what she said but she hoped it would at least help Jexel feel better. "He was going to kill me. He's the half-breed humans worry so much about. One less terror in the world and one step closer to finding peace between the two communities."

Against her better judgment she moved towards Jexel and sat beside him. She wasn't sure what triggered his magic but she was almost sure it had something to do with anger or an extreme rush of adrenaline. She wanted to lighten the mood, get him to relax or get his mind off of what had happened. "Admit it," she began to say playfully. "You just like to be half naked around me huh?" There wasn't much left of Jexel's clothing after the fire died down. It was the only thing she had to change the mood.