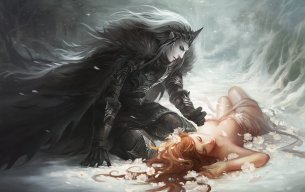 Edgelord
Original poster
LURKER MEMBER
FOLKLORE MEMBER
Invitation Status

Looking for partners
Posting Speed

1-3 posts per day
One post per day
Multiple posts per week
1-3 posts per week
Writing Levels

Intermediate
Adept
Advanced
Adaptable
Preferred Character Gender

Female
Genres

magical, romance, adventure, action, vampire, mythical, heroic, apocalyptic, historical, pirates, superhero, damsel-in-distress
To be honest, I know some post rapidly and love interacting back and forth at a reasonable pace. Which is alright, as long as they don't go on too far on their own.
But if someone can only bring a post out once every day or once in two days, I won't put pressure on them to up the numbers. That would be unfair and quite frankly doesn't promote good writing.

Your post was fine, it didn't need you to add any additional descriptions of the market. You described it plenty. So don't worry too much about it. I purposefully haven't set the bar high so newer writers can expand and explore, as well as learn if they wish, in their writing. What I usually do, which helps me to keep it from becoming too much of a waterfall of events/actions/... is write down 3 or 4 points that need to be covered, and not go beyond that. Keeps the post calm, and doesn't rush it.
For example, for Layana's last post my points were: React to Saraad, respond to Warlock, spot the inn.
Lena's points were: Observe the two that entered (hide identity), recognize Izana, remove the enchantment.
Then I elaborated on them point by point. It might not work for everyone, but it helps me to have a clear image of where I start the character, what they do, and where/how they end in the post.

And how fast you can post also depends on the partner that you're roleplaying with. If you're on your own (as your last two posts were) it's sometimes more difficult because it all rests on your shoulders. Having nothing really to respond to or continue on aside from your own previous post. But now you've come to the point where you're waiting on a reply. If the partner that you're writing with is slower in their responses, well, you can't react faster than that you have posts to reply to, right ;) So you don't have to worry too much. If you are interacting with someone that manages to post at lightning speed, then it's up to you to decide how fast you can reply.

So tl;dr version: Can't really say how fast you have to post for this RP. You need to be comfortable with it, and it also depends on how fast the people you're interacting with respond. Focus more on how you write, and not too much on how often you post.