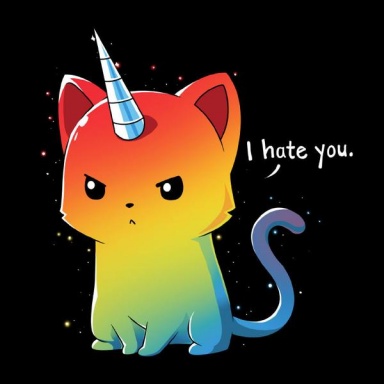 ⭐Warning⭐ If Boo like it Unicorns will vomit🏳️‍🌈
Original poster
Roleplay Invitations

Group Roleplays
Posting Speed

A Few Posts a Week, One Post a Week, Slow As Molasses
Writing Levels

Adept, Advanced, Prestige
Genders You Prefer Playing

Female, Primarily Prefer Female
Playing Style- Passive or Aggressive

Both but getting more aggressive of late. Rawr, Boo! >:[ Depends on GM. And! Just as important: Boo will happily edit posts to fix/backtrack/add convo or content as needed to accommodate k~~,!!
Favorite Genres

Fantasy of all kinds★★!! Here's a list: modern/urban, magic and swords, otherworldly/fish out of water, faeries and unicorns, sometimes dark, sometimes superhero-ish, sometimes mixed with sci-fi. The Boo Girlie's always down for weird, wild or whimsical! Yayuh!! :3 Oh! And Sky Pirates too~~!!
Genre You DON'T Like

Post apoc zombies, hard brain-hurting sci-fi, school/academies, direct-to-DVD fandoms, PvP survivals. Stats and Dice! Eww! Yucky!