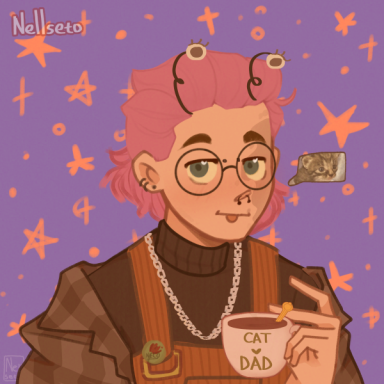 local non-binary edgelord
Original poster
Roleplay Invitations

One on One Roleplays, Chat Roleplays
Posting Speed

Speed of Light, Several Posts a Day, A Few Posts A Day, One Post a Day
My Usual Online Time

12 pm-10:30 pm (with some exceptions)
Writing Levels

Give-No-Fucks, Beginner, Elementary, Intermediate, Adaptable
Genders You Prefer Playing

Primarily Prefer Male, No Preferences
Playing Style- Passive or Aggressive

Passive more, though occasionally I'll do aggressive
Favorite Genres

Fantasy, Mystery, Scifi, Romance, Yaoi, Yuri, Horror
Genre You DON'T Like

Furry

"We're so thankful that you decided to buy our home, Mr. Martinez," insisted the realtor, her often faked smile being genuine in relief. Spending five fucking years trying to sell the home that some loser decided to kill himself was hard work and a major hit to her image in the county. Adjusting her diamond necklace to hold back her excitement, she unlocked the door to the rather nice home, that being a surprise compared to the state it was in once Leo was found. Not only was there a dead body, obviously, but Leo just generally didn't care much about his appearance, nor did he care about the state of his home. That isn't to say that the home was covered in garbage or anything, it simply lacked any real sign of comfort. It only had the bare minimum: a couch and television for the livingroom, a sink and fridge for the kitchen, a toilet and tub for the bathroom, and pretty much nothing in the spare bedroom. His bedroom had a little more life to it, though, with his bed layered with blankets to fight off the ridiculously cold Wisconsin weather and books laid on his bedroom floor, covering most of the area bar a path to his bed. He was a simple man and to distance the old house for the new one, it was given all new furniture and decoration.

For starters, it was fully furnished with a couch, television and a shag rug with framed photos lining the wall. The formerly boring white shower/tub curtain was replaced with that of flowers to match the woodsy theme. The dim and basic light fixtures that were simply used to help him move from the bedroom to the kitchen during his 4 am snack sessions were replaced with fancy hanging lamps and fans. Stepping into the fresh, floral scented home, the realtor immediately plopped the keys into Nyle's hand, her shoulders physically rolling a tad at the literal stress being lifted off. Five years of hoping to find some naive, absolutely crazy young person to buy the house out of ignorance had finally come true.

While it was an utter miracle in the realtor's eyes, though, Leo immediately grew uncomfortable at the new,,, intruder? Roommate? He knew that the house wasn't technically his anymore, but a part of his childish personality followed in the afterlife as he found himself quickly fluffing Bitters' fur, leaving the rather lazy and indifferent cat to simply purr. Watching the realtor who he had persistently haunted give a double-take to make sure he wasn't in the room, he bit the bottom of his lip hard as he watched Nyle just toss his bag onto the floor haphazardly. In addition to his childish personality, he also kept his incredibly shy personality, hence why he didn't just immediately begin to toss things around to start shit. If he was going to get this man to leave, he wanted to at least do it in a way that would make sure no one would come back.

"They can't... I mean, they can't do this, Bitters," he whispered quietly to the cat from the back porch, watching the humans walk about anxiously. The stray, in response, simply meowed, oblivious to his friend's horror. "Why can't people just leave me alone? I just... I don't want this."