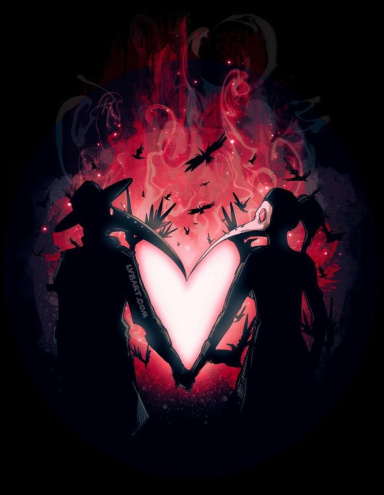 Bubblegum Bitch
Original poster
DONATING MEMBER
Invitation Status
Posting Speed

1-3 posts per week, One post per week, Slow As Molasses
Online Availability

Anytime, I have no life.
Writing Levels

Adept, Advanced, Douche, Adaptable
Preferred Character Gender

Male, Female, Transgender,
Genres

Fantasy, romance, slice of life, anti-hero stories, "you're our only hope", fandom non-canons, soft scifi, transhumanism, magical girls, horror, suspense / mystery, monster girls, fractured fairytales
This roleplay campaign will be 100% homebrew, with recognizable elements found in the books. Your characters will travel to places never seen before, or maybe they will stumble into eerily familiar worlds that leave you with a sense of deja-vu.
The story seems to begin in the Forgotten Realms. There is a guild which can be found in nearly all cities worth a name on the map, where adventurers can go to in order to find work. Named
Steelsong Legacy
after its Bard forefather who earned the highest praises from a long-dead king, the guild members range from regular monster hunters to treasure gatherers, to artisans and merchants. Once you become a member, you cannot leave the guild - it is a lifetime contract. Members are called Steelsingers.
All player characters are members of this guild. Why they are, how it came to be, or what their goals are is entirely up to you.
While it appears to be an elite guild, it is in fact not that popular. Signing up for one's entire life is a tad dreadful for some folks, and there are public lists of the guild members. Your characters will perhaps not know each other personally, but they will all recognize each other to some degree as being Steelsingers - either with physical recognition or with name recognition.
Interest Check -
Ø
Compendium (Classes & Races) -
Ø
Sign-Ups -
Ø
In Character - STONE [
Ø
] - WOOD [
Ø
]
Discord Server -
Ø
This roleplay will be sourcing lore and worldbuilding stuff from Dungeon & Dragons 5th edition books, published by Wizards of the Coast. All names and settings borrowed from the books do not belong to me or the players.
pls don't plagiarise.
Player's Handbook
, published August 2014
Extra material:
Elemental Evil: Player's Companion
, published March 2015
Mordenkainen's Tome of Foes
, published May 2018
Volo's Guide to Monsters
, published November 2016
Wayfinders Guide to Eberron
, published 2018
Xanathar's Guide to Everything
, published November 2017
Websites used:
Roll20
D&D Beyond
D&D 5e Wikia
D&D 5e Wikidot
5etools
Cover art:
source
Thanks to

Jorick
for his assistance in writing down things directly from the books, otherwise it would've taken me twice as long to get this done.
Laws of the Realm -
Ø
Character Creation, Weapons & Equipment, Pantheons & Deities -
Ø
Character Sheet: Details -
Ø
Classes
Barbarian -
Ø
Bard -
Ø
Cleric -
Ø
Druid -
Ø
Fighter -
Ø
Monk -
Ø
Paladin -
Ø
Ranger -
Ø
Rogue -
Ø
Sorcerer -
Ø
Warlock -
Ø
Wizard -
Ø
Races
Part 1: Aasimar, Changeling, Dragonborn -
Ø
Part 2: Dwarf, Elf, Firbolg -
Ø
Part 3: Genasi, Gnome, Goliath -
Ø
Part 4: Half-Elf, Halfling, Half-Orc -
Ø
Part 5: Human, Kenku, Lizardfolk -
Ø
Part 6: Shifter, Tabaxi, Tiefling -
Ø
Play-by-Post Mechanics
-
Ø
more to be added as necessary