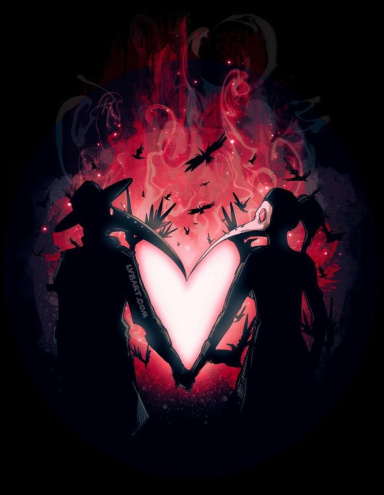 Bubblegum Bitch
Original poster
LURKER MEMBER
FOLKLORE MEMBER
Posting Speed

1-3 posts per week
One post per week
Slow As Molasses
Online Availability

Anytime, I have no life.
Writing Levels

Adept
Advanced
Douche
Adaptable
Preferred Character Gender

Male
Female
Transgender
Genres

Fantasy, romance, slice of life, anti-hero stories, "you're our only hope", fandom non-canons, soft scifi, transhumanism, magical girls, horror, suspense / mystery, monster girls, fractured fairytales
The midnight air in Cedar Grove, Tennessee smelled sweet, as if the trees and plants were sweating their greenness on everything. Being the middle of the summer, the light breeze was very welcomed. They were low on gas and would have to refill once they were in the heart of the town, but they weren't about to turn on the AC in the campervan. The woman sitting in the passenger seat was humming the song that was playing on the USB adapter, even if they both had a box of cassettes in the back. She was fighting the sleepiness but the heat was making it nearly impossible to keep her eyes opened.
Feet up on the dashboard and the seat reclined as far as it would go, Jackie Porter kept tapping her fingers on the outside part of the door, ticking the song away beat after beat. Once it was over, she lazily reached for her phone and selected another song, something just as smooth and jazzy to hum with. It probably would have been a good idea to go for something a little rockier, but they were almost there and then she'd be too hyped to sleep.
"Keep yer fuckin' eyes open."
Jackie whispered aggressively towards her best friend, who was driving the van.
"Yer papa would KILL US if we got this piece of junk wrecked."
The young woman opened an eye and grinned at Eli. His papa d'Angelo would definitely kill them, even if they were already dead - he'd resurrect them with some nonsense voodoo shit and kill them again.
As that other song ended, Jackie's stomach grumbled and she had to stifle a laugh. She was always so damn hungry, she ate almost twice as much as Eli even if she didn't spend that much energy.
"Bruh, a fuckin' burger right now, would be most bo-da-cious."
Clearly, being hungry made her quote 90's cult movies. Rubbing her eyes, she sat in straight in her seat and looked woefully at her empty pack of cigarettes. Not that she smoked much, but sometimes, a draft or two kept her awake through the night and made her more alert.
"We gotta stop somewhere, gas, food, smokes. We're just about all out."
​