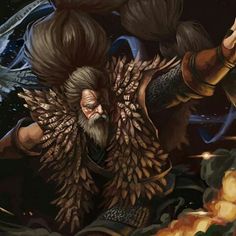 I'm not a bad guy, I swear!
Original poster
Posting Speed

Multiple posts per day
1-3 posts per day
Writing Levels

Advanced
Adaptable
Preferred Character Gender

Male
Shadows Die Twice
Divine Rot
ArcRift: Tale I
---
It began before humanity first drew breath-- the grazing of the Divine Dragon, settling in from the West, to the land of Ashina.

It was a thing beyond mankind's humanity's wildest imagination. One single entity driving out the influence of Buddha and the Gods themselves, nesting in as a creature of absolute adoration high in the heavens, where one could touch Takaamahara with the tip of their fingers, were they selfish or insane enough to reach for the very heavens in search of the dragon's blood.

... and so, men were as such. They touched something that drifted alongside the Dragon-- his heritage.

Travelers from long beyond the yonder that is Ashina heard of it, of course. This... blood that does not flow. A lineage descending from this very dragon, that men and women would tear themselves apart for it.
The Divine Blood, of the Dragon's Heritage.
... ah, it is so enticing. The legends told of it. Immortality itself-- to never age, to never die. Blood that the land of Ashina tore itself to pieces to achieve to protect themselves from, in the face of total subjugation of the Interior Ministry, seeking to unify Japan-- and do away with their very own land. Their independence. Yet, many others sought it-- many others know what the blood does, beyond simply bring the dead back. They know of Dragonrot, the disease devasting the land whenever the Dragon's Heritage manifests itself-- they know of the suffering it causes, in the face of the war and foreigners seeking it, and seek to do away with it.

Whatever the reason, be it a selfish one or a righteous one-- you are here now. Ashina greets you, the land of Rejuvenating Waters.

What seek you, foreigner?

Do you seek the blood for your own purposes?

Do you seek to do away with the ties of immortality to this land?

Or do you simply seek...

... ah, but that is gazing too closely, isn't it?
​
---
Rules
1) This is an ArcRift side story. As such, only a limit of
12
players will be allowed in. This isn't first come first serve however, as I have full right to deny a sheet if I feel like it wouldn't work on the setting, or if another is more enticing than the other. I mean no hard feelings, of course. I simply am looking for quality over quantity.
2) Street-level characters only! By that, I mean characters on a maximum power ceiling on the likes of Spider-Man and the like. If you are unsure if a character is street level or not, however, let me know and we can talk something out.
3) No godmodding/metagaming/powergaming yadda yadda, you all know the drill.
4) Characters can either be separated into
groups
whereas they came along into Ashina with
other characters
or by
themselves.
It is not obligatory to have teamed up with other players, however.
5) No one lining, please. Principally on plot-important moments. It undermines the experience and makes things incredibly hard for me to react and reply to.
6)
Expect to die.
Shadows may Die Twice, but you do not. ... But! I won't be a cruel GM. Remember to always have fun as well!
7) For OOC chatter, join the
Discord Server.
​
---
Character Sheets
Name:
What is the name of your character? Or perhaps, their title?
Age:
How old is your character?
Appearance:
What do they look like? A picture or a written description is fine, but for OCs, both are preferable.
Canon:
OC? Canon?
Powers/Abilities
What do they got under their belt? Please, no wiki links, or Vs Battles link. This isn't a death battle calc fest. Just be sensible.
Equipment:
How much are they carrying and what?
Motivation:
This is incredibly important and doubles as a backstory. What do your characters want with Immortality and why? They don't need to be seeking it for their own needs, any other reason is fine.
Extra:
Anything... extra?
Group:
What group they are on? Or are they on their own?
​
---
Last edited: