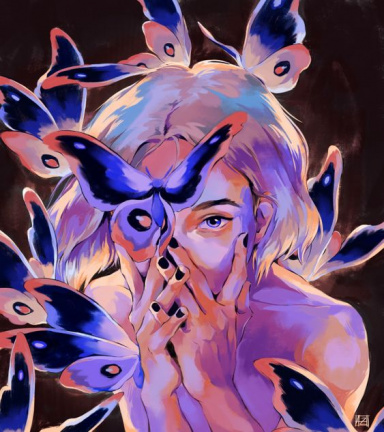 The Suffering Slav Problem Child
Original poster
Roleplay Invitations

One on One Roleplays, Chat Roleplays, Private Convo Roleplays
Posting Speed

Speed of Light, Several Posts a Day
My Usual Online Time

On weekdays I come online at 5 am, then I go offline until 5pm, but on weekends I'm always online.
Writing Levels

Intermediate
Genders You Prefer Playing

Male, Primarily Prefer Female, No Preferences
Playing Style- Passive or Aggressive

I think I'm in the middle. There are some points where I like to control the story, but I would prefer to be passive most of the time.
Favorite Genres

I generally like a little bit of everything, but my favorite would be Romance and Drama.
Genre You DON'T Like

There isn't really a genre that I don't like, but I guess combat roleplay and too high fantasy stuff with literally no boundaries.

Hey, you there!
Yes, you. Finding yourself bored? Well,that makes the two of us. Let's get down to business ,shall we? First off, let me write down a few things worth knowing about me if you're considering hitting me up.
​
I'm a graphics student and I got a part-time job, so I may not be always available, but I am mostly online.

My preferred genre is romance combined with other stuff, let it be sci-fi, or drama or all of them.

I like talking with my role play partners, so if you aren't that into chit-chat and such do say so ahead.

I would prefer to write with folks who are around my age, so 18+ folks. However, that doesn't mean that I wanna write smut and such, but I am fine with smutty stuff to be honest. I'm just not that good with smut, I get awkward.

I prefer to use discord, so discord only folks.

My character preference is female, but I don't mind playing a couple of dudes every now and then.
And now for the plots! I don't really have anything in mind, so I'll just put out some random stuff which could be made into a plot.
Supernatural Bar

Sci-Fi Cyberpunk stuff

Vikings and norse mythology

Space trips! AKA space bounty hunters

80's high school shenanigans.

Art school!

Summer camp?

This is the Police

Detroit Become Human stuffs

Marvel stuffs
And that's really about it? I don't wanna mess around with this too much, I rather get down to the point.