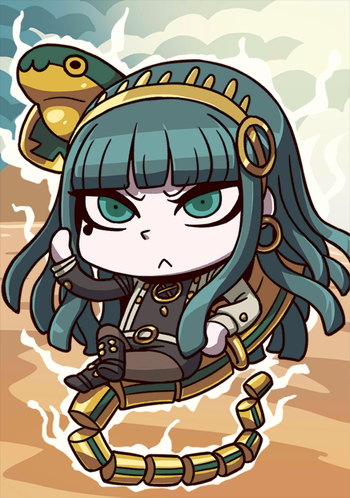 The Detail Serpent
Original poster
Posting Speed

A Few Posts a Week
Writing Levels

Adept
Genders You Prefer Playing

No Preferences
Of course nowhere was this more present than near Tokyo, Japan. Within Musutafu, a city not far from there, was one of the most prestigious hero training schools in not just the nation, but the entire world. U. A. High School! Where exceptional Pro Heroes teach, and where the number one hero, All Might, trained! For many aspiring Japanese kids U.A. was the place to go. Their hero program, and even their other courses, were something to be proud of. Which means it's no surprise that they get by far the most students attempting their entrance exams. Although this year proved to be a far more special year, with them accepting more hero course students thanks to the creation of a third Class. Something that the school has not given definite reasoning for as of yet.
Not too long ago the school had sent out their written exams to any hopeful middle school students to try out. Some would even end up going across the world. One of the stranger parts on the written exam was that a waiver was included. This was of course likely for the entrance exam in case they did make it to that point. After a few months the acceptance letters for many students began pouring in. Although most of them were the same blanket statement:
HELLO HOPEFUL FUTURE U.A. STUDENT! YOU HAVE SUCCESSFULLY PASSED THE WRITTEN U.A. EXAM AND ARE ALLOWED TO PASS INTO THE OFFICIAL ENTRANCE EXAM FOR U.A! YOU ARE EXPECTED TO ARRIVE AT U.A. AT 8:00 IN THE MORNING THE THIRD DAY OF NEXT MONTH FOR THE OFFICIAL BRIEFING ON WHAT THE EXAM WILL CONSIST OF. WE HOPE THAT YOU SHOW UP AND ARE EXCITED TO SEE YOU PARTICIPATE! BEST OF LUCK, U.A. STAFF
At 7:00 of the exam date hardly any students were present outside of the building. After all, they would need to be quite dedicated to get up before the doors even opened. Still there was some students already shown up and waiting. Some who had been given rides by people, and others, such as a fairly energetic blue haired kid wearing glasses, were just that much of a go-getter. The sparse students that had shown up were milling around outside, and some of them had started to talk with each other. It was a good chance to get to know some of their potential classmates, and some of their future rivals. Perhaps some of these people here would make it into the elusive 42 spots that U.A. had open to the public? All of them had already passed the bare minimum, by completing the written test, to even be considered today, and now they would need to be whittled down even further.
The gates to U.A. were open to any of the middle school students coming in, and some were already waiting around the entrance. Toward the front entrance crowded around one of the arches was a group of five students, most of whom were in a fairly animated conversation. There was a girl with silver hair covering one of her eyes who was holding her hands out in front of her, a boy with a wide v-like smile whose very eyes seemed to sparkle, a silent looking girl with long black hair, a kid with spiky red hair and extremely sharp teeth leaning against the arch, and an extremely energetic pink skinned girl with prominent horns adorning her head,
"Whaaaaat? Some students are showing up from completely different countries? That's crazy Kiri!"
She lightly punched the soldier of the grinning red-haired kid.
The silver-haired girl seemed a bit taken aback by the loud voice of the pink girl next to her. She let out a sigh and spoke,
"U.A. is a very well accomplished academy of learning. It only makes sense they desire to be received by the absolute best in the world. Those that would be worthy of their attention get brought in with some privileges."
The pink girl was scratching her head, and although he didn't speak it the red-haired boy also surprised by the amount that she had spoken. The black-haired girl just nodded along with what she had said.
The blonde sparkly kid's v-like smile seemed to widen even more. He put his hand to his chest and flipped his hair,
"Of course it would be attended by the best. After all I am going to ma-"
"Wow Yanagi! That's the most I've heard you speak yet!"
The blonde kid seemed to deflate slightly at having been suddenly interrupted, but the group was already moving on. The black-haired girl awkwardly tapped the blonde kid's shoulder in a 'there, there' motion.
Near the water fountain sitting on the edge was a ginger haired girl and a seemingly floating pair of clothes. Their conversation seemed focused entirely around strategy. Though it was a bit difficult with neither of them really knowing what they were going to be getting into. The 'floating pair of clothes' made extremely expressive motions even with only it being visible,
"I plan on hiding for most of the challenge! I don't think they'll throw anything at us to fight on the entrance exam already!
The ginger-haired girl looked at her with a very unsure expression.
Standing not too far away from them was a girl with vine-like hair in a fairly calm conversation with a kid who had a very noticeable tail. They seemed to just be talking about the day's weather and other fairly tame topics. Finally closer to the doors was a blue hair kid wearing glasses, standing as straight as he possibly could, right nearby a girl who had some large headphones in that were clearly going full volume. She also had strange jacks that seemed to be hanging just below her headphones. Any one of them had the potential to be future students, and even more, future pro heroes!
Last edited: