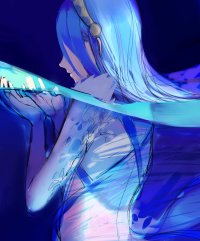 Still not over Birthright's ending
LURKER MEMBER
FOLKLORE MEMBER
Posting Speed

1-3 posts per day
One post per day
Writing Levels

Advanced
Adaptable
Preferred Character Gender

Male
Female
Nonbinary
Transgender
Primarily Prefer Female
Genres

Modern, scifi, fantasy, le romance, really anything so long as the characters within are interesting
You have gained: Winterized T-51b Power Armor! Why the hell a Vault has this, you will probably never know. The GECK still blinks. Several weapons stand out on a weapons rack, including but not limited to: A Gauss Rifle, A Flamer, Plasma Rifles, Plasma pistols, Laser Rifles, Laser Pistols, and Assault Rifles. Vault Security Armor is also on stands around the room.

@Gummi Bunnies @Schnee Corp Lawyer @Unlimited RP Works

@Group 3
"
Ooooh.
" Squigly said, fascinated and a bit frightened of the massive armor and strange weapons
as she finally woke up from her nap.
She hesitantly approached the rack, staring at the devices. "
You know Lev, it might be nice to be able to deal with the skullgirl's minions from afar.
"
"
...I...suppose that might be true. I do not recall you ever using a gun before though."
The parasite said with a wary frown.
"
Well, no, but how hard could it be?
" She asked brightly as she heaved the gauss rifle into her hands. "
oh dear its heavy!
" She huffed as she staggered about.
"
Err, I'm not sure this is the best of ideas miss-"
*BOOM*
Squigly blinked as she looked at the massive hole in the wall next to her. "
Oh dear.
"
"
...The other side, miss Squigly.
" Lev said with a deadpan frown. She blinked again and turned towards the the other wall. Where the rifle was jammed partway
through it.
Along with Squigly's right arm, still holding onto it.
"
...Oh
"
"
Yes. 'oh'"
She gave a sheepish, embarrassed chuckle as she quietly shuffled over and pulled her arm back off and discreetly stuck it back on. "
Maybe we she leave that alone.
"
"
I'd have to agree"
@TheSpringwoodSlasher
@Gummi Bunnies
@The Silver Paladin