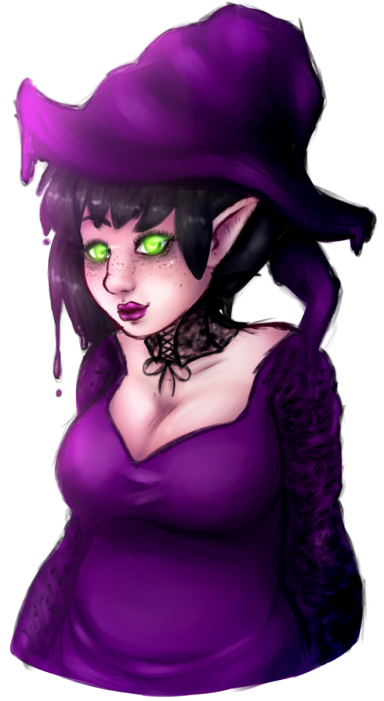 Mom-de-Plume
Original poster
SITE SUPPORT
DONATING MEMBER
Invitation Status
Posting Speed

Multiple posts per day, 1-3 posts per day, One post per day, 1-3 posts per week, One post per week
Online Availability

11PM to 2AM EST, plus or minus a few hours in either direction.
Writing Levels

Adept, Advanced, Prestige
Preferred Character Gender

Male, Female, , Primarily Prefer Female
Genres

I'm open to a wide range of genres. Obscenely wide. It's harder for me to list all I do like than all I don't like. My absolute favorite is mixed and multiverse, but I'm not limited to those.

• Mixed Genre
• Multiverse
• High Fantasy
• Hard Fantasy
• Low Fantasy
• OP Fantasy
• Science Fantasy
• Modern Fantasy
• Soft Scifi
• Science Fantasy
• Low Scifi
• OP Science Fantasy
• Modern Realistic (Strict)
• Modern Realistic (Loose)
• Urban Fantasy
• Alternate History (Fantasy Preference)
• Post-Apocalyptic Mixed
• Post-Apocalyptic Fantasy
• Post-Apocalyptic Scifi
• Post-Apocalyptic Modern
• Dystopia
• Displacement
• Military
• Dying Earth
• Supernatural
• Drama
• Mystery
• Horror
• Religious
• LBGT
• Crime/Detective
• Parody
• Comedy
• Tragedy
• Romance (Must Include Others)
• Erotic (Must Include Others)
Warning: torture, death, emotional trauma, brainwashing, execution
In answer to Lurcolm's "
The Fall of Balthazar
"
The video feed cut in with a lone figure sitting on a chair. A standard unifier revolver was held so tightly in his right hand that his knuckles turned white and it trembled. The young man had no life in his eyes as he stared blankly into the camera. A faint, forced smile was eternally plastered on his face. His head almost twitched from all the minor movements he made. He seemed his expression changed to that of a cornered animal every now and then, full of panic and fear and hopelessness, before it returned to his broken expression of happiness.

"H… Hello. Hello E-lizabeth" He started. It seemed like he couldn't properly figure out how to phrase his words as he spoke it. Clear strain came across his face as he tried to form his sentences together in a coherent way. His faint smile always twitched down, but never actually became anything less than that vague, empty expression of happiness.

"I-" He swallowed loudly "I've come to tell you th-that I have been given… given insight. Th-the Unifiers. They… They showed me the way. The t-t-t" His head started to twitch violently for a full second, before he finally managed to blurt out "True way. The…" His lips clamped shut, but forced themselves open an instant later "Best way." His eyes gained another expression, Fear and torment. It went away the instant after it happened, returning to the blank, dead brown eyes.

In the steel chair he sat on, his left hand started silently tapping on the arm. The patterns could quickly recognised as Morse code. It kept repeating "I'm sorry I'm sorry I'm sorry I'm sorry…" Over and over again. Never stopping as he continued to talk.

"Th... They, they knew, Elizabeth. That I was close to you and-and your.. your.." an expression of sheer exertion came over him, but quickly went away as he continued "your Lies. They… Taught me, Elizabeth. They taught me… taught me… taught… taught..." He seemed to lose himself for a moment, repeating that one words with an expression of resigned terror. He completely forgot about everything around him. He just repeated the word they used to refer to what they did to him.

He only returned to his senses with a red hot steel rod that stabbed into his thigh. He made no effort to remove it as it sizzled his flesh. It smelled like long pork.

"Theytaughtme!" he blurted out in one go, his eyes shooting wide with terror as he anticipated more punishment "They… They taught me the right way. I… I honestly hope you j-j-j-j-j" He twitched again, but recovered quick enough "join us. Make the Universe one" He hissed, pain reflecting in his eyes "Because… Because it's the right thing. The just thing." He stated "The… the Hunters" at the last word, he tensed up like a spring for a millisecond. That was the word they conditioned him to associate with pain. A lot of pain.

Silently, unobserved, the steel rod slid out of his leg.

"Are w-w-w-wrong." He twitched again, straining to keep his words coherent.

His smile quirked upwards for a moment before it fell down into his vague face "As… as a sign of my… my" his strained face came again, always for an instant "loyalty, I'm going to execute Ashley" he was told to give a happy smile. So he failed miserably in the attempt. It looked more like an open scream of anguish, never voicing out.

All the while, his hand tapped on the steel chair "I'm sorry I'm sorry I'm sorry I'm sorry…"

The camera turned to a bound girl. Steel restraints held her in place. A leather gag stopped her from screaming. She was very clearly defiant. Her muffled curses and pleas making a consistent hum as the man got up and casually walked to her. The movements he did were jerky. One moment going to erratic, one moment too sluggish.

His free hand twitched visibly.

"I'm sure y… you remember Ah-Ah-Ashley." he stated to the red head. Tears streaked down her face as she kept screaming through the leather gag. The man seemed to have lost his ability to speak for a moment. His one eye twitched and he snarled in effort, but he finally managed to speak "You… You sent us together on our l-l-l-last mission. It's y…y…" He strained again, eyes watering. His face was a cycling mixture of hate, pain, fear and sorrow "your fault. Your fault we got captured" He gave a small, furious nod that quickly turned into a repetitive twitch. His free hand grabbed his head to make it stop.

"S…so I'm… I'm…. I'mteachingyou!" he screeched "Teaching you a… a... a lesson! You… you… you…" His bit his own lips to stop himself, but only made blood mix with the flying spittle as the word exploded out of his being "Bitch! You Bitch! BITCHBITCHBITCH!" He screeched suddenly, anger and hatred pouring out of his very being. It stopped just as quickly as it happened, though. Afterwards he seemed even less alive. Like all strength he had was in that single scream

"I'm… I'm going to k-k-k-k-k-kill her. Because she refuses her offers" he hissed. He moved like a wooden puppet towards Ashley's gag, undoing the mouth restraints and letting her scream. Letting her beg. They told him to do that. He had to. He had to. He had to.

The girl turned to the camera first. Her eyes were full of fear and defiance "Don't listen to him! He got fucked in the head, E!" She tried to defend. She would've said more, but the man grabbed her by her crimson red hair. He put the muzzle at the side of her skull so the camera could see the blood spatter perfectly. They would be pleased with that. He wouldn't have to hurt so badly, later on.

"Bal! Please! Balthazar! You don't have to do this!" For a moment, he tensed. He tried, he tried to pull the trigger, but he couldn't. He couldn't. He couldn't. He pressed harder into the trigger. Harder. Harder. He had to! He had to!

He couldn't look at the trigger. His eyes were stuck at the crying girl in front of him. She was hopeless, but scared. She didn't want to die. She didn't want to die. She didn't want to die.

"Balthazar! Listen to me! You don't have to do this! Don't do this to E! Come on, Bal! I know yo-"

Bang.

The silver round shot right into her brain. The bullet was designed to fragment after impact. Silver shrapnel would be scattered in her skull like a mixer went through it. Burning. Destroying the magic it held. Ending her. Just like they told him to. His expression of detached happiness came back. His smile turning almost real, but his brown eyes stood empty, they didn't even blink as tears silently rolled down his cheeks. He held the gun like it was his line to life. A bit of blood dripped from his grip as his flesh tore open from the force in which he held the studded grip.

"My name isn't Balthazar. It's Martin."
Cat and Canary
The recording played in the Council chamber off a projector Minos had installed. Crow sat in the Speaker's seat, and Elizabeth remained quiet as she stared from underneath her hood. It's supernatural shadow created an impenetrable black barrier that prevented any from seeing her face. All of the other Councilmen wore the same garment, though Crow and some others wore their hoods down.

Crow's expression remained cold as the Unifier ended the video and came back onto the screen.

"As usual, if you want him back, our price remains the same. Cease interference with us, and we release all of the Hunters currently among our ranks."

The feed ended, and as Minos turned off the technology, Crow's eyelid twitched. "Councilman Ygvaine, Recorder of the Session, please note that Martin Balthazar and Ashley must have their records updated to reflect his defection and her demise. Please note Unifiers as the cause for both."

The scratch of quill on paper came a moment later, and Crow looked around the quiet hall. "We need to train our Hunters to better resist the Unifiers' methods. I put forth the suggestion more training intensity, and encouraging trainers to acclimate grown trainees to pain."

A few murmurs of seconded guaranteed an official vote the next time there was a meeting of all three shifts. Next came a discussion of the security of having a channel open for communications from the Unifiers, and how it seemed unwise. Reassurances from Minos settled the controversy—it was one-way only, and they had no way to track, or even know it was being viewed. A reminder that the Unifiers' bragging served to give them information placated the remaining objectors for the time being.

"Is that everything?" Crow asked as he looked toward Ygvaine.

"There are three mission briefings to give to their assigned Hunters and two reports that must be heard."

"If none object, I move we see to those." A murmur of approval met him, and the Councilmen took their seats. All raised their hoods, and only once that was complete did the doors across from the Speaker's seat open.

A pair of Hunters walked in, nervous and reeking of fear. The doors closed behind them, and their mission brief began.

Elizabeth remained silent through it all. Not fully there, she stared forward from her seat until Crow called the meeting to an end. The others began to file out, and she rose to do the same as the last few others exited. Crow appeared in front of her, seemingly from nowhere, and she stopped before the man, watching as he lowered his hood.

"Elizabeth," he greeted cooly as the door shut.

"Yes, Eiji?"

Crow stared at her, or rather the dark shadow under her hood. He reached toward her face, then pulled the hood down to reveal trails of black mascara down her face. His expression shifted to surprise as she simply stared at him, unflinching.

She sighed, and with it, she began to tremble. "What?" she demanded.

Crow's eyes roamed her face, filled with confusion. Then, after several moments, his brows furrowed, but he didn't glare at her. "He called you by name. She, as well. I can only assume..." he trailed off, then looked away.

"Yes?"

He cleared his throat into a fist, then took a deep breath and looked at her. "I'm sorry."

Rather than object or wave it off as one might expect, she leaned toward him and gripped the front of her robes. Her forehead came to rest against his chest, and she began to sob, shoulders shaking violently.

Crow stood stiff at her approach, but as she started to cry, his shoulders eased, and he rested a hand against her shoulder. He had no words for the woman who tormented him for as far back as he could remember, who now sobbed into his chest.

A knock at the door to the chamber caught his ears, and he gently pushed Elizabeth upright, then pulled her hood back into place.

"Cry as much as you need. Mourn all you need. Right now though, hold it together long enough to get to privacy. Should I make an excuse and haul you to my office?"

Elizabeth reached up and wiped at her face. "No—" her voice caught. "No, but, Crow?"

"Hn?"

"Thank you."

"I have no idea why you are thanking me. I was only here scolding you for spacing out." He snorted and crossed his arms, directing a glare at her that was only softened by a single wink before he turned on his heel and charged toward the door. He yanked it open. "What!?"

"Ah!" a surprised Hunter shouted.

"Well?"

"I was sent to find Councilman Leauge. It's Councilmen Kels's request, sir!"

Crow stared at the Hunter a moment, then snorted. "Fine. I was finished with her." He gave a dismissive wave as he walked out the door, and the Hunter moved out of his way hurriedly, then looked in.

Elizabeth, silent and hooded, stared out, and the poor man jumped as the dark and hooded figure emerged from the dim chamber.

"Kels, you say? I know the way to her office on my own. You are dismissed."

If it was Kels, who slept through every meeting, it had to be important.
Last edited: