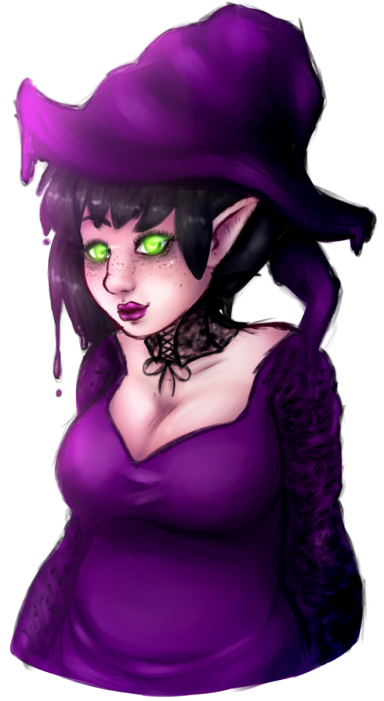 Mom-de-Plume
Original poster
SITE SUPPORT
DONATING MEMBER
Roleplay Invitations

One on One Roleplays
Posting Speed

Several Posts a Day, A Few Posts A Day, One Post a Day, A Few Posts a Week, One Post a Week
My Usual Online Time

11PM to 2AM EST, plus or minus a few hours in either direction.
Writing Levels

Adept, Advanced, Prestige
Genders You Prefer Playing

Male, Female, Androgynous, Primarily Prefer Female
Playing Style- Passive or Aggressive

Combination.

My strengths lie more in the direction of emotions and short-term ideas, where my ability to plan out long-term plots is weak. I do best with a partner who helps me cover that weakness.
Favorite Genres

I'm open to a wide range of genres. Obscenely wide. It's harder for me to list all I do like than all I don't like. My absolute favorite is mixed and multiverse, but I'm not limited to those.

• Mixed Genre
• Multiverse
• High Fantasy
• Hard Fantasy
• Low Fantasy
• OP Fantasy
• Science Fantasy
• Modern Fantasy
• Soft Scifi
• Science Fantasy
• Low Scifi
• OP Science Fantasy
• Modern Realistic (Strict)
• Modern Realistic (Loose)
• Urban Fantasy
• Alternate History (Fantasy Preference)
• Post-Apocalyptic Mixed
• Post-Apocalyptic Fantasy
• Post-Apocalyptic Scifi
• Post-Apocalyptic Modern
• Dystopia
• Displacement
• Military
• Dying Earth
• Supernatural
• Drama
• Mystery
• Horror
• Religious
• LBGT
• Crime/Detective
• Parody
• Comedy
• Tragedy
• Romance (Must Include Others)
• Erotic (Must Include Others)
Genre You DON'T Like

The list is short. because it's hard to find genres I don't enjoy.

• Yaoi/Yuri (Gay/Lesbian is fine!)
• Furry
• Fandom
• Historic Non-Fantasy
Show My Balls
Warning: sex, master/slave, dehumanization, testicles
"So," the skinny man mused as he stared down at the dark-skinned girl, "Why the fuck did you kick my balls?"

She stared up at him with unfocused yellow eyes through her hair, panting as a man at either side held her arms and forced her to bend at the waist. For a long time, she remained silent, before she finally dropped her head and spoke. "Fur-give me, mastuh? I got jealous when you looked away fur-om me... Purr-lease...?" She looked away, cheeks red. Her eyes and ears burned.

Her master chuckled. "Show my balls how sorry you are, Poppy." With an open hand, he waved toward his groin.

Poppy nodded and pulled forward quickly, breaking free of the two who held her. She knelt in front of the man as she purred loudly, rubbing her cheeks against his groin through his coarse pants. "I'm soooo sah'y, mastuhs! Sooo sah'y!"

The man allowed her to continue for several moments, then pressed his hand into her white curls and pushed her away a short distance. "Good," he whispered as he watched her stare at his groin, "Now, lick them."

Poppy hurriedly untied his trousers, then pulled them open. She coaxed his balls from within using careful fingers, and then moved his cock out of her way and pressed her lips against the soft bags below. His shaft rested against her face as she gave suckling kisses to her master's injured balls.

His cock began to harden against her face as her tongue and lips explored. His skin stretched and released with every lick and suckle.

Finally, her master shoved her face against himself. Her nose nestled beneath his cock, and she opened her mouth the breathe. Slick sweat ground itself up her nose.

"Suck them."

The order from above was all it took for her to shove her jaw forward and pull one side of his sack into her mouth. Her lips closed around it, and she moaned.

She shifted her weight forward. Her groin ground against the ground as she sought a better angle for her face, one that might let her breathe. She found it, and sucked in air through her nose.

His stench dizzied her, and her eyelids fluttered. Her tongue pressed against the testicle in her mouth while she moaned. Scratchy bristles on her tongue pulled at the skin as drool escaped to wet his trousers.

"'Atta girl," her master praised, and her purring began anew.

She increased her efforts, sucking and licking in patterns until a slight metallic flavor entered her mouth, and her eyes snapped open and upward, wide with fear.

"The other one," he grunted.

She nodded and pushed the first from her mouth, switching to the other as she treated it with more care.

It tightened in her mouth, and his cock twitched against her face.

Poppy whimpered. At this rate, he'd finish to only this. Her pussy throbbed as it ground against her clothing.

"Time for the real apology."

Poppy looked up, and his hand grasped her by the hair. He yanked her back, ball 'popping' audibly from her lips as he shoved her open mouth down his full length and into her throat, not bothering to let her wet or prepare herself first.

He held her there as she squirmed, and her moans vibrated against his glans while he looked to one side. "No food for her, and lock her in that belt so she can't touch herself—" The word cut short as he grunted.

Thick seed caught in her throat, and he kept himself within it even as her squirming became writhing, and he felt her teeth against his flesh. He shoved a thumb against one of her molars and let her bite her cheek instead.

He drew himself from inside her, then tossed her aside as she vomited back his 'gift'. His laughter sent a chill through her body, and she looked back towards him.

"From now until you die, your master is my balls. They'll feed you, if you're good to them."

She stared a few moments as her mouth hung open, before she began to cough.