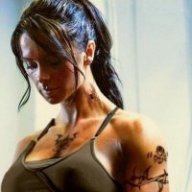 Pain and Pleasure 2 sides of the same coin!
Original poster
So I'm curius. I'm one of those ppl who absolutely hate visits to the doctor, unles absolutly and un-avoidable necessary, like my monthly physicals, or ocasionally vhen get a bruised rib or a cut above the eye, or things like that, physical injurys mainly, which I tend to get kuite a bit. And only those vhich I cant take care of myself at home, vith a gauze and some alcohol/ointment.

But for more mundane stuff, like a nasty headache, or if I sudenly come down vith a cold or get a fever or a wet caugh or something, I prefer to just stay at home and lay it off vith some folk medicine, vhich I learned alot from my grandmother. Hot tea, squeezed lemons, camomile inscense, rubbing in olive oil, lots of rest, and some self-applyed acupuncture sessions, being a Hatha Yoga practitioner and knowing a few things about chakric healing too. Not that I ever come down vith anything worse then that, since living a healthy life-style tends to put a stop to any more serius ilnesses, having a strong immune system.

But I absolutly wil not take any kind of "real" medicine, since I loathe to put any chemicals and drugs in my body. Not even a painkiller, I'l just suffer thru it until it dies down. In my firm opinion, pharmacuticals do more harm then good, since all of them come vith a set of side-effects, they fix one thing but cause another, and none of them are natural. The best medicine one can have is to heal up naturaly, or use natural assists to speed it up, like the afore-mentioned folk medicine and chakric healing. Not to mention I dont vant to suport pharmacutical companies vho put out that stuff, since a good part of it isnt even safe to use, or has out-right toxic ingredients in it.

So... I'm interested in seeing opinions on the subject. Vhich methods of healing do you prefer, and why?