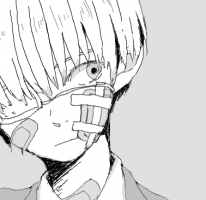 The dashboard melted, but we still have the radio~
FOLKLORE MEMBER
Invitation Status
Posting Speed

Speed of Light
Multiple posts per day
1-3 posts per day
One post per day
Online Availability

All the time, hueh.
Writing Levels

Intermediate
Adept
Advanced
Adaptable
Genres

Anything. Depends on my mood.
(( WOAH that was awesome <3 ))
"

Huh, people like that are... sick

." The tail whipped around like a snake for a moment, and Jasper continued, "

That's like torture. Must have been awful. Most of the clients begging me to kill her didn't give me a reason; it was always something like, oh she's a meanie, or she's a sicko... I had no idea

." He shook his head.Seeing the girl's expression, Jasper reached a hand out and put it on her shoulder, making sure he was careful with his claws. "

Listen, we'll get her. I'll help you any way I can. Maybe then we can go look for this Haku guy

."
Huh...? "

Wait

..." Sniff... Sniff, sniff. There's that smell again... another Alice?
He looked over behind Penelope to find the yellow squirrel was leading two guys over to them. One of them was blonde, with one hand held behind his neck, and a friendly look on his face, "

Hey there

!" He had a hospital eye patch over his right eye. The other was a short guy with a very strange mask covering his face. The Cheshire grin on the polished, white surface made him feel almost uncomfortable, and the hollow black eyes seemed to peer at him curiously. "

Huh, I can smell an Alice on the wind

..." He quickly made his way to the two boys; the blonde one looked really taken aback, "

A-an Alice

?"- so he was the first one Jasper decided to sniff.
Heh, he was correct. "

Aha! One-eye here is an Alice! What do ya' know

?" He grinned over to Penelope.
Zachary warily glanced at Fin, already knowing what was going to happen... "

O-one-eye

?" The blonde looked like he was about to pop a vessel.
"

Oops. Did I strike a nerve

?" Jasper leaned in close to Fin's face, clutching both of the blonde's arms tightly in his clawed hands. "

Aw, don't cry, one-eye

." Finnick was mortified, and raised his hands despite the black-haired man's grasp to clutch the guy's collar, bringing his face even closer.
"

Shut up! Don't call me that

!" And then he head-butted him.
"

Ouf

!" This action knocked Jasper off of Fin, he stumbled a bit, but didn't fall. "

Oi, you little brat

!"
His tail lashed out at the blonde, and tried to wrap around his body, "
I'll show you
!"
"
Stop
."
Zachary had drawn his sword and was holding it up to the Bounty Hunter's neck. Jasper never saw it coming- did the masked man teleport or something? What had even happened? The Cheshire man was starting to get on his nerves.