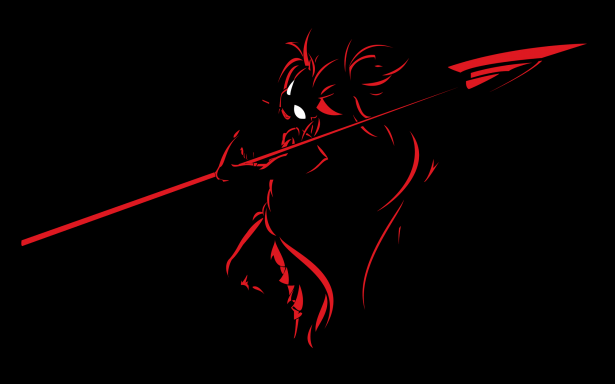 Leader of The Devil's Triad
Original poster
The world would soon be eaten by flame as Miklan awaited within the embrace of the many trees and shrubbery hidden within the jungle. The plant life that took from the earth and gave life to so many things. It was a system as old as life itself, one of trade and balance. One of selfishness and selflessness.
Miklan watched as small animals took from the trees as they grabbed fruit and seeds from around the forest floor. This would be the last he would see of this place.
Fire would soon gorge itself on everything this planet had to offer. It had even given him purpose and even his life. The ancient ruins around him reminding him of the people he once led and the ones whom once believed him. Now claimed by the forest once again, maybe even protecting such things from the violent eyes of other humans.
"Even we death gods die." He whispered to himself as he pulled a stone from amongst the rubble. It carried a carving of two being amongst each other. He could see the representation they gave him and his wife and he carefully looked upon it before placing it within his satchel and bringing himself up from beneath the forest floor.
It was time, the world would be coming to an end. Azrael himself had prepared an army at Megido that they would need and whatever was important to the reapers was being protected and saved. Miklan was one of the few that refused that help for his own place instead offering protection to other ancient places that hadn't yet disappeared to history. Like these ancient ruins his wife was no longer with them and he could even feel the ache within his bones as well. Pain was often seen by humans as a sign of getting stronger but reapers saw it as a sign of becoming weak.
He breathed now and as he opened a portal amongst his feet, all he could see were the sparks of fire which suddenly began to burn as the sight of large burning rocks began to appear across the sky.
This would be revelation.
Azrael watched as the burning rocks began to smash into the cities of old. Reminding him of the days of Sodom and Gomorrah and the wrath God inflicted upon the people. He whispered the last of his spells upon the final graves to protect them. Offering them relief from this punishment and preventing them from joining this war yet.
He had once been a proud follower of the great deity. The creator as it was said was to promise free will to the humans. Giving them a power not even the gods could have. Though he found God traitorous to his own words. When he believed humanity to be twisted and horrid he eviscerated them with water. Flooding humanity and allowing so few of anything to survive. He had claimed they had become too degenerate and evil for what he had planned.
Azrael considered that to be evil. There were children, babies and families that existed. Even then, humans had created atrocities far worse from wars that spanned the entire globe towards genocides of millions of their own people. Yet, during a time when humans were weak and were barely understanding of the working of their world. They were almost entirely slaughtered because if some humans. Not even all of them. Azrael had asked if children and babies were deserving. He never received an answer for why they were not saved as well.
Now this time he refused too allow it to happen again. He had followed what he believed were to be lies and he knew even as an angel he was a reaper first and his kind were created to assure a balance with the father of everything. Failing to live by the rules of giving humans choice was unfair to those creatures And eliminating them again after coming so far he considered heresy.
Time was coming and they already had a plan. It unfortunately was with someone whom the reapers had a very vicious relationship with but it was one of the only other entities who could help them within this time and on short notice and it was the only being who originally defied the creator of everything.
They had made a pact with the devil himself and in a few moments that deal would be sealed. They would be amongst the side warring with the angels.
They were the Devil's Triad.
Izanami watched as the last of the necessary humans arrived within the sprawling city of Tokyo. Alarms were ringing and military and police were everywhere. People were screaming the end of the world as they panicked to see loved ones and family members at least one more time.
She pressed her hands together as of all the other gods she had to complete one of the most strenuous tasks. It was one which would make her weak as well and something she questioned if the devil would take advantage of. Using so much strength was dangerous even if the reapers were somewhat unified she could easily be targeted or defeated which would make this much harder for them to accomplish. Her worse enemy was not the Devil nor God but the reaperd which would be at her feet. She didnt have much choice though because she was the one that had designated the city since it was the largest human settlement. Not only that but if they required to build a new world afterwards this city would also provide much more families and people than anything like the flood supplied. Life though may prove difficult and without a creator it may not even appear. This could be the last moments of the existence of everything in this world as well for the reapers who cared for the dead.
Though, if that was the way in which they would all be able to finish their purpose then so be it, it must be done.
The moon began to slowly move across the sky as the meteors began to pummel into it. She began pulling with immense force as he skin begsn to crack and her bones began tk break. The moon coming close enough to kiss the earth as it made it's descent towards the city. Casting a massive shadow over the entirety of the city as well as the surrounding areas. She was careful with her movement as she finally settled it above the city. Allowing the moon to act as a natural shield to protect the city. It finally reached its chosen designation as she hoped for the second reason they had decided on the moon. Considered one of the oldest gods in humanity it had always used it's presence to protect life whenever possible. Absorbing things like the fire in the sky when it could and aiding life at night providing its light whenever it could.
Moonlight was an incredibly power source and it was often referred too as the mother of the sky. It was this they believed which would help them save this area and a reason to bring it so close to the surface of the earth.
As believed, a soft light began to envelope the entirety of the city. As meteors tried to find other ways too envelope the area they were instantly evaporated as they came into contact with the soft glow. The humans and any animals inside would be safe from further damages and if they wished, could venture out from within their safety. The light would not harm them and the moon's gaze would protect them. Its dominance of the sky would repel anything and it remained calm over the earth as Izanami allowed it to be.
The preparations had been set. The Shinigami would be protecting the perimeter of the area and were the most elite of the armies of death. She was the one who could make this possible and of all the beings that existed now, God in particular would want her dead. She looked at her hands as she felt the pain within them. She quickly disappeared into mist as she hurried too meet the others.
War was declared and the sides were now defined.
A hospital sat quietly from all the chaose from outside. There had been claims of a rapture as some humans had simply vanished but this had been stopped quickly by the reapers preventing many from joining gods army. It had to be taken and it was a grim realization the reapers knew was almost against their belief in balance. Though war had come and as this hospital sat quietly a young boy sat within the lounge. Holding what appeared to be a stuffed bear within his palms and wearing a hospital gown. He sat there almost oblivious of everything haooening outside. His hair was dark and he did not appear to be Japanese though. He calmly waited and breathed as he kicked his feet around.
This would be the place that people with the most purpose or maybe, even with no purpose at all would be summoned. They didn't know how many to expect of at what times but now would be the most expected they believed. Whether they were human, reaper, demon or angel they would find some purpose here. Even if they had no purpose that could lead to infinite purposes for that individual but all they had to do was just wait. The reapers would likely be assembling soon and they wouldn't be here as of yet. So they could at least use this time to get to know these people. Their dark blue eyes kept on gazing at the front door as the horror from outside seemed far removed from what would be within this place.
(

Ur Degaton
,

WanderingWriter
)