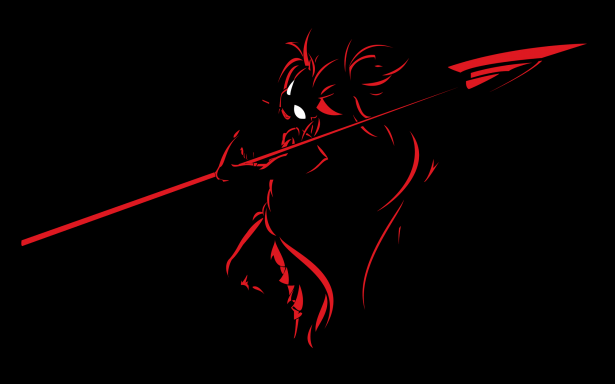 Leader of The Devil's Triad
Original poster
(

Ur Degaton
,
Zahara
,

WanderingWriter
,
Kobold
)
"Underhanded?... Is that what you believe justice is? Justice is finding the balance this world needs. If a human decides to take someones life than it is only righteous for justice to take their's away. If someone inflicts torture than torture will come to them. That is only fair, though whatever I inflict in you I shall also feel but I promise you that I can survive it more than any one of you here can." The Angel seemed thrilled about this combat as the immense feeling of pain trembled throughout their body. They seemed ecstatic about facing people who could actually fight back and they seemed even more convinced that they would be capable of winning. Even though they had a patron of death they seemed weak. They would need to back him up if they were to have any chance in this.
Miklan felt the brutality of the attacks as the hammer the angel wielded began to collide against the structures of bones Miklan continued to summon to defend himself. As the angel continued to smash through each and every one of the bones as the pieces shattered across the floor. Miklan noticed James and raised one of his arms as the searing pain began to disappear. Though while it was still there it at least allowed the Reaper to breathe a little easier now as the searing pain had dulled to a burning coal in his stomach. Not like the iron rod before but Miklan seemed to have had an idea as the pain seemed to have been summoned into Miklan's fist.
"It is time for you too choose, Justice... Raquel." Miklan grinned as he launched his hand in synchronization with James.
The Angel had suddenly realized the position he was in as he had little choice but to react as he swung his hammer towards the more valuable target, the Aztec God of Death as he felt a searing blaze rip through his arm as he yelled in anger. James has seared the Angel's hand clean off and the scale had collapsed against the floor. Though, there was barely any time to think as the hammer that ripped through the air towards Miklan as the Death God rammed his hand in response towards the hammer. The explosion was instantaneous as the ground shook and the noise blasted around them. It sent James tumbling backwards as Miklan's arm erupted from his body as he created a wall to catch him as he smashed through it before colliding into the wall of the hospital for the second time.
The Angel himself scattered across the lobby as a trail of blood streaked across the ground. Rubble, bone, and debris was everywhere. The Angel had found himself next to someone though. It was Sylvia and he noticed something else beside the woman as well. His hand holding the scale was beside her. He pressed the stub of his arm onto the ground as he brought himself back up from the floor.
He would get that scale back and he would make sure to kill the rest quickly before making those two specifically suffer. He noticed Victiore by herself as he remembered her being the reason for the bodies of flesh and noticed DeAndre as well. Maybe they all deserved to be killed slowly. Maybe, he would assure that for justice. He coughed as he made his way towards the scale as he looked at the woman who was next to it. This was not the image people imagined an angel to be, bloody, ruthless and hungry for vengeance. Even that, didn't seem to dull the belief that the angel would come out victorious.
Raquel was not someone who died easily if anything he became harder to kill as he came closer to death. Even with these God's of death around him there was an energy that invaded each and everyone of their minds.
That life was stubborn regardless of how close death came. And even if it was right beside it, life did not seem to care.
---
"Why you? Why not you? We can't make what is happening stop. It is impossible to prevent that now. The best we can do is choose ourselves what we wish too happen." It seemed a voice had responded to Tsubasa and despite all the chaos and violence surrounding him. This voice was clear and peaceful. The voice disappeared as he made his escape.
Though, as he ran he entered through the doorway as the door opened before him before shutting behind him. Despite what was happening in the previous room this place seemed eerily quiet and somehow removed from what was just happening on the other side of those doors. It seemed as if the hospital was somehow preventing all the noise but that was not the only particular thing here. There in the middle of a hallway stood a small young girl. She was staring into the wall and didn't seem to notice him as he ran.
"Chisana on'nanoko! ...You need to get out of here!"
The words hit her ears as she turned curiously to see where they came from. Her face was covered by bandages as only her eyes and mouth were capable of being seen. Her upper face from her mouth up was completely free from the binding allowing him to see her forehead and the pale skin that almost glowed in the light. She didn't seem bothered by the bandages that also covered her legs and arms and as she looked at him, she began to compare his wounds to her own as she noticed the medical dressings covering him.
"Watashi Wa, koko ni inakereba... I have to be here. You do too." The girl responded as she noticed the fear in his eyes as she looked up at him. She seemed to at least understand the pain that he was going through and potentially the fear but she seemed a bit worried and scared as she suddenly got close and hid as there was the sound of the door closing again.
Someone was walking up behind them as the girl looked at the person as she peered from Tsubasa's side as she got him to turn around and see.
Standing there was an old man wearing a professional white suit with a cane at his side. He leaned over slightly as he looked at the two in the hallway but he was not alone. A woman whose face was covered by a luxurious black veil and wore formal black clothing in contrast to the man. She also appeared fairly young and seemed to be a caretaker as she followed slightly behind the older man.
The woman began to talk as she looked towards Tsubasa and the voice was recognizable. It was the same familiar voice that had spoken to him when he was panicking and scared. It was peaceful and serene and it created a calm within this already empty and boring hallway.
"You asked to make this stop? Yes? Then here we are, to make a deal with you Tsubasa. We can promise to end it for you if you truly wish." The woman responded as the young girl clutched onto Tsubasa's clothes as she looked at the pair. Her white dress moved as if there was somehow wind in this hallway but there didn't seem nothing of the sort. Though as Tsubasa looked down at her it seemed as if her dress seemed to be moving towards the pair that had joined into their conversation.
They had not even introduced themselves yet but they didn't seem to care for such a thing. The old man had an empty expression as he had straight shoulder length hair with piercing blue eyes. Even though he hadn't spoken his gaze seemed to be interested in the two. Almost as if he was looking through them or inside of them to see what he would find.
They were a strange pair and not only that but had somehow come from the chaos that was behind the two doors. The woman seemed to be the only one who would speak and she seemed to be awaiting for Tsubasa's answer as the quietness of the hallway surrounded them all.
(I hope you Enjoy this Degaton! And I am still alive so not dead yet!)​