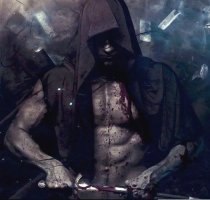 Wolf of the North
Original poster
It has been two months since Akikiko Kayaba locked the 10000 players in his VRMMORPG game, Sword Art Online. His rules were simple. To leave, clear all 100 floors of Aincrad. If you are unplugged, the headset removed from your head in the real world, or the game shut off, you die. If you die in-game, you die in the real world. Since that day in the Town of Beginnings, 2000 players have died.

You start on Floor Seven, in the town of Stohess. Your mission: Clear the game, using whatever means necessary.

Will you be a member of the infamous Knights of the Blood Oath, the leaders of combat on the front lines, or will you play solo? Will you join a guild or party for good, or will you join a guild that kills other players, such as the Titans Hand? The choice is yours. Clear the game. Godspeed.

Character Sheet:
Name:
Appearance: (Pic or description)
Weapons:
Alliance: (if any)
Other items: (healing potions, teleport crystals, etc.)
Skills: (how do you fight)

1. No god-modding.
2. Relationships are allowed, but take any smut into a pm.
3. If you wish to attack another player (other than an npc) tell the gm.
4. You can upgrade weapons, but you can't jump from a noob sword to a UT sword. Keep the upgrades in progressions.
5. If you kill a level boss, you can keep the item drop, trade it or sell it. Purchases go through the gm.
6. Put the words "sword skill" somewhere in your cs so the gm knows you read the rules.
7. Have fun!!