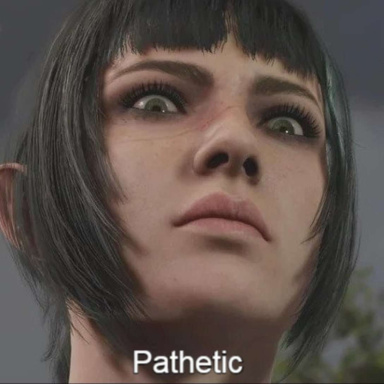 I cast gun!
FOLKLORE MEMBER
Invitation Status

Look for groups
Posting Speed

1-3 posts per day
Writing Levels

Advanced
Prestige
Preferred Character Gender

Male
Female
Once finished, Lady rested an elbow on the table, letting her meal digest as the confrontation worked itself out—surprisingly punch-free, too. It seemed her last remark didn't crack any facades, or it simply went unnoticed in the heat of the moment. Had the pot been stirred any further, some answers may have been in order. In fact, she'd have welcomed some, given Stephen's sudden tense appearance. What was on his mind, she wondered.
The next thing she knew, a fresh topic warranted her full interest. "I'll have to make stops at both," she noted aloud, referring to the dust shop and the forge.
"We might be in for a fight tomorrow, right? A girl can't go unprepared."
It almost seemed rich, coming from her. All the ammo she offloaded at her locker... yet it was pointless, given how many times she had to shoot one Grimm just to kill it the other day. Her hollow points and high-explosive missiles were better for demons, so she may as well save it for when she returned home and use more local goods.
Mentions:
@AshenAngel
@Xen6n