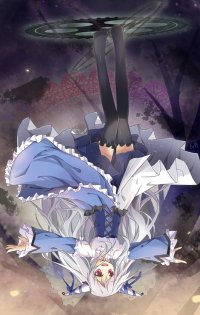 The Slightly Villainous One
Original poster
FOLKLORE MEMBER
Invitation Status
Posting Speed

1-3 posts per day
Writing Levels

Intermediate
Adept
Preferred Character Gender

Female
Genres

Fantasy, Modern Fantasy
The Thousand Year War has finally come to an end, after almost 2 centuries of fighting. It's start was inevitable, and for just the reason you might expect - resources. They ran out, to put it simply, before anyone had figured out how to make their power sustainable. And what do people do when they run out of resources? They attack other people to try and claim theirs. However, this was no ordinary world war. It was every country for themselves, with alliances near impossible without consuming another territory completely. Furthermore, 10 years into the battle, when a clear winner looked to be possible, Russia developed a new weapon - known as Project Heretic.
The idea behind this was simple. "Lets make biologically and psychologically perfect warriors to fight for us." However, this is one of those things where the expression 'easier said than done' applies. The results, while present, were a little different to what they had expected. These warriors, named Angels, have a peculiar ability - the ability to force their own delusions upon the real world, even if it would defy logic. Each Angel's ability only works for one recurring delusion that they possess. They cannot choose what form this delusion takes. One Angel's delusion may be that they are able to summon electricity. Another may be able to teleport. They cannot use another delusion though.
As one can imagine, this made Russia become the dominant force in an instant, utilising their Angels alongside their ground forces to claim victory on every battlefront. But, as with all technologies, new, improved Angels have been developed called Guardians, which dwarf the Angels in every way. Nobody is sure what a Guardian actually is, except that each is powerful enough to level a typical army in just over a day. They can take many forms, but are always mechanical and have much stronger manifestation powers than Angels.
But, what happened to the Angels? Well, usually you'd just thrown an outdated item in the waste, but you can't do that with humans. Instead, they built a huge city in the wastes of Siberia and shipped off every recorded Angel to live within it's fences. 3 Guardians watch over this city and prevent the Angels from escaping. They are colossal machines capable of hovering in the air indefinitely, and who can incinerate singular entities with pinpoint accuracy even from the other side of the city. Other than the Guardians, the city functions just like any other city would, except abilities play a much larger part. There is a phenomenal number of unemployed people whose powers are useless, and who instead join one of the 3 major gangs that rule over the town. Fights between Angels are a daily occurrence, since they're modified to be more aggressive than normal humans. Though the city has no official name, the residents tend to call it "Haven". Probably for ironic reasons.
The city is split into 3 gangs, each controlling a different area. The "Metal Boys" as they call themselves inhabit the industrial district to the north of the city. They mediate the craftsmen and factories. Typically, they have weaker but more daily practical abilities that may not be so useful in combat against another Angel but that make them some of the richest merchants in the city. The second, the "Golds", also rudely referred to as the "bees" by most people, reside in the cental business district. They are the elite warriors, usually, with the powerful and entirely destructive abilities. They see themselves as superior to everyone else, and try to moderate inter-gang violence. They tend to forget they're a gang themselves though and prefer to call themselves a government. They're called the bees due to their hierarchical structure that splits them neatly into 3 groups - the "queen", the Workers and the Drones. The final Gang controls the southern side. They don't have an official name, but are called the Yellow Spiders by the others due to their leader's name and ability. While there are people who don't associate themselves with a gang, these are few and far between.
The city itself is your typical dystopia. Buildings built of materials 200 years out of date, vehicles almost non-existent since no one figured out how to make them, most street lights permanently broken. And of course, foot-deep snow drifts permanently line the streets. The surface has compacted to permafrost, making it not too bad to walk on, but doors are still at ground level and it's a nightmare getting to them. Plus, it's always so bloody cold. It was only natural that at some point they'd get pissed off. Today, at 12AM in the most iconic inn in the city, a meeting is being held to try and find some way of escaping.
CS:
Name: (The only way Angels have names is as nicknames given by their squad members during the war or through names they chose themselves.)
Gender: (Angels were originally intended to be infertile, but certain healing delusions can correct this. Offspring do not necessarily have abilities, only the potential to develop them through psychological 'training'.*)
Age: (New batches were made every 2 years to replace those destroyed, so every Angel will have an even numbered age. The last batch was made 16 years ago. Psychological training lasts for 12 years, when they can then be released into the military. The war ended 2 years ago, so the youngest Angels are 16 and have been in war for 2 years.)
Appearance: (Please don't put 18 gifs and images throughout the app like some people do)
Ability: (As I said in the Interest check - please make them feel more logical than magical, and don't make them directly OP or multipurpose.**)
*: This psychological training involves a lot of immoral procedures, so is locked in a corner of the Angel's mind as instinct rather than memory. It is this locked away frustration that fuels the ability to bring their delusions into reality. If this frustration were to be released, they would lose a lot of their ability's strength. The healing abilities are not perfect, so miscarriage rate is very high, as is infant mortality rate due to the psychological training, which starts from the age of 3 months and continues until they are 12 years old.
**: For example, the ability to instantly compress nitrogen isn't on it's own OP and is also more scientific than magical, so it would get accepted. Any OP-ness to nitrogen compression comes from the user. They could use it to generate plasma or to superheat the air inside someone's lungs if they wanted, or use it to form an impenetrable barrier around them.
Last edited by a moderator: